Mark Clairmont | MuskokaTODAY.com
GRAVENHURST — Good Samaritans come from both sides of the street.
When Bill Smith was knocked off his scooter, staff at Wayne's Tire and at Dentistry in Gravenhurst called 911 and "came running out" their front doors to assist.
The fatal morning accident put all business on hold for customers who were still getting their summer tires put on and patients looking to get their teeth cleaned.
Stephanie Barnes' large picture window at the discount tire dealer overlooks the main street intersection at Winewood Avenue, where police claim an SUV driver made an illegal left turn, striking Smith as he rode north across the crosswalk. She was charged with failing to yield to a pedestrian and has a July 20 court date.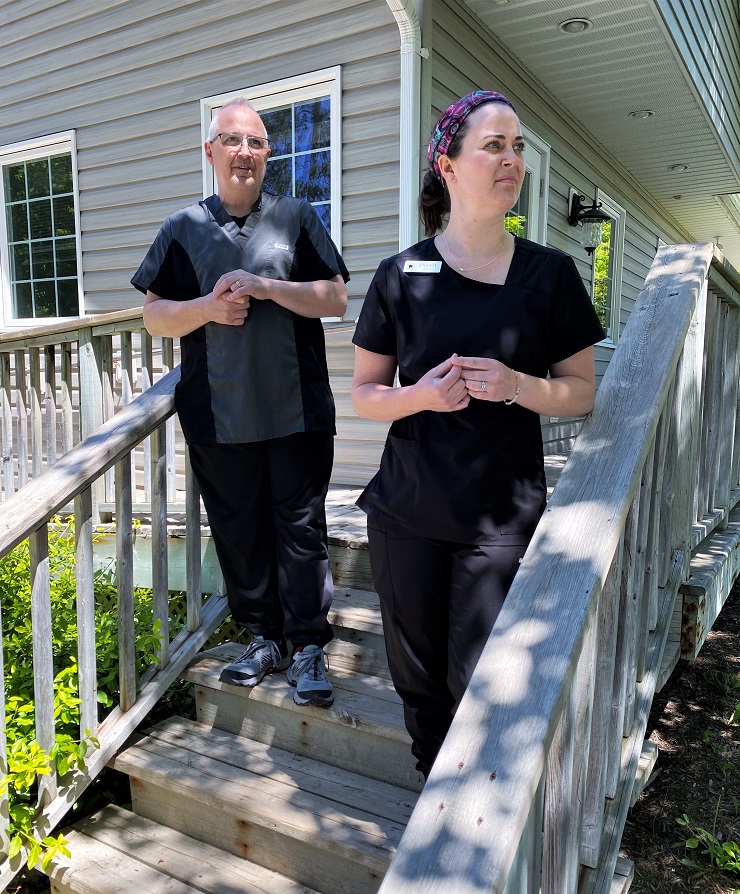 Michael Poitras and Sarah Smith (no relation) were greeting one of their first patients of the day, at Denistry in Gravenhurst, who walked in and said "there's an accident outside."
Dental assistant Poitras called 911 (was put on hold and the call was eventually dropped before the operator called back to check — at which point Poitras was on his way out the door with an AED) and Smith had grabbed her first aid kit.
Barnes said staff at Wayne's Tire called 911 after a customer alerted them.
"Then Brad and Colleen and I rushed out" to help Smith, the driver and her young baby in the backseat.
The woman was a Wayne's Tire customer — and had just been in the week before to get her tires changed.
"It was terrible," said Barnes who later watched Wayne's security video. "It was literally an accident on both sides. You can't blame either, either."
Barnes and coworkers sat with the mom on the curb till emergency crews arrived.
"The paramedics were really good, they double-checked and brought her and the baby into the office, so it was private and they could check them out."
"It was heartbreaking," said Smith, a dental hygienist. "The lady was crying."
Smith, who commutes from Utterson to work and had witnessed another accident years ago, said the downtown crossroad is often very busy.
Poitras, a Gravenhurst resident, agreed.
Barnes said "I'm surprised there haven't been more accidents."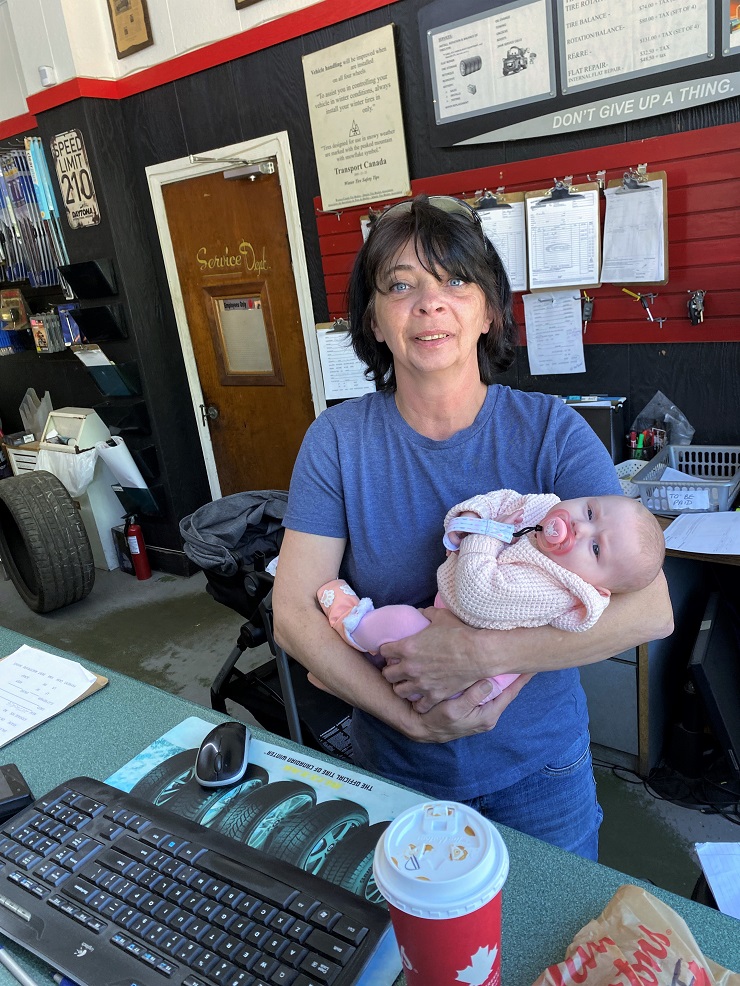 Wayne's owner Wayne Haigh lives a block away from work and says crossing Muskoka Road is often a big concern even for him as a pedestrian.
"This corner is … I come across this corner, I walk to work every day. And I'm telling you — I wait till these people on Winewood got a red light and there's a green on the main street. And I wait for no traffic. And then I cross. Because these guys don't see me. They come whipping around there as I'm walking cross. And if it's on the red going this way they just pull around the corner. They don't even stop. They just come around the corner. The cops would have a hay-day with tickets."
Haigh said neither vehicle was badly damaged. "They didn't even break the bumper (on the SUV). It did bend the wheels on the cart, but it really didn't hurt it either."
He said: "It's sad that he passed away — but that poor girl. She's never been in a trauma situation like we have in the towing business. She was absolutely devastated. That poor girl is not going to be right for awhile. … It was pretty sad."
Haigh gave police surveillance video of the corner from his business.
'You Are My Sunshine'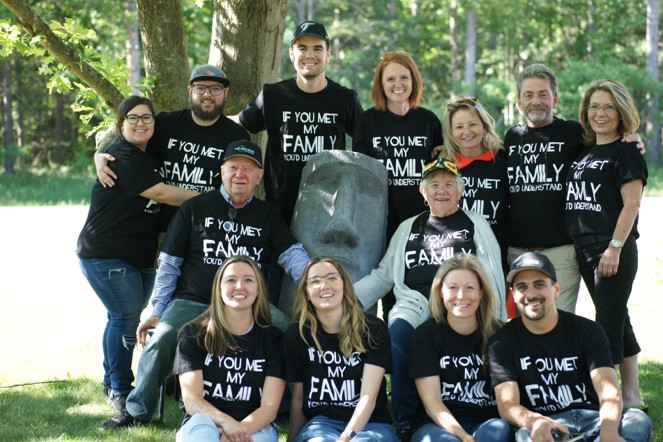 Bill Smith got his mobile scooter out of storage days before he died.
He took it on a short test run from, his nearby Lofty Pines apartment, to the Mickle Cemetery where two years ago he buried his wife Sherry.
And it's where he will soon be laid to rest beside "the love of his life," said son Jeff who wintered the scooter in his garage in Brechin.
At Smith's coming funeral and celebration of life the song "You Are My Sunshine" will no doubt be replayed. The one he played at his wife's memorial — and the same one his family played at his hospital bedside when his life support was removed last week in Toronto.
Bill Smith, 82, enjoyed living where he lived, said his son, and with the new people he and his late wife met in Gravnhurst, including new dear friend Eleanor Douglas who helped perk him up in recent times.
His death was a "devastating loss" to his children, grandchildren and friends, added daughter Kelly Harrison.
But he would have made the best of it, she said.
"That's our family."
And that's the way he raised them — to be slightly irreverent at such times.
Sherry was known as the "Gingerbread Lady" with her craft and floral business on Hwy. 48 southeast of Barrie before moving to Vankoughnet where he surrounded their home with a model railway. They later moved into Gravenhurst.
Smith was retired from a fire prevention profession that included working for American Sensor and First Alert and in sales. He was "extremely organized" and would organize fire drills at the Senior's Centre, where they nicknamed him "Sparky."
Harrison said the family was "very close."
Jeff said he was "very witty" and would "lighten the mood." Kelly said he would emcee at family weddings and functions where family would call him "Uncle Bill."
Jeff called his dad a "jokester" with "sense of humour that he passed on to his kids and grandkids."
EMAIL: news@muskokatoday.com
30th year of 'Local Online Journalism'
Twitter: @muskokatoday, Facebook: mclairmont1
Leave comments at end of story
SUBSCRIBE for $25 by e-transferring to news@muskokatoday.com
Or go online to https://muskokatoday.com/subscriptions