Mark Clairmont | MuskokaTODAY.com
ORILLIA — "I can say I shared a stage with Gordon Lightfoot."
Dan Moses was among 2,000 fans and friends from Kingston to Kentucky who lined up this afternoon and evening to pay their respects to Lightfoot "came home" to rest in his hometown.
The music teacher at Base Borden was among the first two dozen people two hours before visitation began at St. Paul's United Church.
A French horn player in the Victoria Symphony, he'd never heard his favourite folk singer live, but was "lucky" to now be teaching a four-month music course to reservists like himself and couldn't miss the opportunity to pay his respects.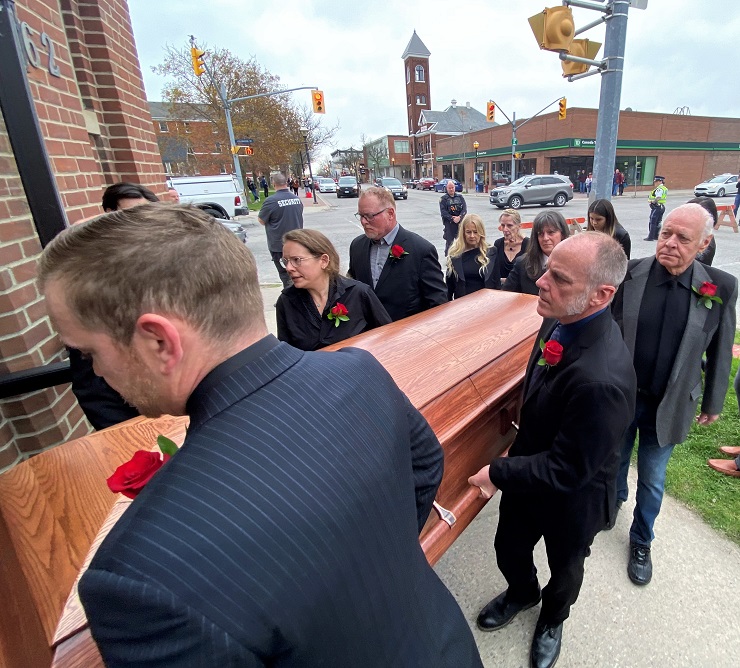 Like some 700 others in the first hour, he began by listening to Lightfoot songs on his phone before turning to those close to him and sharing favourite stories about Mariposa's most famous musician and son.
Sylvia Rogan and her partner Sharon Korpan came up from Toronto. They arrived shortly after 10:30 a.m. Korpan, a former geography teacher said she spoke about Lightfoot in her classroom, calling him "Canadian royalty."
Ed Zeally was another Torontonian in line early on with a handful of in bloom roses he waited to leave.
Ray Rama and his wife, Wendy, "had to be here," because as an immigrant "he taught me Canadian culture." As with many the Richmond Hill couple often saw the teacher at Massey Hall and Ray called Lightfoot's passing "one of the saddest days of my time since becoming a Canadian."
His favourite song is "Song for A Winter's Night," which he plays every Christmas.
Rick Melson got up at 4:30 a.m. driving from Kingston. He was listening to "Pussy Willows, Cattails" — but admitted Seven Island Suite was his favourite song due to the "beauty of the places he wrote about."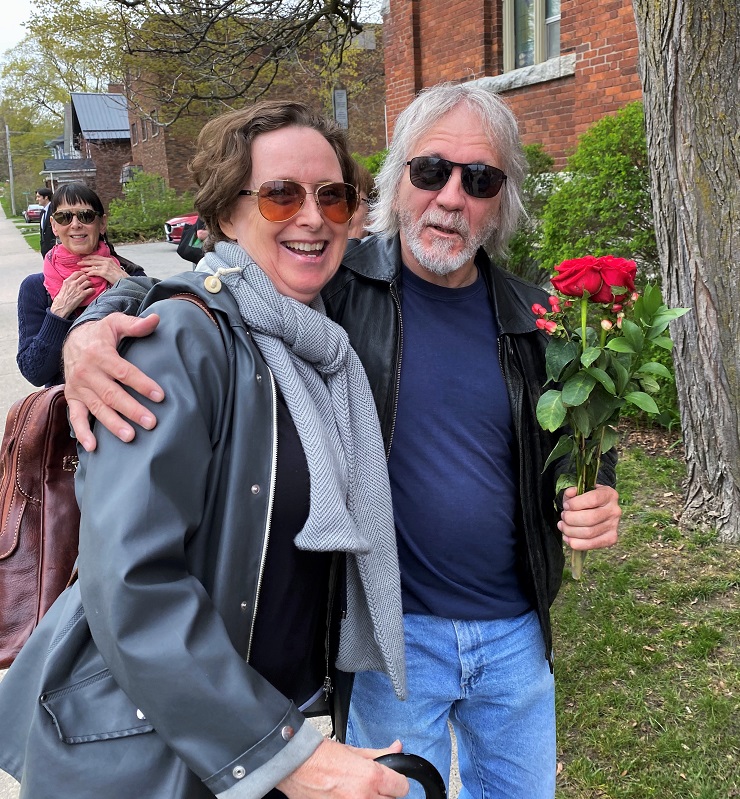 Ron Jones knew his old "friend" from his days in Toronto at the Steeles Tavern in the 1960s after arriving from Newfoundland where Lightfoot "is very big." The singers and composers were closer then occasionally sharing a billing. The 82-year-old is font of information when it comes to Lightfoot, his life and lyrics, which he was without a loss at finishing when asked to finish a melodic opening line.
He, too, loves "Winter's Night," saying Lightfoot "made me cry" the first time he heard it — and adding that when the Scarborough resident plays it some people also shed a tear.
Jones, who's seen every Lightfoot Massey concert since 1967, came to town Saturday to visit at the City Grill Lightfoot's nephew Steven Eyers — one half of 'Even Steven' with Steven Owens.
Another Lightfoot inspired singer Don James and his wife, Sandy, came down from Nobel. They lived in the Sunshine City for 20 years and he still performs Lightfoot shows, including one at July 7 at the Stockey Centre in Parry Sound that he booked two months ago.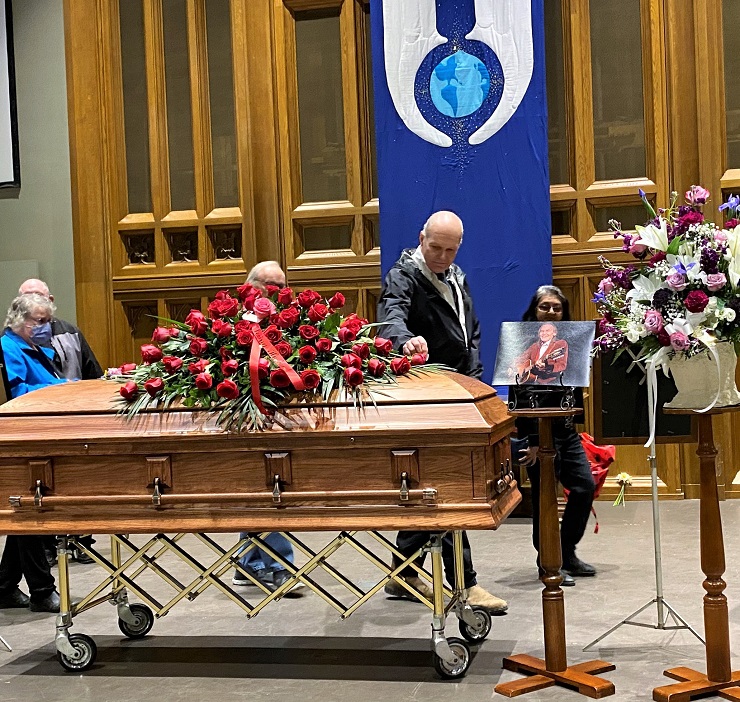 It was a public celebration of life that Lightfoot could have written and made a hit song about.
For the homecoming was at the same church where he emerged from choir as a boy and went on to international fame. Many in the lineup knew him growing up and were happy to say goodbye to a friend they knew more as a neighbour than a star.
Lightfoot had been very ill for in recent months said Rick Haynes, his bassist for 55 years, and who was with him at the end last Monday at Sunnybrook Hospital in Toronto when his close friend died.
He said Sunday's visitation wasn't at all bitter-sweet when asked.
"No — it's just difficult," he told MuskokaTODAY.com.
Haynes said in a media scrum in the church "he meant a lot to me personally. I'm the guy who started with Gord 55 years ago and stuck with him in the times when he maybe wasn't in the high points of his career, because I thought he deserved more recognition that he was getting by in large most of the time.
"I think Gordon was the best. There's a lot of great songwriters out there. I don't think there's any are better than Gordon."
Is there was a lyric or line that sticks out as he watched the procession going around the coffin his music playing and photos on a screen above?
"There are so many — "If you could read my mind? 'The legend lives on' and that's one I'm thinkin' about today."
Asked what he thought Lightfoot would feel about the outpouring from the community and country, Haynes said "I think he would be humbled by it and he'd like it. Because he loved his community and his fans."
And "the last months were rough. But Gordon was resolved and he was at peace. One of the things he said to me very recently was 'my life's work is done and I'm ready."
Haynes said Lightfoot repeated that a few times. But their last conversation was hard as Lightfoot had "some difficulty speaking. His breath was going away."
A sad ending for an artist whose life was singing and with his words painting pictures of what he saw.
Haynes said Lightfoot was not averse to church. His funeral was preplanned years ago said Minister Karen Hilfman-Millson who will lead Monday's private family service.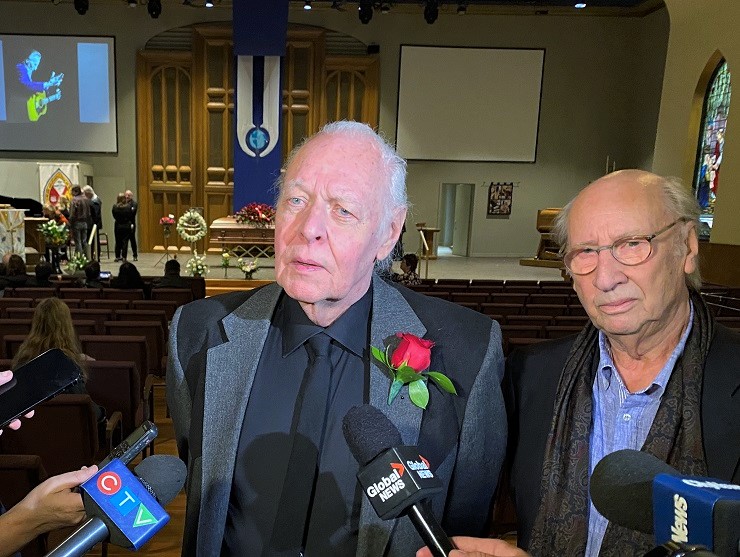 Fellow friend and promoter Bernie Fiedler said his last words to him were: "Bern, I'm tired and ready to go. I think he really felt it that he was ready to go."
Fiedler, who had worked with Lightfoot for 60 years and was the founder of the famed Riverboat Cafe music venue in Toronto's Yorkville, where Lightfoot became a '60s legend along with the likes of fellow Canadian folk and rock icons Joni Mitchell and Neil Young, and Americans James Taylor and Simon and Garfunkel, said: "To my mind, one of the saddest things for me was to see him lying in bed. He had really suffered and I think this was a real good thing actually. It turned out that way. I think he's at peace now. I think he wanted it that way."
Haynes said: "He told me a few times 'I'm not afraid to die. I'm ready.' And I can say he really wasn't in a lot of pain towards the end. People have tried to do something with that. But he wasn't. He was at peace in a lot of ways."
Fielder said: "I don't know anybody who will ever forget his music."
He said down the road they're going to try and do a musical tribute, including with his original band. He already has Burton Cummings, Tom Cochrane, Tom Rush and Murray McLaughlan. A lot of them have already agreed they'll come and do a song at Massey Hall.
Haynes said Lightfoot's passing has already "gone way beyond our borders," noting that Billy Joel "gave a shout-out to Gordon on Friday night I think" and did "Sundown" as part of medley on stage live. Billy was a fan of Gord and we were supposed to meet together if we got to go to Florida in March. There's a lot of huge fans of Gordon in the music business and some of them were present at the American Song Writers Awards in New York City when Gord was on the red carpet and Gord was the recipient of the American Song Writers Award, which was a huge deal to Gordon."
Fiedler added: "What I loved about Gordon most was he was so proud to have come from Orillia. He never looked toward living in the United States as is, I think, common knowledge, because he mentioned it many times. That and besides he was so kind to numerous people, especially to myself when I got in to trouble with the tax department. I mean he just bailed me out so big. Huge, huge guy. He didn't care for himself on anything. He was happy. He gave everything to everybody. He was just in to song writing.  He loved his life that way and couldn't care less about what would happen to him. He was just a happy guy."
And what does his life show for younger artists today?
"He was a professional songwriter first. He was a great showman, his shows were fantastic. Even last year in November three nights sold out at Massey Hall was unbelievable. The fact that he closed the hall when they renovated it and he came back and finished it off when they opened the hall again. I think that meant a lot to him and to a lot of us. And a tribute today, they've got the hall open and they have the stage (on it) with a book for people to sign. That to me was very appropriate."
"Gord was a workaholic," said Haynes. "Gord was the hardest working entertainer, musician, songwriter that I have ever worked with in my life that I have ever seen."
Last year they did almost 60 shows.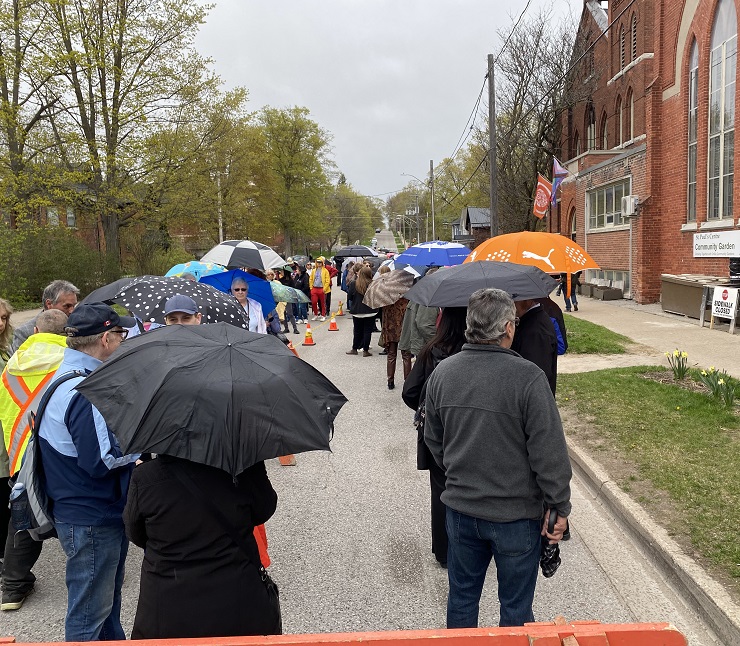 "He really worked hard. He had the best work ethic. You asked about young people and what they can take away from Gord, it's his work ethic first. You can't buy talent. But you can work hard on work ethic.
A regular in recent years again at the Mariposa Folk Festival, he ensured its return to Orillia was a success in 200o by agreeing to headline.
Haynes said "he was always available. One thing that stands out about Gordon is his loyalty. He was always extremely loyal to the community, Canada, the people who worked with him.
Haynes said in his early years he could be perceived as honest, but he really wasn't.
"He was really humble and he really enjoyed playing. When we were making records, he was under contract, he had to produce records, write songs every year. When the contracts was fulfilled, he said 'that's great, now we can just do shows.'"
Lightfoot was also "an adventurer" who years ago took up the CBC's offer to play in Frobisher Bay, now Iqaluit where "the whole town came out," they were billeted and he played with just one light bulb that was like a spotlight for him.
"He loved it."
"You all know how he went down the Rain Forest of Brazil. He was an adventurer in a lot of ways. And all about his canoe trips."
While Lightfoot told me years ago after a Massey show that the Wreck made his career in the U.S., Haynes said "Sundown" was "his most successful on the charts."
Fiedler said "Early Morning Rain" was his favourite song "he told me."
"'If You Could Read My Mind' definitely has the most staying power," added Haynes, who said he was told an L.A. call-in radio station this week had people calling in asking 'Please play Gordon.' They didn't care which song."
Fiedler concluded the outpouring today and all week "has been fantastic. I can only thank everybody for this."
He said he will miss his "humour. He was just so personable. Just unbelievable."
Fiedler noted a pool party years ago with musicians where a little baby fell in the pool "and everybody was like 'Oh!'"
And Gord Lightfoot jumped in and pulled the baby out of the water.
"It was so cool, he was really just down to earth."
Haynes wrapped up by expressing what Canada meant to Lightfoot.
"It meant everything. He loved Canada. He didn't think there was a reason ever to leave the country."
And Orillia, "it meant everything to him. That's why we're here."
Rev. Ted Reeve paid tribute to Lightfoot earlier in the morning beforehand during St. Paul's church service. A few still in the congregation remembered hearing the young protoge sing in the church.
An hour after visiting began, church bells at St. Pauls and St. James Anglican Church next door on Coldwater Street rang out 30 times — once each the mariners number for each of the 29 sailors who died on the Edmund Fitzgerald, which Lightfoot immortalized in his legendary "Wreck" Great Lakes anthem.
And and one for Lightfoot's passing.
A private family service will take place at 11 a.m. at St. Paul's followed by an interment at the family plot where his parents Gordon Sr. and Jessie and their daughter Beverly are buried.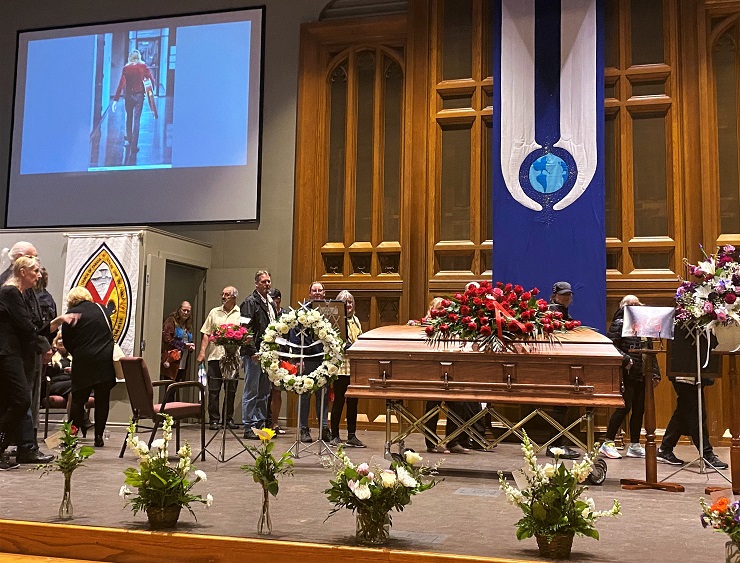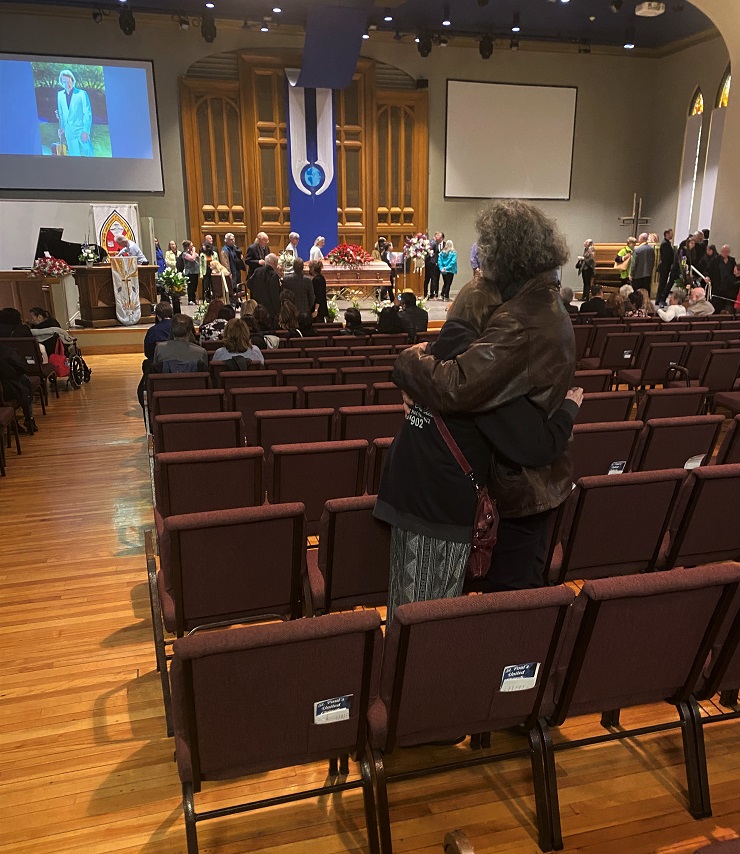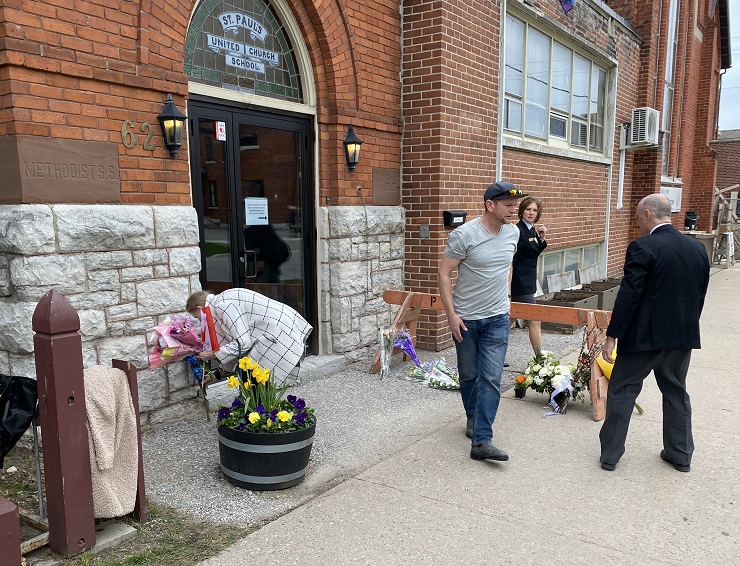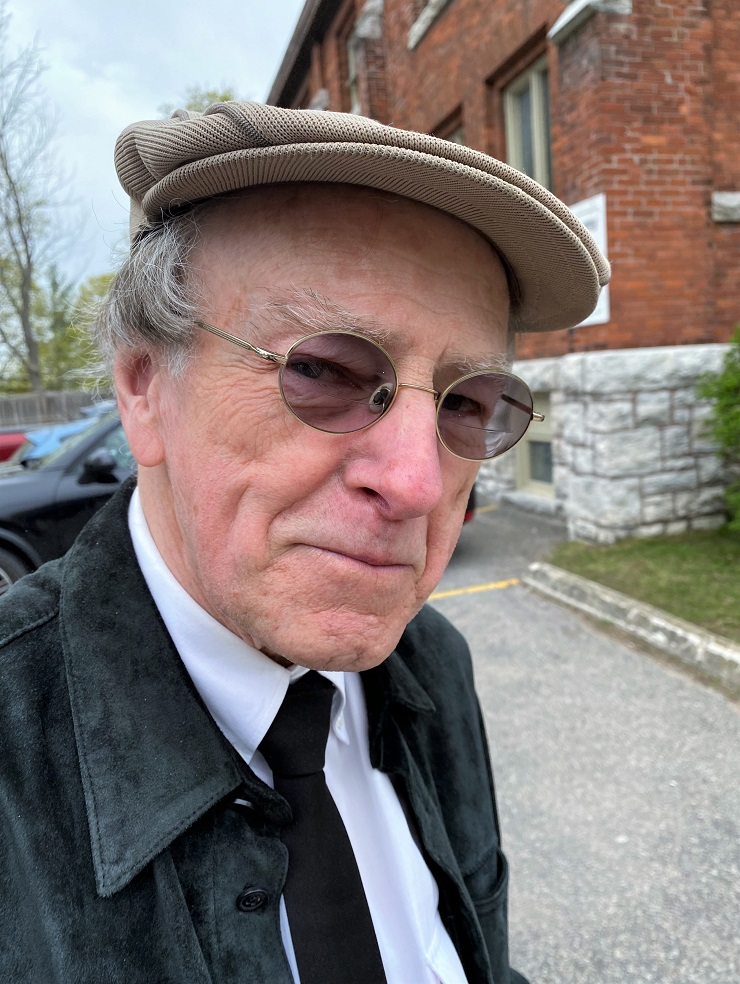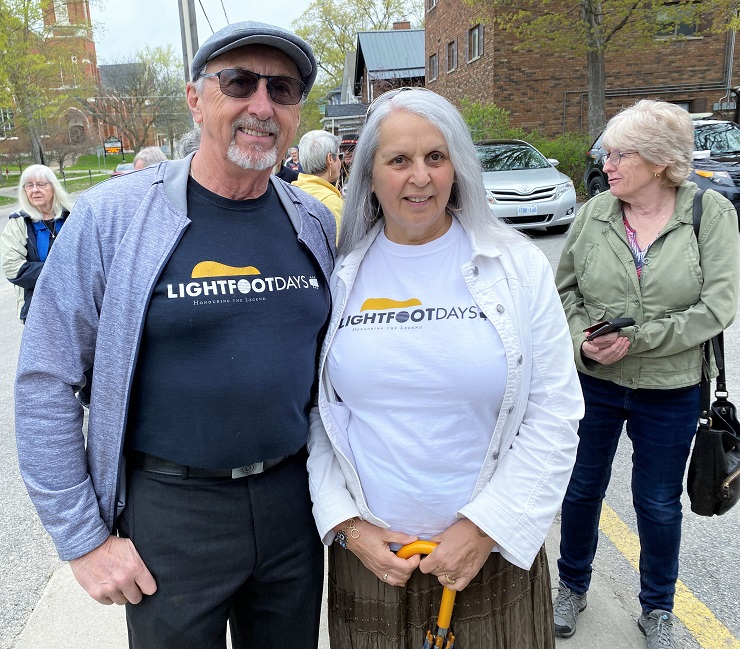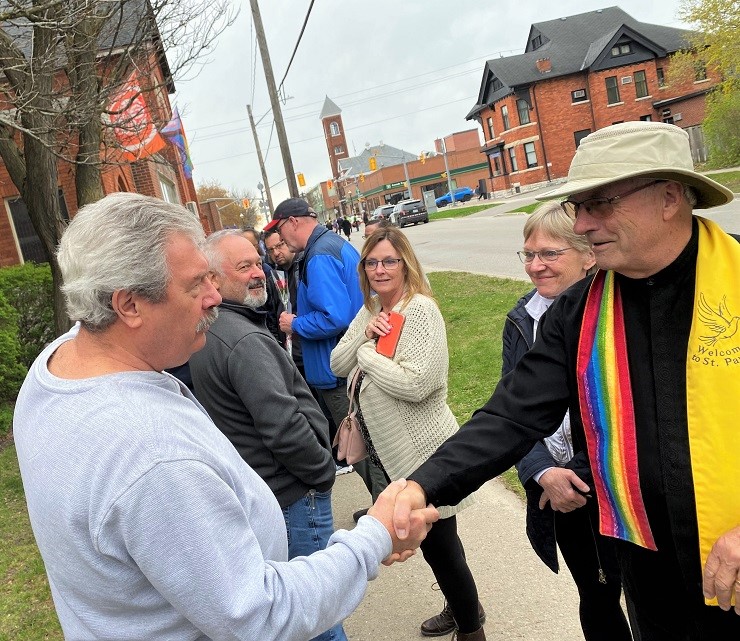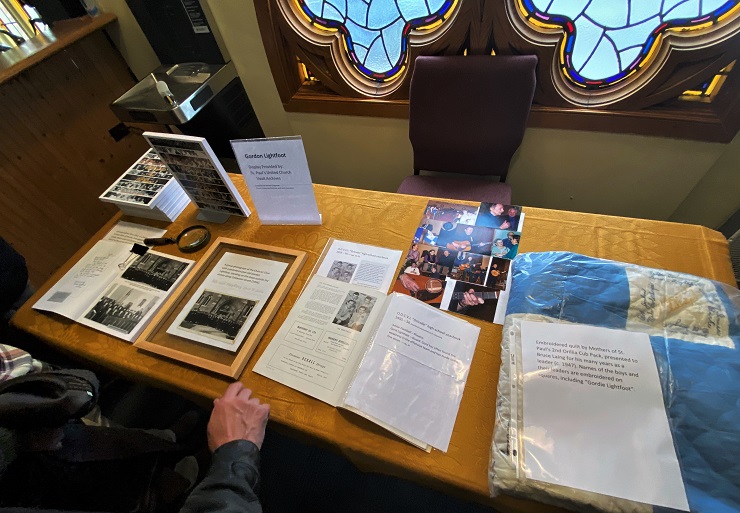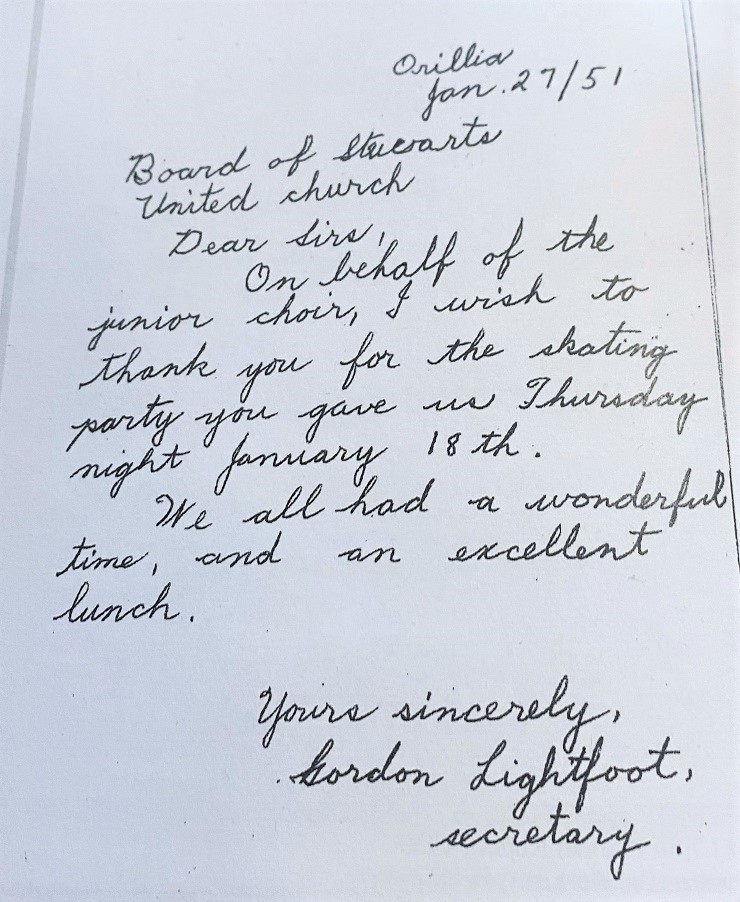 EMAIL: news@muskokatoday.com
29 years of 'Local Online Journalism'
Twitter: @muskokatoday, Facebook: mclairmont1
Leave comments at end of story
SUBSCRIBE for $25 by e-transferring to news@muskokatoday.com
Or go online to https://muskokatoday.com/subscriptions