Mark Clairmont | MuskokaTODAY.com
ORILLIA — Following his funeral today, some time at a later date Gordon Lightfoot will be buried in his family's plot with his parents and sister.
St. Andrew's and St. James' Cemetery overlooks his childhood home, in the northwest end of Orillia, where he grew up and lived until about 1959-60.
And where he sang his way to elementary school on nearby Westmount Street, before running down to St. Paul's to sing in the choir and eventually go on to international fame.
Harvey Street, a mix of small, older homes, was where Lightfoot developed his small town sensibilities and sensitivities.
Paul Hill bought the family stead from Lightfoot and his mother's estate in 1998 after Jessie died at 88. Her year-younger husband, Gord Sr., predeceased her in 1974 after a life as a Wagg's laundry and dry-cleaning owner where his son was humbled by the tumble.
Hill told me he was enticed from Toronto with prospect of purchasing a "century home."
At first he wasn't clear on the seller after an original sale fell through.
It wasn't until two weeks later — when the real estate asked if he knew his new digs were owned by Lightfoot — that he realized it was a famously local musical landmark.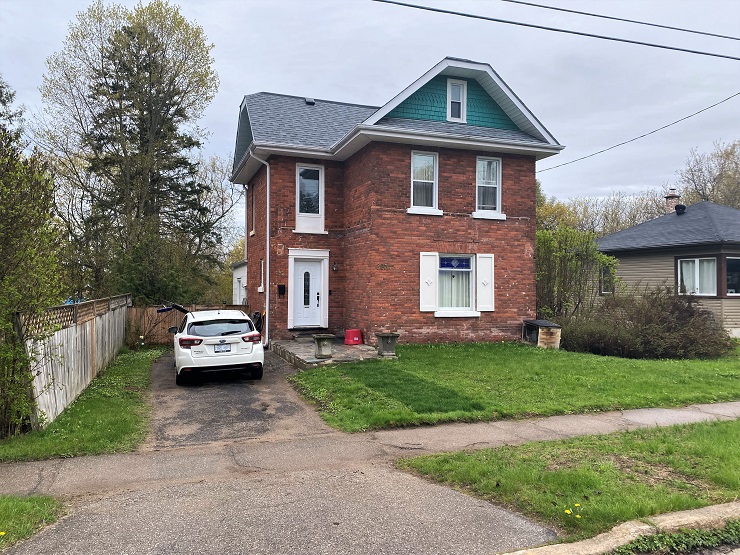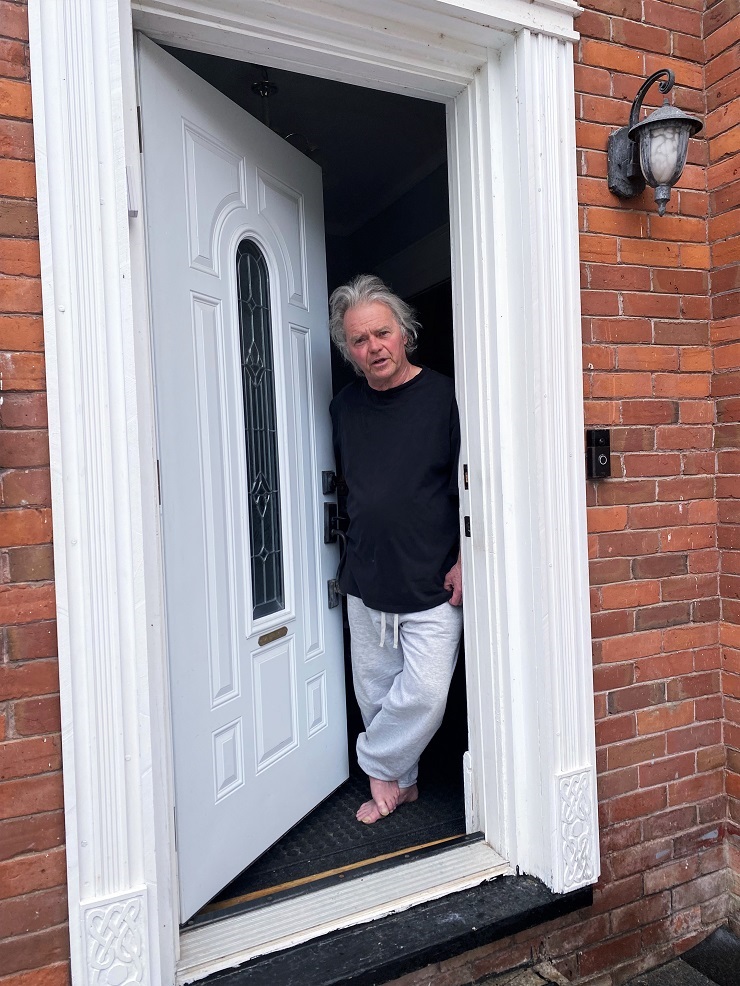 Hill said at first he was unaware of its local significance and that the singer was from Orillia.
But when he began teaching at all the public high schools in the small Ontario city he quickly became aware of the troubadour's community prominence and Canadian presence.
About six months after the sale Lightfoot and sister Beverly Eyers arrived for a look when he "heard I was renovating and wanted to see what I had done."
He  joked that if Hill kept the renos going "I may have to buy it back."
Lightfoot ended up living in Toronto's Bridle Path, with Drake as a neighbour, and came one other time for a visit and something to do with a documentary. "Lightheaded" is about Gordon's fans and is soon due out on Amazon.
Hill says there is nothing left in his home of the family or Lightfoot. No music or pictures.
While the Canadian icon was being memorialized by the public five minutes away, Hill was busy lamenting with his neighbours the prospect of an eight-storey condo project towering over their mostly not famous homes.
When Lightfoot is finally laid to rest up the hill, Hill hopes that's the only towering presence he can withstand.
More stories …
Fred Schulz has seen, heard and photographed dozens of Lightfoot concerts, thanks to his mutual friend Bernie Fiedler, Lightfoot's promoter for 60 years.
Schulz, who says he retired last fall after booking shows at the Barge for some five decades and is now working part-time doing the same at Gravenhurst Opera House, has many stories about driving to Massey Hall and Mariposa with his Muskoka friends the Marians and others as well as times with Lightfoot's good friends the Good Brothers on the Barge in Gravenhurst.
After one of the Lightfoot's shows last year, when he knew concert appearances were becoming fewer and further between, he detained the singer from his adoring fans long enough to "get everything I owned signed by him."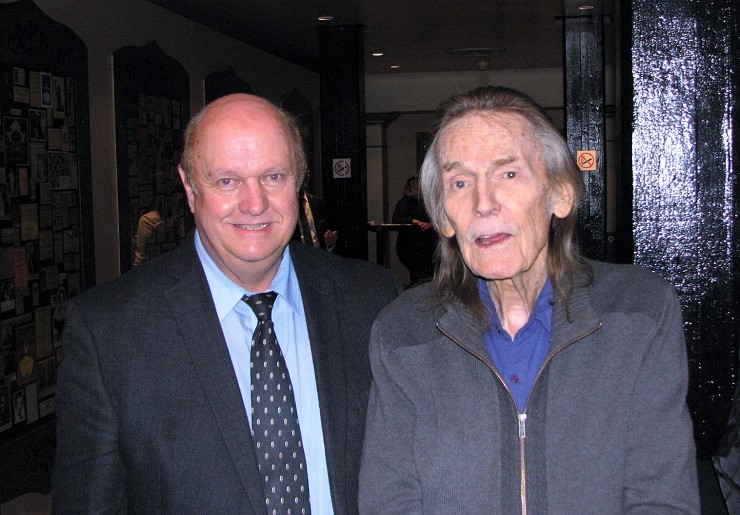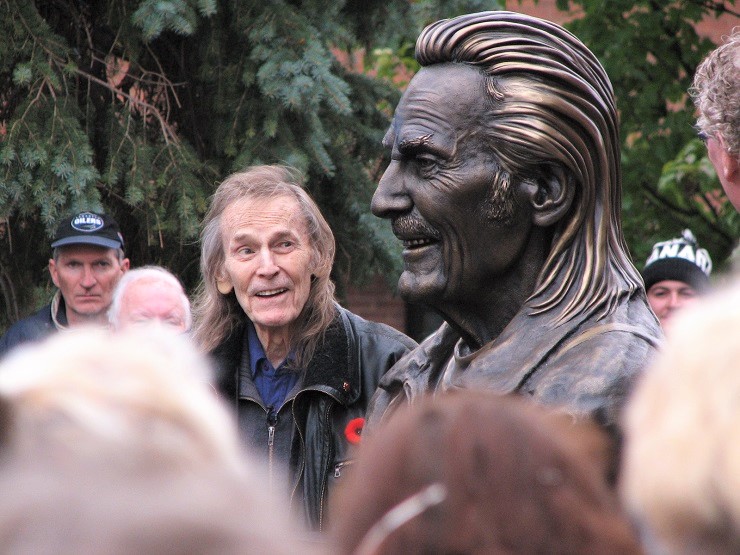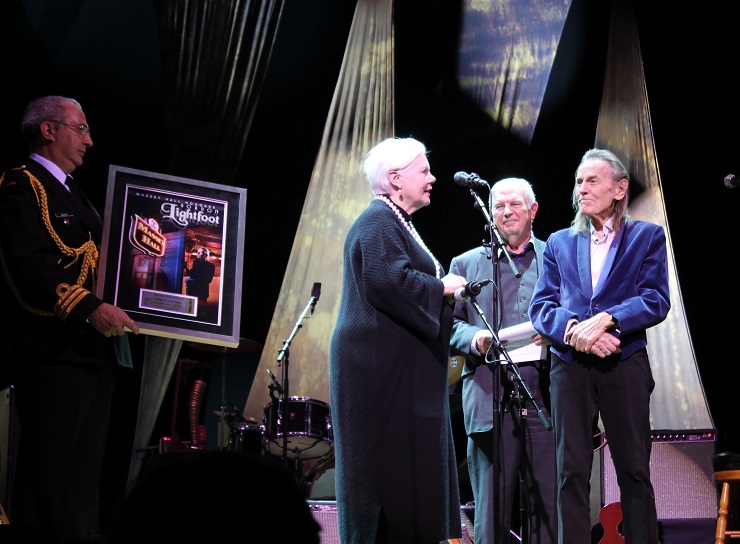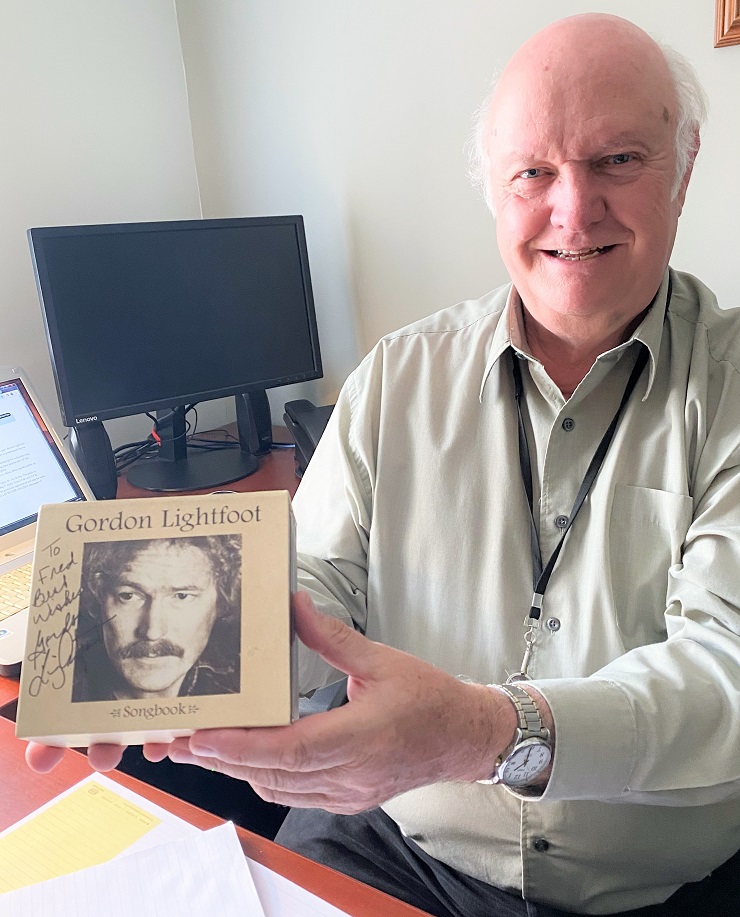 Sing in choir and solo …
Former St. Paul's minister Rev. Karen Hilfman-Millson, who presided over this morning's private funeral, got to know Lightfoot well over the past 20 years or more.
She said he had come back a few times over the years to sing and perform and for filming of a documentary.
In 2006 she invited him to come back for the St. Paul's 175th anniversary, when she and archivist Robert Chapman interviewed him for the church's history project.
Notably the next year he came back and sang in the choir.
"We did a worship service and he told two things that he wanted to do. He said: 'The first thing I want to do is come out of the choir and sing my solo like I did when I was  kid.' So we put him in the choir and he came out sang his solo 'Sit Down Young Stranger.'
"And then he wanted to have tea with the ladies after church. So we had tea."
He returned in 2011, 2013 and in 2017 for his documentary "If you could read my mind," when he talked about growing up in Orillia and singing in the church and Kiwanis Festival that always had its contest tests at St. Paul's.
The retired reverend, who still lives in Orillia, said "I have scads of memories."
Hilfman-Millson added "I had a very continuous flow of tears" last Monday when she heard he had died.
"I actually got a lot of condolences from people, which is very nice."
She has also read a lot on Facebook the past week and wrote an article for the Broadview Magazine, the United Church magazine, which is online.
Rev. Ted Reeve, who co-officiated at the funeral, said he had "a few encounters with him over the last few years at Mariposa Folk Festival and university events. And I always found him quite a gracious guy to hang out with. And I appreciated his sensibilities about St. Paul's and his family's connections here."
Reeve said "of course" he mentioned him at Sunday morning's service before the public wake.
"I had a prayer for him when I ended my sermon by talking about him."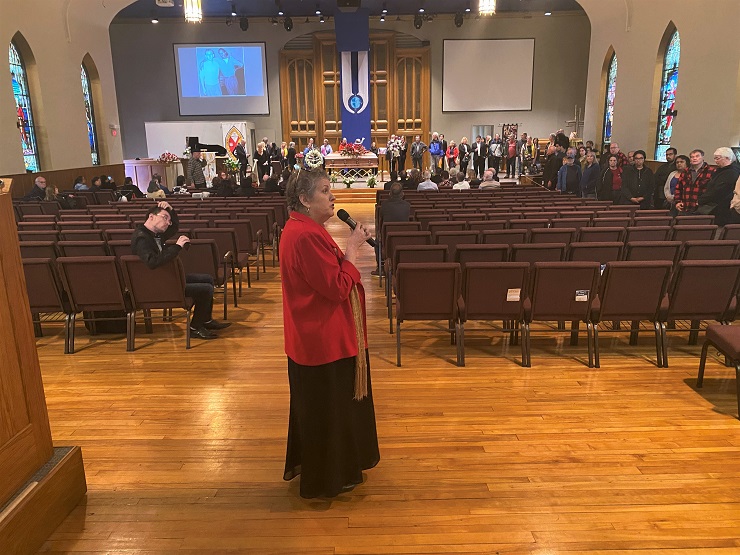 Music still fresh in mind …
Bassist Rick Haynes, 78, and his son, Jeremiah, who were two of the pallbearers along — with four of Lightfoot's children Mary, Galen, Eric and Fred — said they haven't listened to any of Gord's music this week even though it was hard to miss it on radio, TV and online.
"It's still too fresh," said Rick. "We know it so well."
Jeremiah, who told his dad about the Bill Joel "shout-out" Friday, said they'll soon get back to enjoying it a different way now.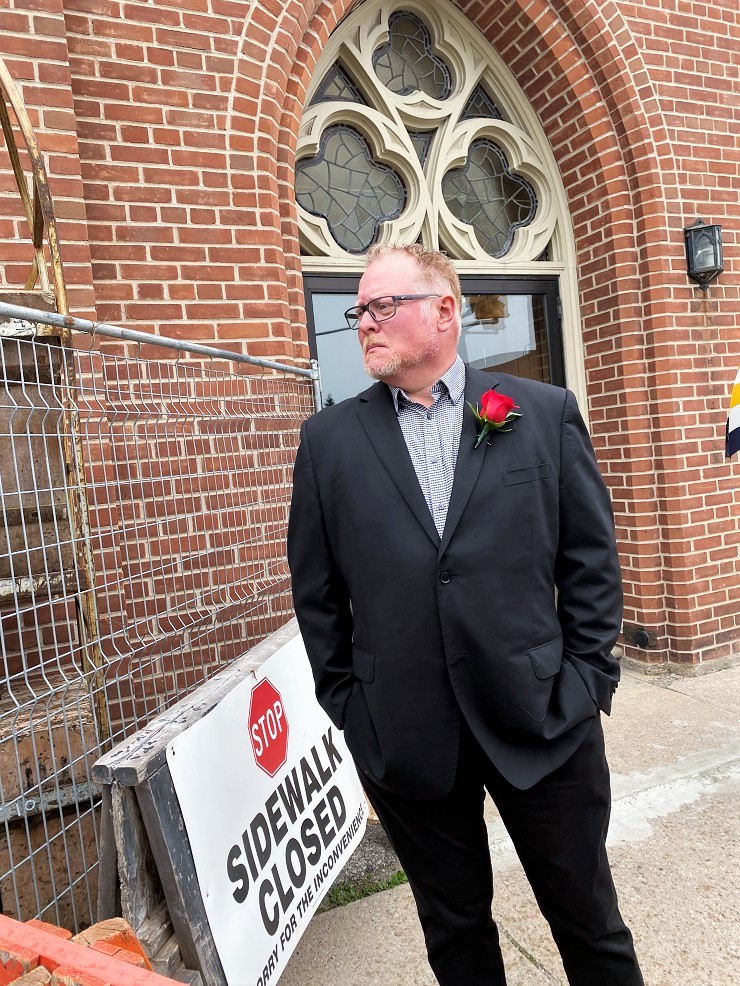 Lightfoot Fan Club …
"Char" Westbrook, of Whitby, represented Lightfoot's Fan Club, which started in 2000 as a FB discussion forum and memorabilia exchange. Lightfoot appeared on it a five or six times for chats and he told she could 'put it out there.' That's the way he referred to the internet."
Westbrook was "very grateful that I had his music in my life. And it the later years come to know him and the families. This is beautiful. It's lovely and very understated, not an over the top Massey Hall event or the Gardens.
"This is Gordon Lightfoot. His church. His home. He is home here. It never left him. The small town boy never, ever left home and he's just back where he should be."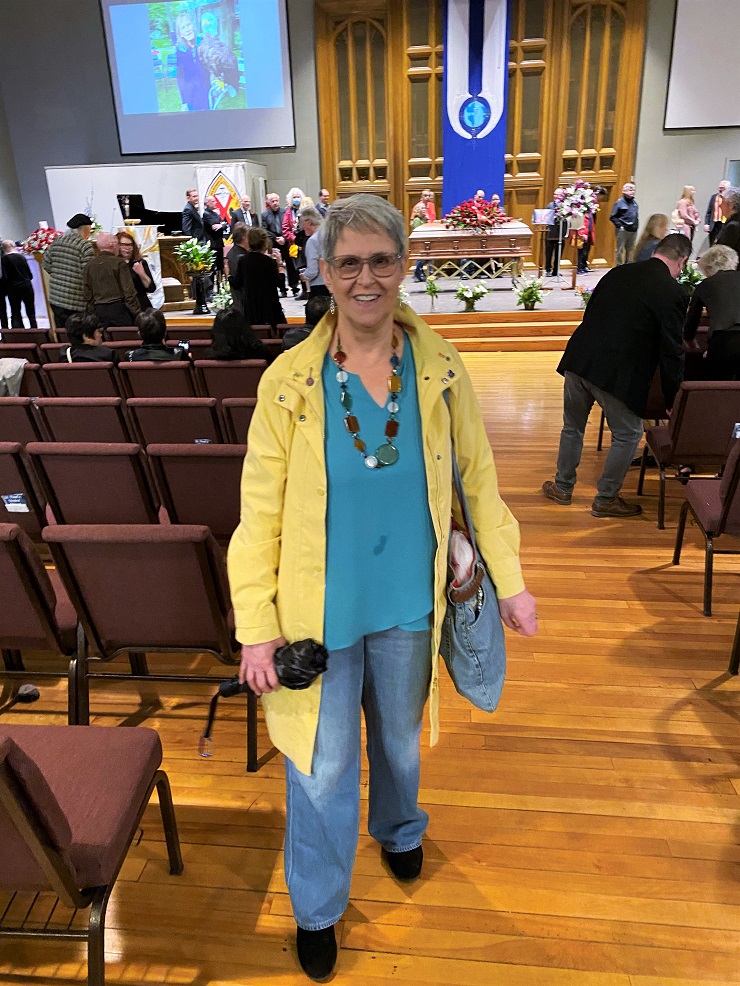 Sharing the stage …
Preeti Nichol, of Bracebridge, too was "emotional, but glad to be here."
Friend Neil Hutchinson left a guitar pick on his coffin saying he should used one he played with a day before at 'Lunches with Lightfoot' at Fyne Thymes Bistro and Bakery in his hometown.
"Huge fan" Ray Rama, of Richmond Hill, was also moved. "It's been really sad," he said, adding what he said as he paused beside the singer who helped the immigrant understand Canada. "I said my thanks. Keep the memories."
Jim Shepherd, who was walking by the church, stopped at the light and said he grew up with Lightfoot and went to the same two-room classroom on Westmount Road. The 84-year-old said he wasn't as big a fan, though "there were a couple of songs" that weren't too bad.
Mourners pause in the rain as church bells chime in 30 times with tribute to Lightfoot.
EMAIL: news@muskokatoday.com
29 years of 'Local Online Journalism'
Twitter: @muskokatoday, Facebook: mclairmont1
Leave comments at end of story
SUBSCRIBE for $25 by e-transferring to news@muskokatoday.com
Or go online to https://muskokatoday.com/subscriptions