MUSKOKA — Here's cheers to King Charles III.
Coronation streets in Muskoka Saturday stretched from Gravenhurst to Bracebridge to Huntsville as unapologetic monarchists waved the Union Jack as Britannia ruled the day from London to Ottawa and around the Commonwealth to varying degrees.
At The Old Station pub and restaurant in Bracebridge, Town Crier Bruce Kruger hailed the new King and Queen Camilla with his usual rousing "royal proclomation" before he hoisted a pint in their honour that left him foaming at the mouth.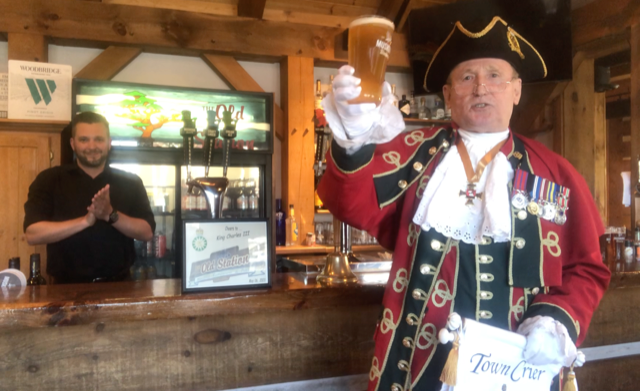 Hear ye! Hear ye! Hear Town Crier's proclomation.
Meanwhile, later in Gravenhurst, at the arena that night the party continued with a fancy dress competition at part of a chamber of commerce spring fling and coming out party.
Sybil Jackson and Alan Clarke won dinner at Sherwood Inn as best-dressed couple with her red fascinator, his red coat and their basic black pants as attendees gave them a winning right royal round of applause.
Games, a band and finger food rounded out the long day, which may not come around for a decade or more before popular William the conqueror and Kate ascend the next throne next.
But if Prime Minister Justin Trudeau lives as long, let's face it Charles's face will till then be stamped indelibly on Canada's pocket change, $20 bills and  in our constitutional monarchy system for a while yet, according to the London guest this weekend.
God Save the King and Queen! And long live the King and Queen!
At least until Charles can make a world of difference as our head of state — official or not.