Mark Clairmont | MuskokaTODAY.com
PARRY SOUND-MUSKOKA — Bill 23 failed the Greens "smell test" — but passed into law this week with a Tory majority.
One of Ontario's most controversial bills received third reading and will now allow homes to be built on the previous greenbelt surrounding Toronto.
A last ditch attempt by the Green Party to stop it proved too little, too late last weekend as party supporters and volunteers went door-to-door with a petition against it during a day of action Saturday.
GPO Leader Mike Schreiner said 23 "doesn't pass the smell test," when it comes to the Ford government opening 7,400 acres of the greenbelt for its new housing initiatives.
Schreiner accused the government of benefiting pro-Conservative developers who have bought some of that land.
Days before the passing he tabled a motion in the legislature calling on the government to: immediately halt plans to open up the Greenbelt for development; permanently protect prime farmland, and commit to building at least 1.5 million homes within existing urban boundary.
The provincial day of action was spearheaded by the GPO with the Parry Sound- Muskoka constituency association organizing local outreach to the communities in Burks Falls, Huntsville, Gravenhurst, Parry Sound and Bracebridge, said riding president Arleigh Luckett.
Fifty volunteers spread out and collected 830 signatures.
They said at almost every home they received signatures.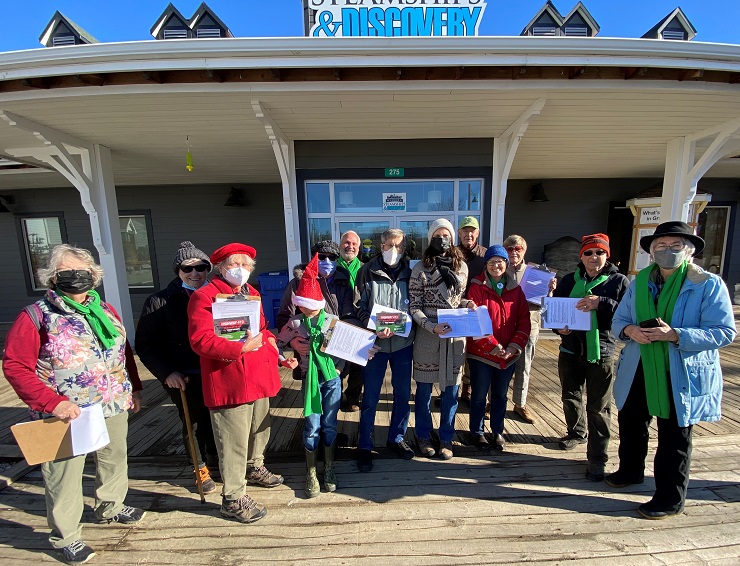 The petition to Ford read: "Where as the premier has persistently over the past four years promised to not to develop the greenbelt;
"And whereas the premier has plans to build the Hwy. 413 that would pave over 400 acres of the greenbelt, including over 2,000 acres of class 1 and 2 land;
"And whereas the government now has plans to open up over 7,400 acres of the greenbelt for pro-sprawl developers;
"We the undersigned petition the Legislative Assembly of Ontario as follows: To instruct the Ontario government to immediately to commit to cancelling Hwy. 413, and immediately halt all plans to develop the greenbelt; and to instead invest in liveable, affordable communities connected by transit that will helps the nature that protects us, the farmland that feeds us and mitigates climate pollution."
In the end it was a moot exercise. The Tory majority ruled.
And with little fanfare — or coverage — Bill 23 became the law of the land.
And with it a myriad of other opposed sections of the omnibus bill, including individual rights to appeal wetland decisions to the Ontario Land Tribunal.
Not to speak of municipal opposition to towns and cities that must now pay the cost of development service charges once covered by builders and subdivision creators.
Critics say the burden will be borne by taxpayers.
Lois Cooper said: "It will mean higher taxes."
Greens says 23 undermines local democratic responsibility for land use planning; and that it amounts to an assault on environmental protections.

EMAIL: news@muskokatoday.com
28 years of 'Local Online Journalism'
Twitter: @muskokatoday, Facebook: mclairmont1
Leave comments at end of story
SUBSCRIBE for $25 by e-transferring to news@muskokatoday.com
Or go online to https://muskokatoday.com/subscriptions