Mark Clairmont | MuskokaTODAY.com
MUSKOKA — "We expect our elected MPP to protect our communities' interests and to protect Ontario's natural resources and forests," says Climate Action Muskoka spokesperson, Tamsen Tillson.
"We are calling on (Graydon Smith) to do the right thing and fight like hell to get the bill rescinded."
Climate Action Muskoka (CAM) and Almaguin Climate Action (ACA) say they have a message for the Parry Sound-Muskoka MPP and Minister of Natural Resources and Forestry.
'Bill 23 must go."
And they hope to deliver as many personal letters of protest as possible.
They say the More Homes Built Faster Act passed this week harms wetlands, harms forests and farmlands, harms affordable housing, harms local government and harms democracy.
CAM and ACA are uniting with a collective message next Friday, Dec. 9 in what they are calling a 'Travelling Climate Rally' from parts north and south in the riding.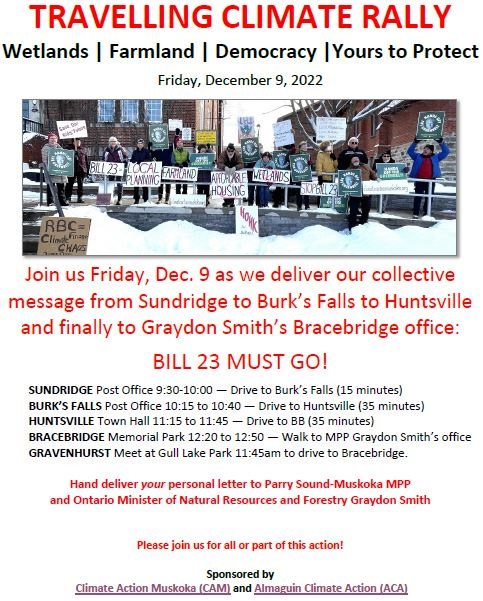 A joint release from them today says they want 23 repealed "to protect the biosphere, to allow municipalities to take climate action, and to ensure that citizens have a say in the future of their communities.
"Bill 23 represents a massive assault by the Ontario government on biosphere protections, Indigenous and Treaty rights, municipalities, public consultation rights, climate decision-making, and downloads private developers' costs onto municipal taxpayers," says CAM's Sue McKenzie.
"We invite all concerned citizens and municipal representatives to join this event."
You can join all or part of the Travelling Climate Rally as begins in Sundridge (post office 9:30 a.m.), moving to Burk's Falls (post office 10:15 a.m.), Huntsville (Town Hall 11:15 a.m.), and continue south on to Bracebridge (Memorial Park 12:20 p.m.), and finally walk to Smith's Bracebridge constituency office (230 Manitoba St.).
Those joining from Gravenhurst will meet at Gull Lake Rotary Park at 11:45 p.m. to travel to Bracebridge to join the northern group there.
Everyone is welcome to join the rally at any point along the route.
They urge supporters to bring their own sign and :your personal written letter to our MPP."
Members of the group will hand deliver the letters to Smith.
If you cannot join the event, email your letter or give your letter to someone who can attend.
The event is organized by Climate Action Muskoka (CAM) and Almaguin Climate Action (ACA). The two groups have requested a joint meeting with MPP Smith.
For more information: climateactionmuskoka@gmail.com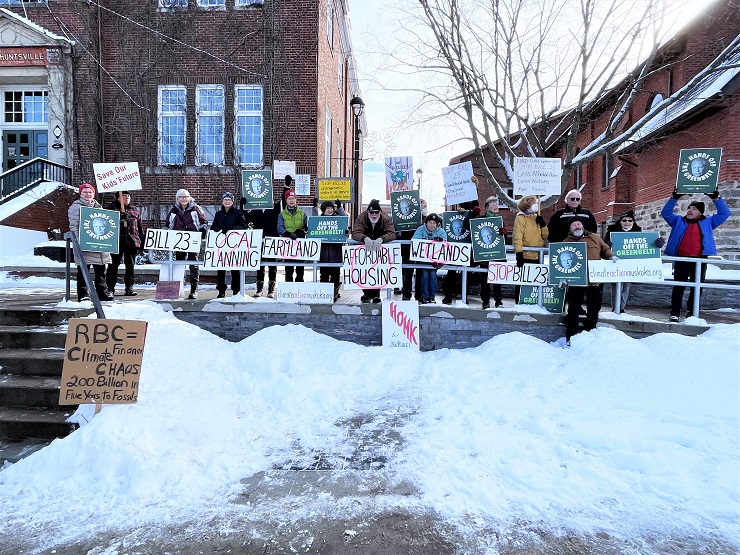 EMAIL: news@muskokatoday.com
28 years of 'Local Online Journalism'
Twitter: @muskokatoday, Facebook: mclairmont1
Leave comments at end of story
SUBSCRIBE for $25 by e-transferring to news@muskokatoday.com
Or go online to https://muskokatoday.com/subscriptions