Mark Clairmont | MuskokaTODAY.com
MUSKOKA — The "Greenbelt" stretches north.
A ribbon of trees and farmland surrounding Toronto is at risk says the Ontario Green Party (GPO).
And that affects far more than the provincial capital, which is why they are planning a day of action Saturday to protest the province's environmentally unfriendly changes.
The GPO says that "with healthcare crumbling," Premier Doug Ford is spending $13 billion building Hwy. 413 to benefit a few.
And, they add, now that the provincial government has opened the protected Greenbelt to developers under the guise of more housing he is rushing through Bill 23, the "Build More Homes Faster Act," before new councils are in place in time to submit concerns.
Greens say the bill opens up the Greenbelt to growing rural subdivisions (urban sprawl), and strips away powers to protect farmlands, wetlands, forests and waterways essential to addressing the climate crisis we face.
It also overrides local municipal planning and governance, which they say some have described as a "Developers' Charter."
For them it is a "climate and affordable housing disaster."
They refer those concerned about the "dangers" presented by this bill, to read Climate Action Muskoka's submission to the government here: Bill 23
So what can you do?
They say join the GPO and the local riding association for their province-wide day of action Saturday, Nov. 26, when Greens will rally to deliver postcards and collect signatures to: Stop Hwy. 413, Save the Greenbelt and Stop Bill 23.
They are organizing teams to take action in Burk's Falls, Parry Sound, Huntsville, Bracebridge and Gravenhurst from 1 to 3 p.m.
For more info lindamathers@gpo.ca
They also suggest emailing MPP Graydon Smith graydon.smith@pc.ola.org to identify one or more of your concerns.
"Every email, no matter how short, will help hold MPP Smith to account," they say.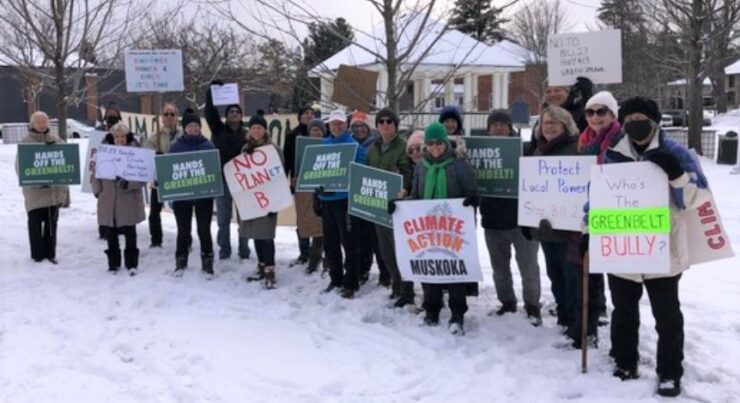 EMAIL: news@muskokatoday.com
28 years of 'Local Online Journalism'
Twitter: @muskokatoday, Facebook: mclairmont1
Leave comments at end of story
SUBSCRIBE for $25 by e-transferring to news@muskokatoday.com
Or go online to https://muskokatoday.com/subscriptions