GRAVENHURST — Live — tomorrow — and on the air Sunday afternoon on YourTV Cable 10.
It's the annual Gravenhurst Rotary Online & TV Christmas Auction, which kicks off Tuesday on a computer or cellphone nearest to you … slow but sure.
With 318 locally-donated business items and experiences available — valued at $45,000 — the popular holiday fundraiser for the Rotary service club has something for everyone.
And this year it's all being done mostly online from the comfort of your own home — with no paper copy of the items to watch for in your home mail this week.
Or if you prefer to have a hard copy of the auction list, they have some available for pickup at the Gravenhurst Opera House from 10 a.m. to 3 p.m. Tuesday to Saturday.
And a day late going up online, due to technical difficulties, you'll find that unique one-of-a-kind item to put under the tree this year — or maybe find something special for you.
The online auction starts tomorrow, Nov. 22 with pre-bidding — with Rotarians hosting the final bidding Sunday afternoon (Nov. 27) on YourTV (Cogeco Cable 10) from noon to 5 p.m.
The online website allows you to bid early and you will receive automatic notifications if you've been outbid by someone else.
So keep an eye several times a day to see how your bid is going.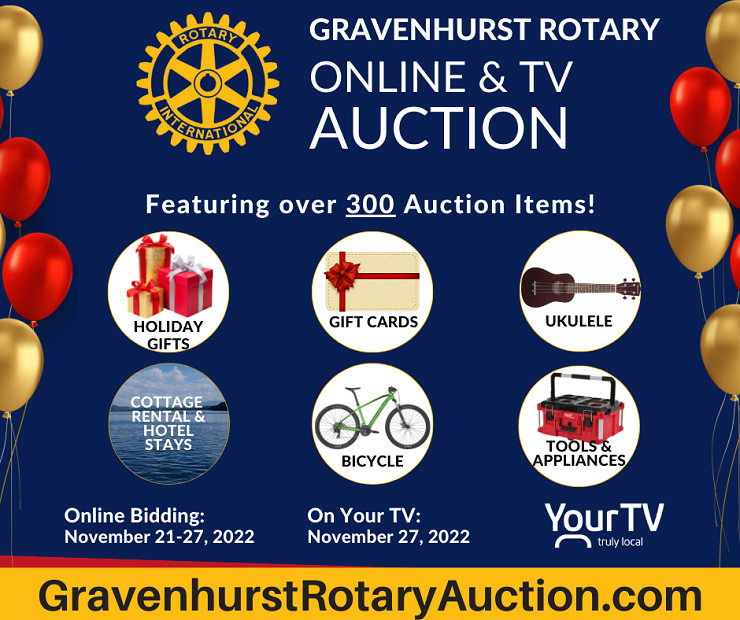 Participating is easy and fast. Just register your name and email — and lace your bids on your favourite items.
Visit www.gravenhurstrotaryauction.com where you can download the full list of auction items.
You can send an email to auction@gravenhurstrotary.com to receive the list in your email inbox.
All funds raised from the annual auction will support Gravenhurst Rotary initiatives, including the Rotary Wheels for Learning, the club's school bursary fund, their mental health support program and many social services and community help initiatives.
"We appreciate the generous support allowing us to continue helping local individuals and organizations," says Rotary president Barb McCabe. "Thank you."
Auction chair Micky Iutzi, too, is grateful for the kindness displayed by the community.
"The support of our community each and every year is heart-warming to see and experience. We're grateful for our local businesses who donate auction items and for each of you who participate."
Start shopping tomorrow at www.GravenhurstRotaryAuction.com
For more information, contact Iutzi at 705-801-5446 or email her at auction@gravenhurstrotary.com