Mark Clairmont | MuskokaTODAY.com
PARRY SOUND-MUSKOKA — Arleigh Luckett says "holding MPP Graydon Smith and Doug Ford to account can't wait four more years."
That's why the long-time Ontario Green Party volunteer from Gravenhurst is working with fellow constituency members and other volunteers to organize opposition to Premier Doug Ford's push to build Hwy. 413, open up the Greenbelt and rush through Bill 23 — The Build More Homes Faster Act — before municipal councils begin new terms.
And why the party's president has received its prestigious Lois James Volunteer Award for 2022.
"All three threaten not only the green spaces critical to our food supply and climate resiliency, but drastically alter land use planning giving power to the provincial government to overturn local municipal planning policy and decision-making," says Luckett in a GPO release Tuesday. "The work of holding MPP Graydon Smith and Doug Ford to account can't wait four more years."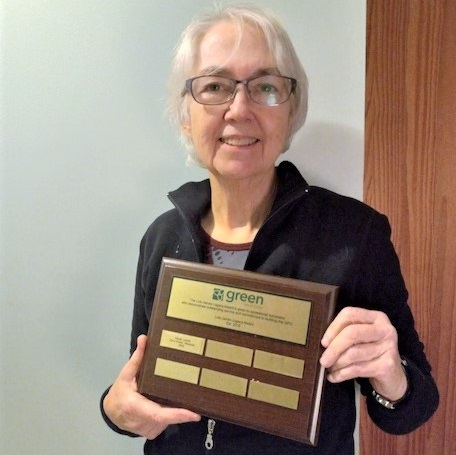 Every year the GPO recognizes an outstanding volunteer whose dedication and service has significantly advanced the values and policies of Green Party constituents, supporters, and voters.
"The key to success and volunteer retention is true teamwork," said Luckett. "I've had the pleasure of working with more than one highly motivated team within the Green movement."
She was elected president of the constituency association in 2018 and has worked on behalf of Green Party candidates and initiatives for 14 years, including as campaign manager for two campaigns.
Most recently, she served on the Matt Richter campaign leadership team with responsibility for data management and the Gravenhurst area.
"Arleigh Luckett is a most deserving recipient and has been instrumental building campaign successes in Parry Sound Muskoka, most recently with Matt Richter winning 40% of the vote and narrowly missing the win," says Linda Mathers, volunteer coordinator for the local organization.
Luckett moved to Muskoka in 1970 after finishing university. While living in Ryde she and her partner Larry Shirk built a geodesic dome, developed an organic garden, made hand-crafted candles and maple syrup and raised two daughters. Luckett's career took her from hand-crafting candles to working with children with disabilities and their families into agency management. At the time she retired she was a consultant in client information systems implementation, training, and data analysis.
She has established a long history of volunteerism with various Ryde community organizations, Girl Guides Canada, Syrian Refugees Gravenhurst, and more recently the Gravenhurst Against Poverty community gardens project. In 2016, she received the YWCA Women of Distinction Award for Lifetime Achievement.
EMAIL: news@muskokatoday.com
28 years of 'Local Online Journalism'
Twitter: @muskokatoday, Facebook: mclairmont1
Leave comments at end of story
SUBSCRIBE for $25 by e-transferring to news@muskokatoday.com
Or go online to https://muskokatoday.com/subscriptions