Mark Clairmont | MuskokaTODAY.com
GRAVENHURST — They dropped by, blew bubbles, laughed, cried and toasted "Dunc" Veitch last night.
Phillip Street was blocked at 6 p.m. with way more than 100 mourners, as family, friends and his many admirers celebrated the life of a "natural-born comedian" who was clearly loved by so many young and old.
Face coverings couldn't mask moist eyes or the mournful yet joyful sound of laughter as they rang bells, reminisced and raised little red plastic shot glasses in his memory.
It was supposed to be a drive-by, but ….
It was a fitting tribute for a "funny guy" who died at home last Saturday, March 13, just a couple doors down from his mom Pat Loughead's place — at the intersection of Third Street. And where good ol' friends gathered to party, remember and share good times with the popular and out-going community character.
Duncan Veitch was just 33.
His tragic death was due to "a blood clot in the main vessel of his heart," said his younger brother Sam, just 30 himself, and the owner Vertex Landscaping and Design.
"It was instant," he said. "So that's a small comfort."
Duncan had a positive COVID test, but was asymptomatic, said his mom.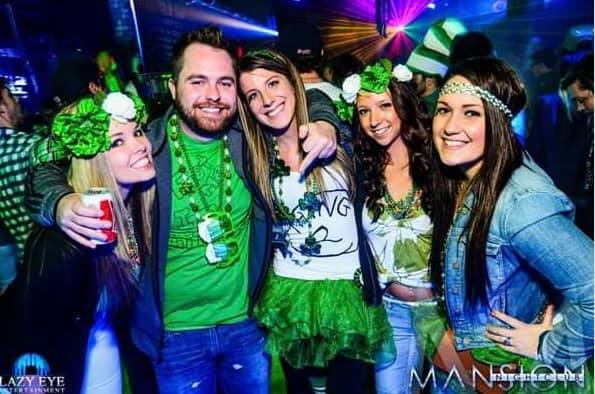 And he was to start a new job at the prison Monday, two days after he died.
He'd been working contracts in food services at Beaver Creek and was excited to finally be working full-time.
"He loved to cook," said Chip Loughead, owner of Gravenhurst Plumbing and Heating where Veitch also worked part-time between jobs in customer service.
Veitch also worked hospitality jobs at Taboo Resort, Boston Pizza, Sawdust City Brewery and the Frosty Pint.
He was also an avid sportsman who especially loved to golf.
His dad, Jan Veitch, said he was going to take his son skiing the following day, on Sunday, "but he had to write some kind of exam for his new job."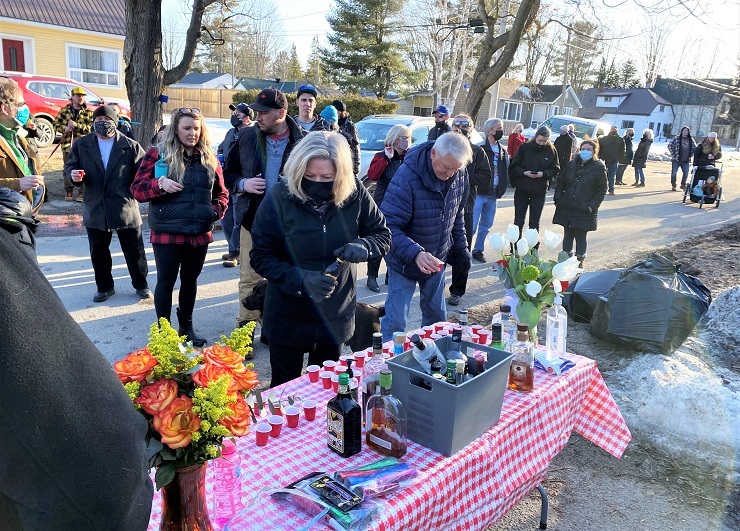 Friday night's memorial — a fittingly a casual stand-up affair — was held outdoors on an unusually warm spring evening just before sunset, which a week ago on the day he died would have been darker before daylight savings.
But the mood was far from sombre. It was upbeat as could be with "Dunc's" spirit in every taste of spirits.
A table ladened with flowers and libations was a rallying point for many of the mourners who joined in the boisterous toast.
He was always the life of the party more than one reveller recalled.
The street and driveway of Pat and Chip Loughead's house was overflowing with well-wishers, including uncle Don Holstock Jr., Aunt Heather Johnson and grandma Helen Holstock.
Any blue feelings were belied by a brilliant blue sky.
A neighbourhood watch, it was like a neighbourhood party for cooped-up COVID sufferers, many who greeted friends with warm, sympathetic hugs as if they'd not seen one another in months.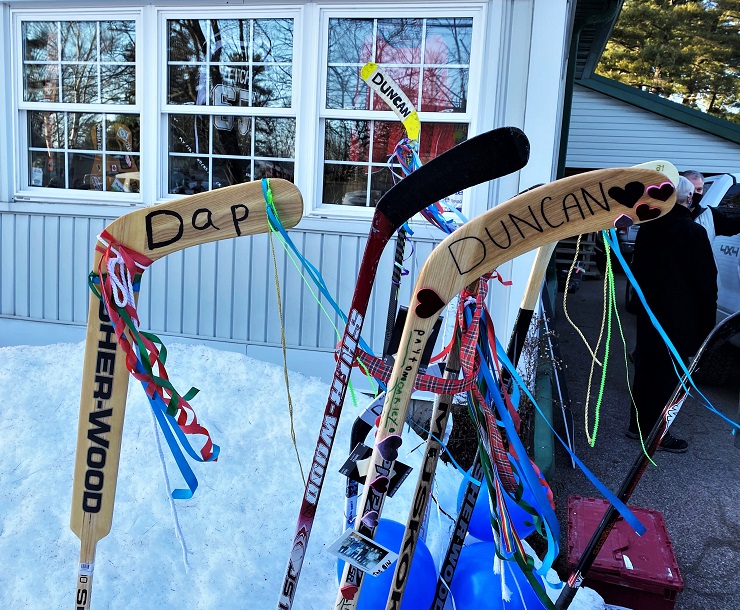 Online at the same hour elbows were bent, bubbles blown and fireworks lit — from snowbirds in America to backyards and inside home near and far — all with fun photos and videos showing smiling faces in moving tributes.
Veitch meant so much to so many and it showed.
A week after his death — and with seven days and dozens and dozens of posts on the 'Commemorate Dunc' Facebook page (which has 500 members) — social media was still abuzz this afternoon with comments and videos.
Emily Miekle wrote: "I'm still trying to find the right words, but the energy last night was palpable. I couldn't help but stand and look around at everyone and we all shared laughs and tears as we celebrated Duncan's life.
"Duncan was definitely one of my favourite people and I'm forever grateful for our years of friendship."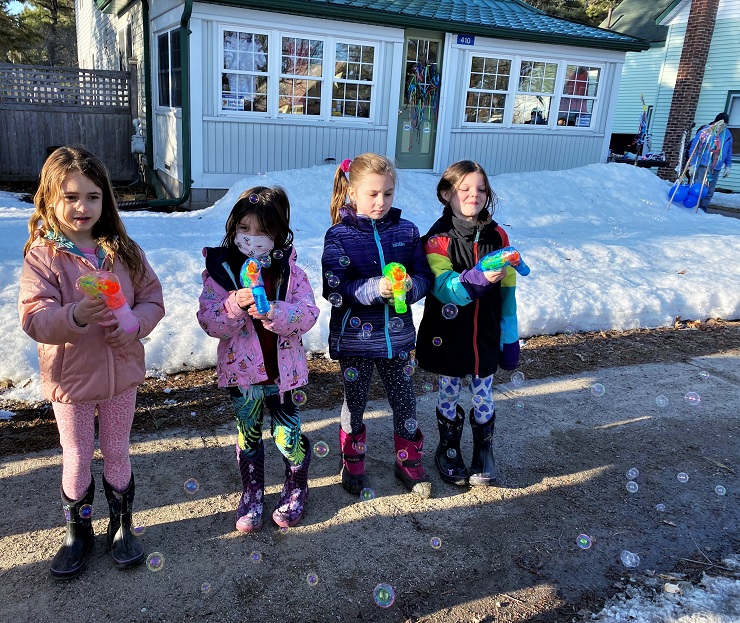 Yvonne Audrey added: "I'm not ready for the words because I just can't believe it's real yet (like so many of us I'm sure!!).
"But last night was amazing to see all the love, laughs, tears for our Duncan — the only Duncan!!! He truly was one of kind and a friend to everyone!!!!!
"You left a mark on this town and we'll never be the same. Rest in paradise, my friend."
Veitch's mom, Pat, called her son "a goofy, well-read fellah — like an old soul."
She said he was "always surrounded with friends," but was "well-grounded.
"He was a rock star. Always a challenge and pleasure at the same time."
She said he got his sense of humour from his late grand-father Don Holstock, a former mayor.
"It's a family thing," she said, adding both he and Sam were "voted funniest kid" in high school while at GHS and St. Dominic's in Bracebridge.
"They were very tight," said their proud mother.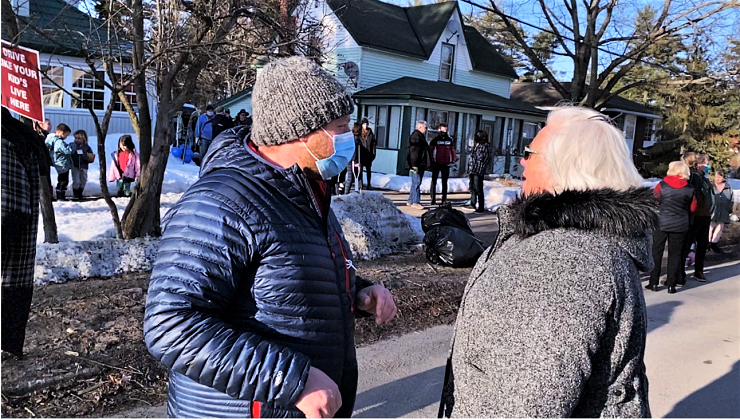 Said Sam: "He was the best brother I could have ever asked for, a best friend, a councillor, a body guard, and a leader to look up to. I always strived to make him proud and we would do absolutely anything for each other without question.
"He brought a smile to everyone's face that he met. His ability to connect with people whether it was a long-lost friend or a complete stranger was astounding.
"His quiet confidence is something I would like to embody more in my life and carry forward for him.
"He will be remembered and loved forever and always."
Sam said the family is going to do it again tomorrow night, at the same time, because "it was a bit of a last minute thing and some people had to work."
"You never know you affect people."
Veitch's death comes after two other young businessmen in town recently died this winter, Dap Thach, 48, and Chris Lewis, 52.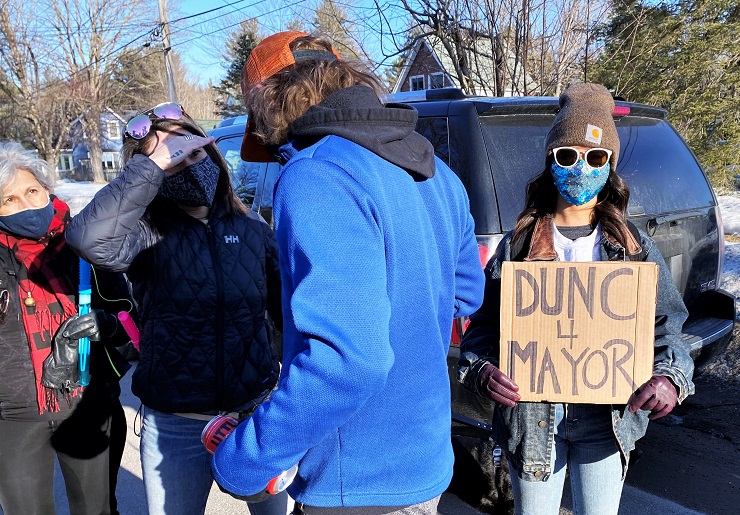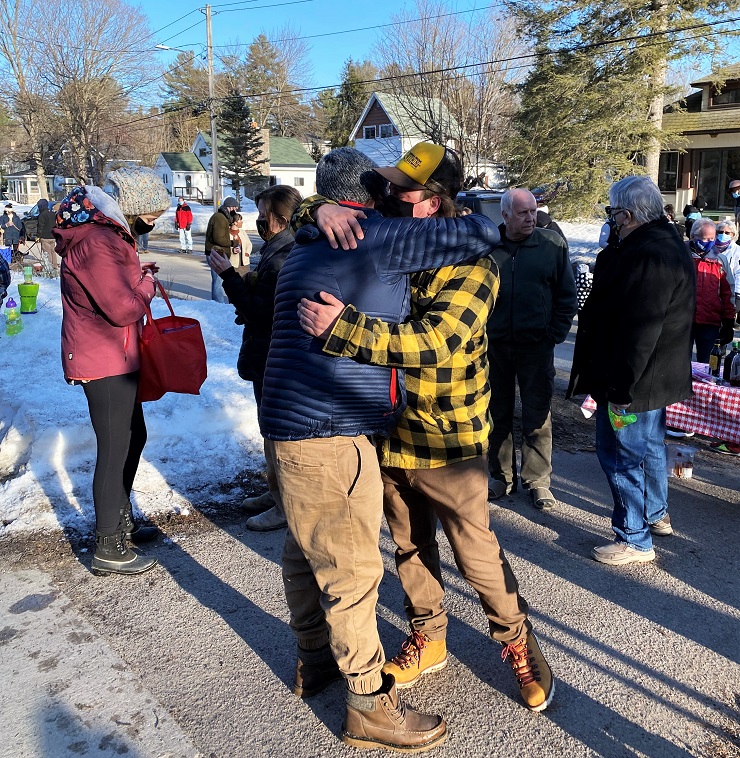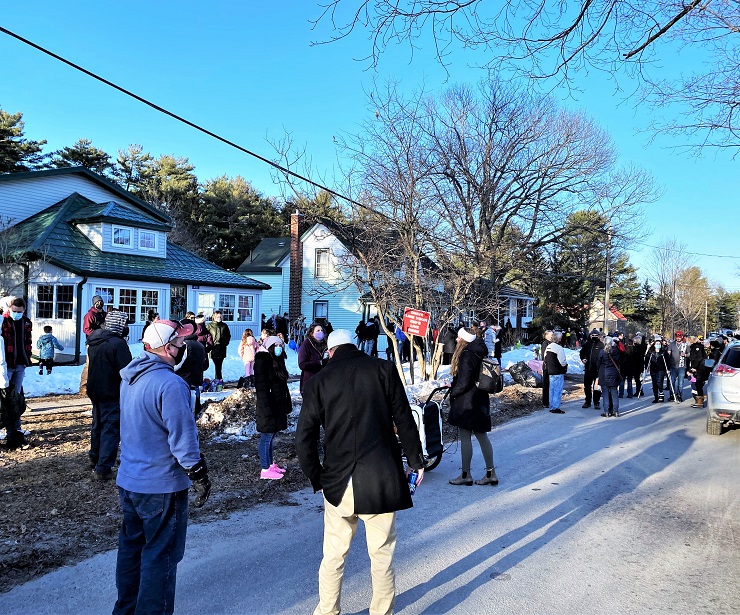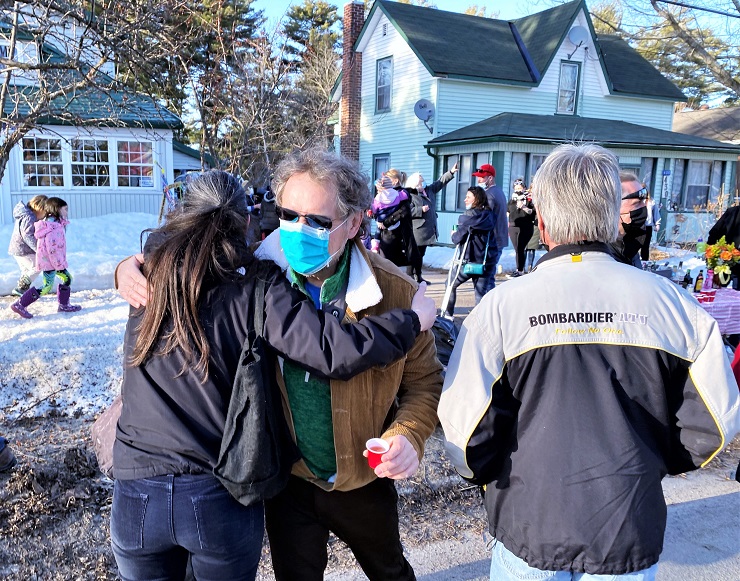 Duncan Veitch's aunt Heather Johnson thanks family and friends for helping celebrate an"amazing brother, friend, nephew and son."
Email news@muskokatoday.com
Celebrating 27 YEARS of 'Local Online Journalism'
Follow us on at Twitter @muskokatoday & on Facebook at mclairmont1
Leave your comments at end of story.
Send Letters to the Editor at news@muskokatoday.com
SUBSCRIBE for $25 by e-transferring to news@muskokatoday.com
Or go online to https://muskokatoday.com/subscriptions