Mark Clairmont | MuskokaTODAY.com
BRACEBRIDGE — Patrick Boyer is a sprightly 78-year-old with bright blue eyes, a warm smile, inquisitive mind and gift for telling stories about Muskoka few if any can match.
Tomorrow morning at the Bracebridge Public Library, at 10:30 a.m., he will regale readers of his many Muskoka history books and columns by entertaining listeners with tales from his latest love, Muskoka Heritage Nuggets: Vol. 1.
"It's a fascinating journey back in time," writes Bracebridge author Cheryl Cooper in her introduction.
Boyer has returned to his writing roots after a life in politics (MP) and taken up where he began in publishing with the same passion he's had for Bracebridge and Muskoka since a wondrous child.
This book is collection of augmented columns many have probably read in some of the other district periodicals over the past decade or so.
This time, though, he has culled together 14 of his favourites "now" and bound them into an engaging 276-page paperback that includes stories on Chief Musquake, Muskoka Bridges, Muskoka Hospitals, First Bank, Prairie Rebellion, Picturing Muskoka, Long Walks, Muskoka Electricity, Gold Diggers, Treating Tumours, Town Time, Bigwin Inn, Windermere House and the Fire College.
He says Muskoka has more books written about it than any other comparable region in Canada.
With a wry smile he calls it "history on the installment plan."
Chatting with him today on the steps of the Boyer family home on Kimberly Avenue, in Bracebridge, was like being stuck in a time warp.
"A few minutes" with Boyer at his verandah is time most well spent and like a trip down memory lane for any Muskokans.
It's as if he and you were sitting on that same verandah and he was speaking those stories to you the same way it was when his father Bob Boyer, also a publisher/politician did with his son.
And if you're stuck backing out of his driveway by GFL recycling truck, those brief "minutes" can quickly turn in to an hour or more; and cover everything from an article he wrote about Wahta Land Claims ("you can see how I treat the sequence of historic events that lead up to present day realities for the Wahta Mohawks in Muskoka — to Bracebridge's rising debt. And almost anything and everything between worth talking and learning about with the authoritative force of a man who knows of what he speaks.
Boyer, for example, was a lead historian on the exciting new Muskoka floor of the exhibit and display at the Muskoka Heritage Centre in Gravenhurst entitled Misko-Aki (red earth) that opened officially last month. It's a coming together of two shared cultures as the district emerged.
He helped informed the project's telling of steamships, rail and today's progressive new beginnings.
As for Muskoka Heritage Nuggets, it should have mentioned it can be purchased in Gravenhurst at that Muskoka Discovery Centre gift shop; in Bracebridge at the VERANDA (22 Manitoba St.), and in ever-busy Huntsville, at Muskoka Heritage Place on Brunel Road, Cedar Canoe Books on Main Street, and Artisans of Muskoka also on Main Street.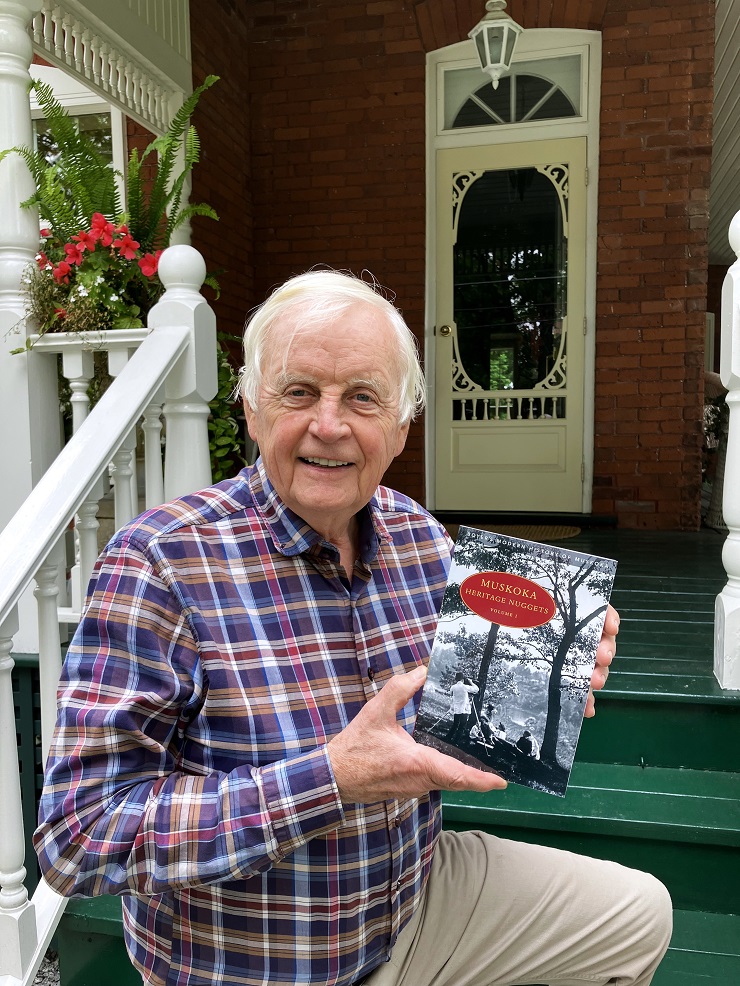 EMAIL: news@muskokatoday.com
30th year of 'Local Online Journalism'
Twitter: @muskokatoday, Facebook: mclairmont1
Leave comments at end of story
SUBSCRIBE for $25 by e-transferring to news@muskokatoday.com
Or go online to https://muskokatoday.com/subscriptions