Mark Clairmont | MuskokaTODAY.com
GRAVENHRST — At Canada Day celebrations the MP and MPP praised A.P. Cockburn at Muskoka Heritage Village in Huntsville.
Scott Aitchison and Graydon Smith are far-off successors of the man who was both a Muskoka member of Parliament and member of Provincial Parliament more than a century ago.
And his legacy lives on almost 160 years later.
Thanks in part to a man obsessed by Cockburn.
Richard Tatley has written or talked about every steam ship or vessel that has sailed the Muskoka Lakes.
What he has not done is write a biography about the local legend regarded as the "Father of Muskoka."
Until now.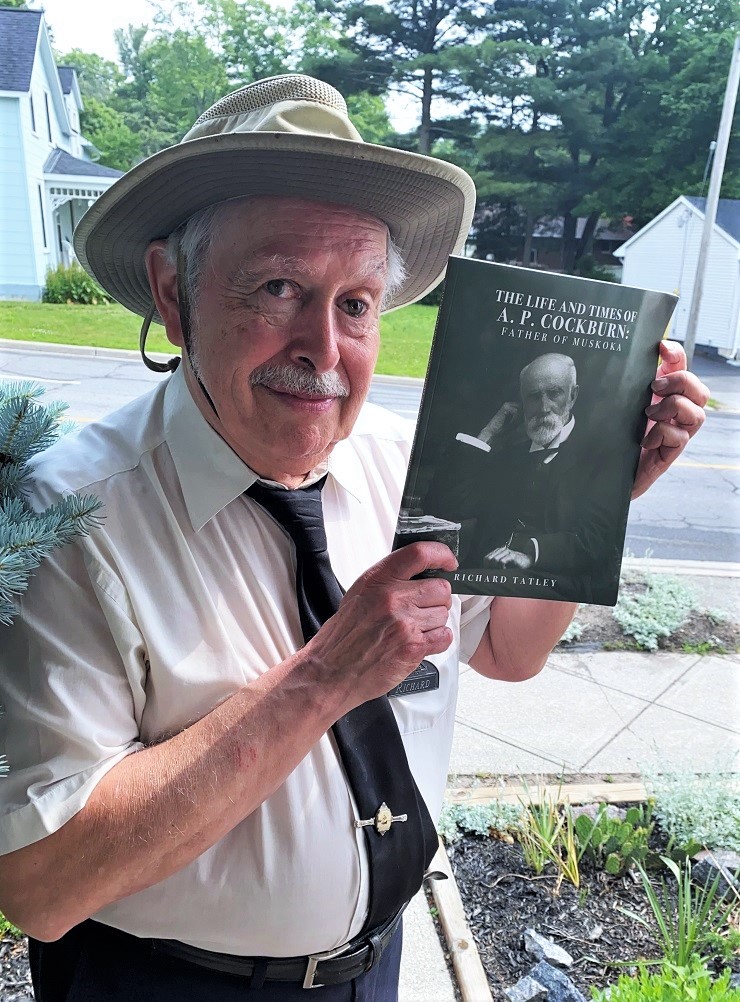 In his latest book — the man behind the captain on the RMS Segwun giving daily historical talks while the last sailing steamship in North America chugs out coal dust up from Gravenhurst to the head of the lakes and back each day — Tatley delves deep in to Cockburn's background.
And in to the businessman's "vision, plan and problems" of bringing rail and shipping to the great lakes of Muskoka.
In the forward to "The Life and Times of A.P. Cockburn, Father of Muskoka," Tatley writes: "This is the story of a great, but little-known man who richly deserves to be called the Father of Muskoka, a man who more than any other actually created the Muskoka District as we know it today. Had he never lived, this district would now be unrecognizably different from what it actually is."
No wonder it was Tatley who pushed for and got Gravenhurst to rename the public space at the Muskoka Wharf as "Cockburn Square."
It has a small hidden plaque recognizing the fact; but historian and model train buff is pushing for a statue there like the one on Muskoka Road main street recognizing Dr. Norman Bethune.
The Gravenhurst Heritage Committee has also had a small historical story board noting Cockburn's considerable contributions to where the Muskoka Fleet's two ship sister ships the Segwun steamer and Wenonah diesel set sail daily in summer.
But it is the background and definitive story of how the Scotsman — who Tatley said was largely forgotten until recent years — came to Gravenhurst in 1865 and went on to become a provincial and federal liberal politician that needed to be spelled out allowing the bottom of the lake to become one of the best tourist attractions outside Toronto.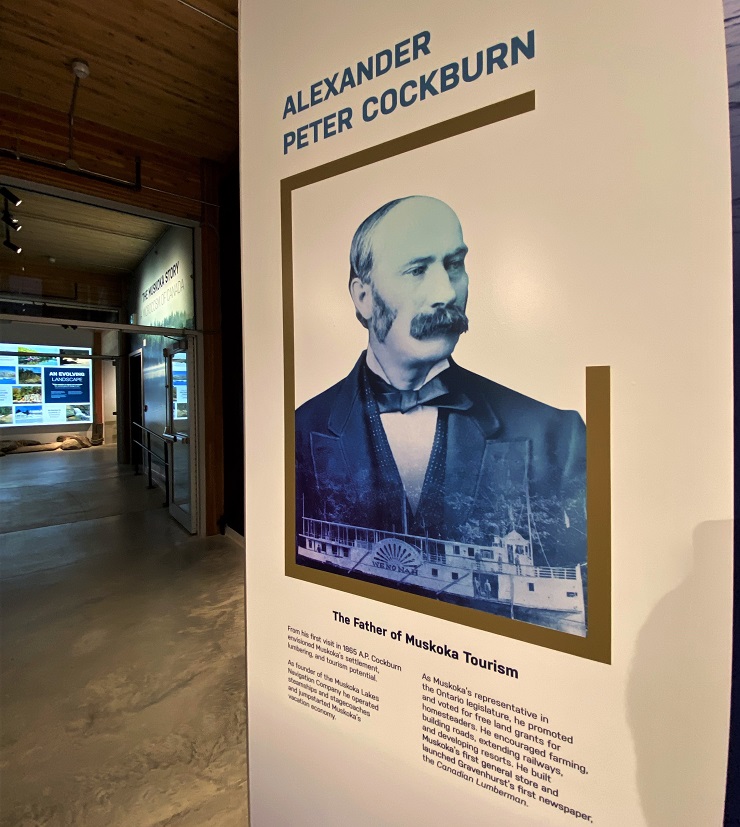 Tatley, a founding member of the Muskoka Steamship and Historical Society, writes that he himself only played "a modest but persistent role in the restoration of the Segwun" from a museum resting in water at the "Federal Wharf" to it present day success.
However he wanted to set the record straight and he did a lot of research at the provincial archives in Toronto.
The biography contains a lot of previously seen photos and detail already on record, but all of that history is written in context of Cockburn.
In Central Ontario at the turn of the 20th century little passed through the "Gateway to Muskoka" that Cockburn didn't know about or have a stake in — persons or cargo."
He was king of transportation.
Cockburn wasn't directly involved in Muskoka's lumbering boom, but its by-products he controlled through rail and steam ownership around the lakes.
He was well acquainted with Canada's first prime minister Sir John A. MacDonald, a Conservative, and later Liberal PM Sir Wilfrid Laurier, so he knew how to get things done with government money.
It's that fascinating story that Tatley puts on the 107 pages.
And which can be found at the Muskoka Discovery Centre museum at Gravenhurst's Muskoka Wharf.

See also Cockburn's legacy in a stunning new display at the MDC.
EMAIL: news@muskokatoday.com
30th year of 'Local Online Journalism'
Twitter: @muskokatoday, Facebook: mclairmont1
Leave comments at end of story
SUBSCRIBE for $25 by e-transferring to news@muskokatoday.com
Or go online to https://muskokatoday.com/subscriptions