Mark Clairmont | MuskokaTODAY.com
BRACEBRIDGE — Melissa Cooper, a member of the Langford Cemetery board, couldn't decide whether to put out a balloon Saturday at the intersection of Hwy. 117 marking the turnoff to the cemetery where its 150th anniversary was being recognized.
"I didn't know whether to show it was a 'celebration' or a more solemn occasion."
It didn't matter about the sign, as more than 85 Langford family members (some who travelled long distances) and "Macaulay Township" residents and friends easily found the cemetery just off Hwy. 11 northbound.
Besides, everyone in Macaulay Township knows where the Langford Cemetery is.
It was both a celebration of life and death.
A sunny sesquicentennial celebration with a cake, lunch and bake sale and homemade sweets that can only best still be found rurally.
Cooper, whose father Peter and their many relatives are buried among the 200 or so already interred, said the private (non-denominational) Ontario registered cemetery is where local folk out that way in the former township always "wanted to buried close to their farm" — rather than in town.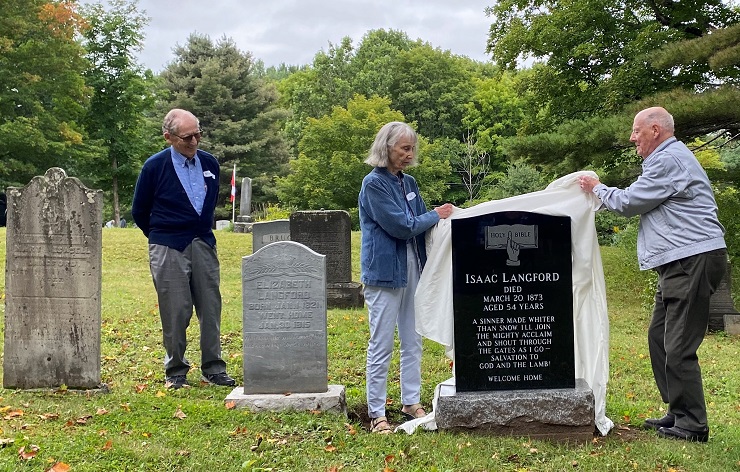 The noon occasion also allowed for the unveiling of new headstone for Isaac Langford, who died in 1873 and was buried "just up on the hill on the family farm."
Over the next 18 years a couple more Langfords were laid to rest next to him and when a cholera epidemic hit another dozen "neighbours" ended up beside them.
So in 1891 "to make it legal" his wife Elizabeth and their family donated the land for the cemetery. She died in 1915 and is buried beside her husband. Her marker is in better shape.
Isaac's original limestone tombstone still stands intact, but with the supportive aid of metal braces.
It leaves him the only person with two gravestones in the cemetery.
Relatives Lee Boyd and Tim Anderson unveiled the new head stone; Rev. Bake Walker, of Huntsville, did the prayer dedication; and relative George Reid spoke and thanked everyone on behalf of the family.
More than a dozen other Langfords are also buried around the patriarch and matriarch.
Among the 200 or so are a who's who of Macaulay Township, like the Doleys, Armstrongs and Ruttans among so many other well-known east Muskoka settler families.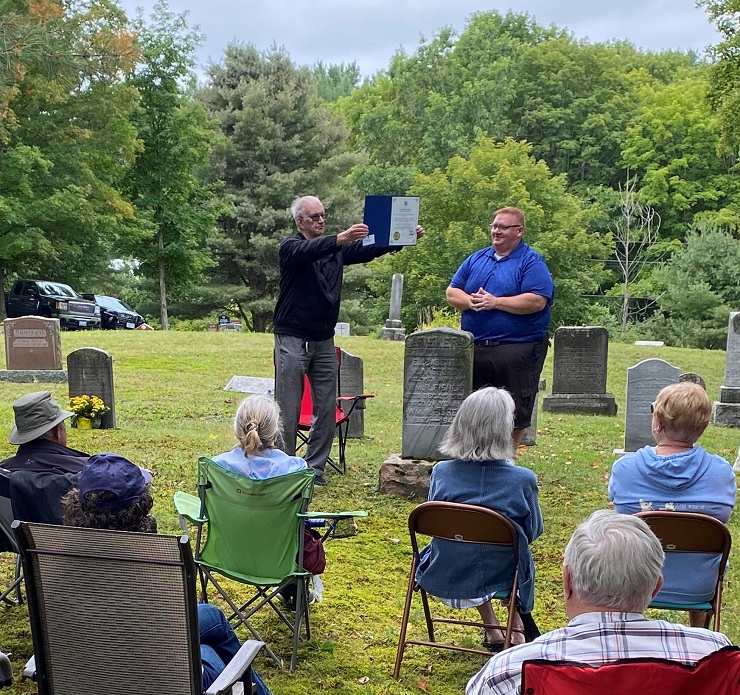 Cemetery secretary/treasurer Gary Denniss — who emceed a 30-minute special presentation on its history while using a headstone as a pulpit and appeared as if the burial preacher he is — has chronicled all of them in one of his books dedicated to the Langford Cemetery and that he was selling for $20 to raise funds to keep it going.
A dozen or so buried served in wars and are memorialized in a special section with maple leafs attached thanks to Signature Memorials the company that engraved Isaac Langford's second headstone.
Forty other people — whose wooden crosses withered over time without leaving their names — are also about to be honoured as one with a communal plaque.
With a more than a little levity Denniss shared a few tales about the cemetery, including funny one in which he got the town to reduce the price of an extra parcel of severed land next to Hwy. 117.
"Don Coates (mayor) and I went to school together …."
So a $25,000 severance fee the town wanted for tiny scrap land was reduced to a tenth the cost when Denniss countered the offer.
Mayor Rick Maloney and former mayor MPP Graydon Smith  —who brought a certificate from the province marking the 150th anniversary — got a chuckle out of that.
The Jackman family has also responded in kind to Denniss's request for $10,000 for a columbarium.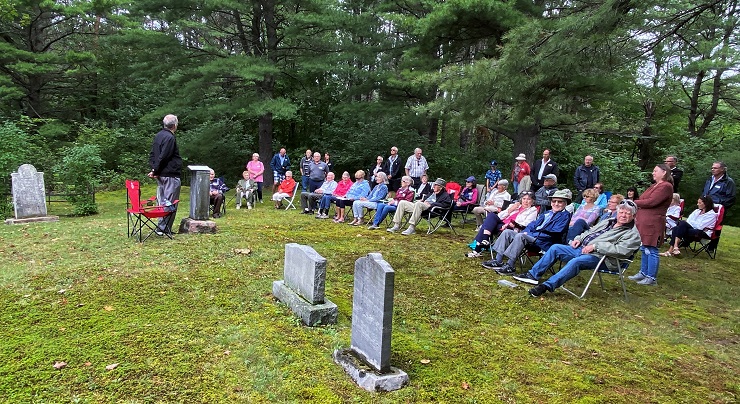 Most who came brought a folding chair. Some leaned on tombstone others walked over graves.Then they got up to eat, mingle and catch up with old friends they hadn't seen for some time. Weddings and funerals, you know.
With a touch of red doppling in maple trees and a few coloured leaves had already fallen, it was as if an old hometown reunion. Kind of a chance to chat over a farm fence like some grew up doing — albeit that many lived miles or concessions apart.
With only eight unsold plots remaining, running the small cemetery remains a labour of love for Denniss, who is retiring after his father Frank held the job (1946-1961) and is turning over his job to Melissa Cooper. Tony Armstrong is the other board member and they are looking for a third person.
Work bees are still well attended to tidy up and keep the grounds in pristine shape, if mostly by aging caregivers.
Yet there are still some associated costs to keeping a couple of acres tip-top including cutting the grass and paying administrative duties.
It's restful place for old and new remains to lie in peace with several benches for visitors to sit and remember loved ones in peace beneath towering pine and maple trees that dot and encircle the cemetery.
And celebrate years of past Macaulay pioneers and present keepers of the sacred grounds.
Those who on this day continued to maintain a permanent place for families and friends to gather on happy occasions like this.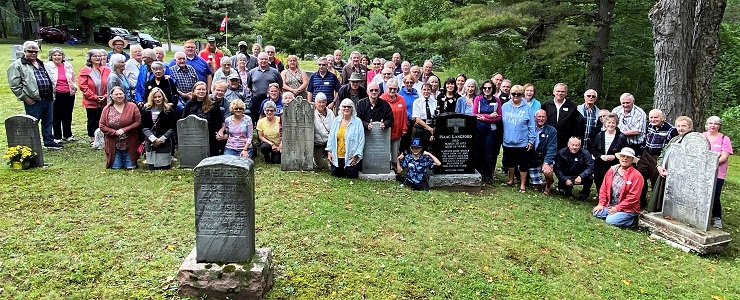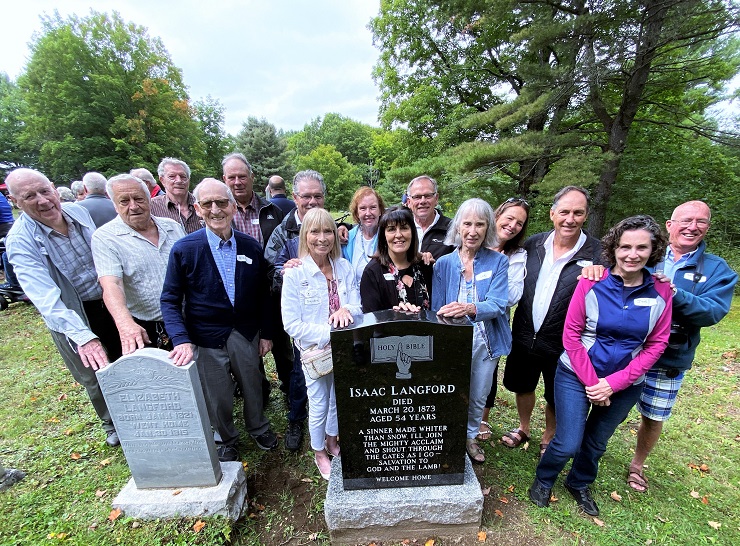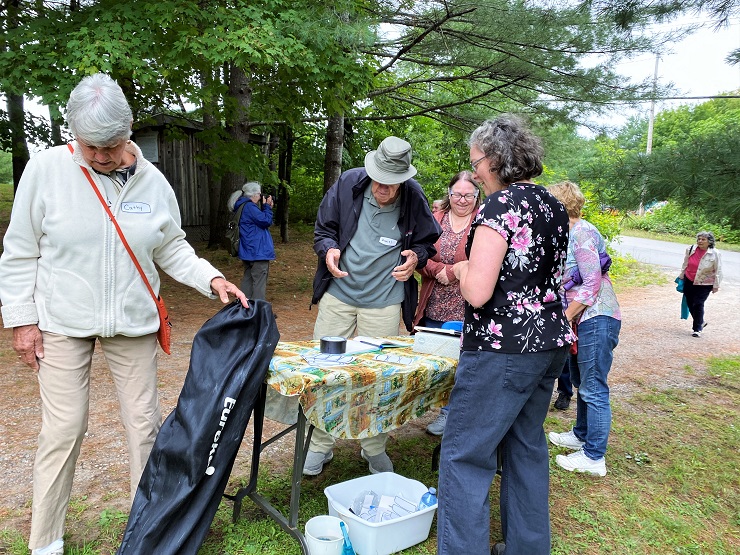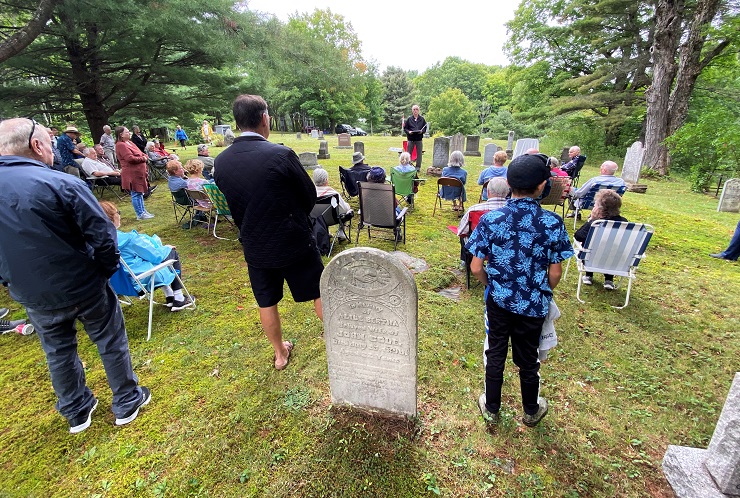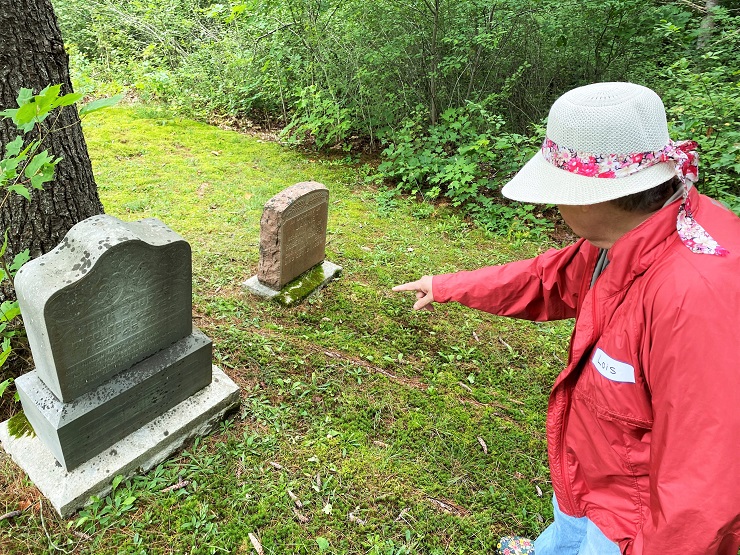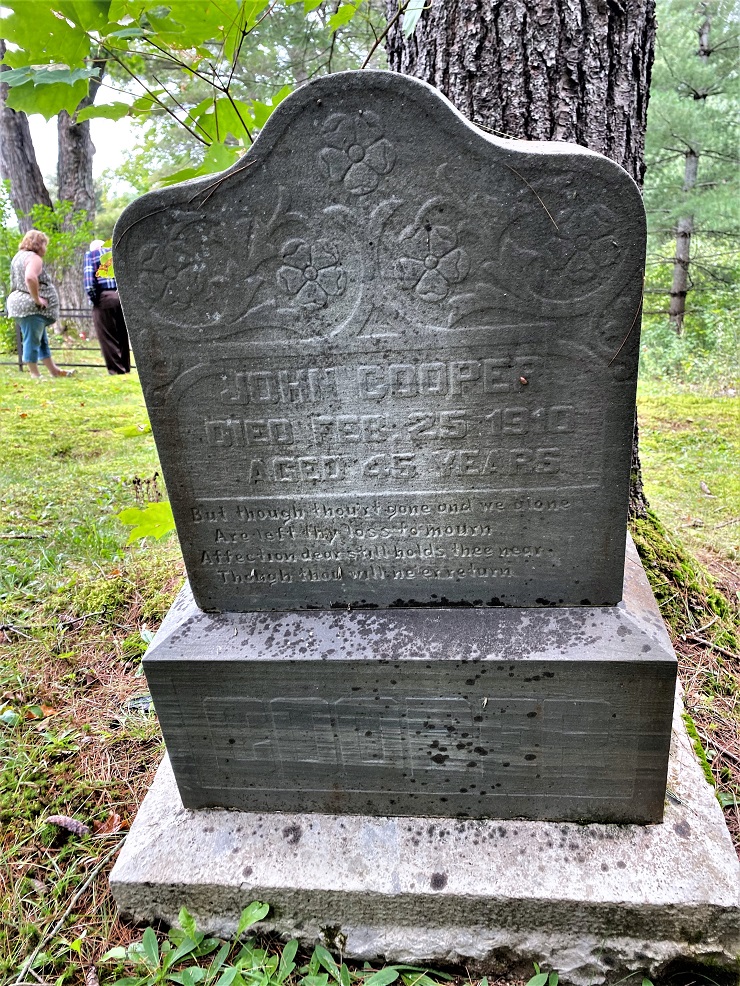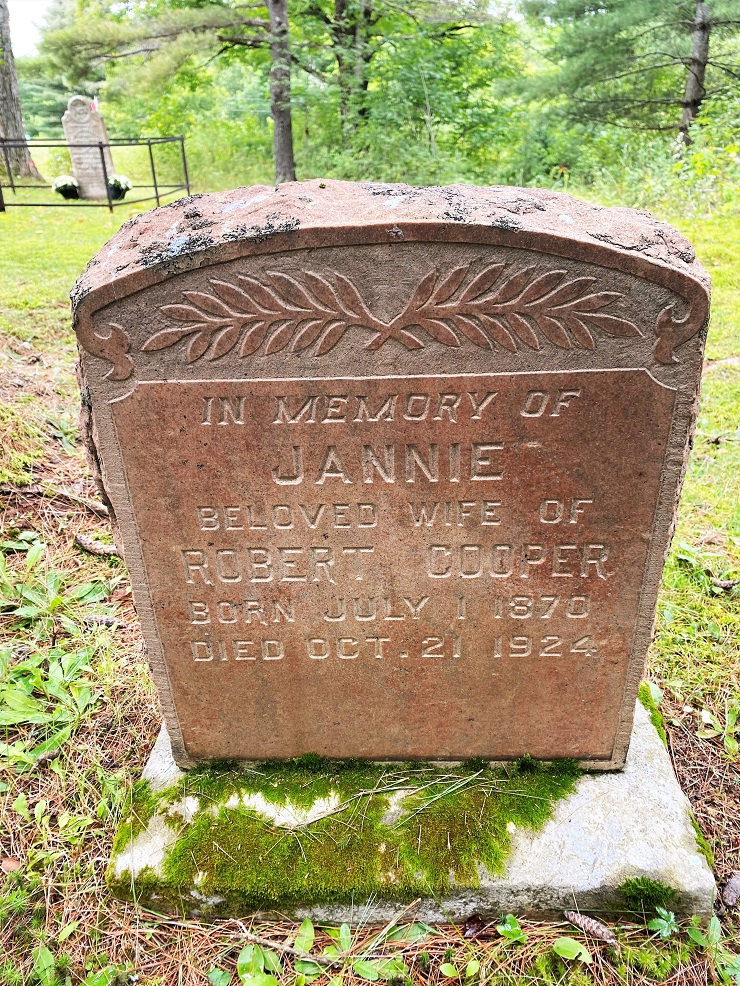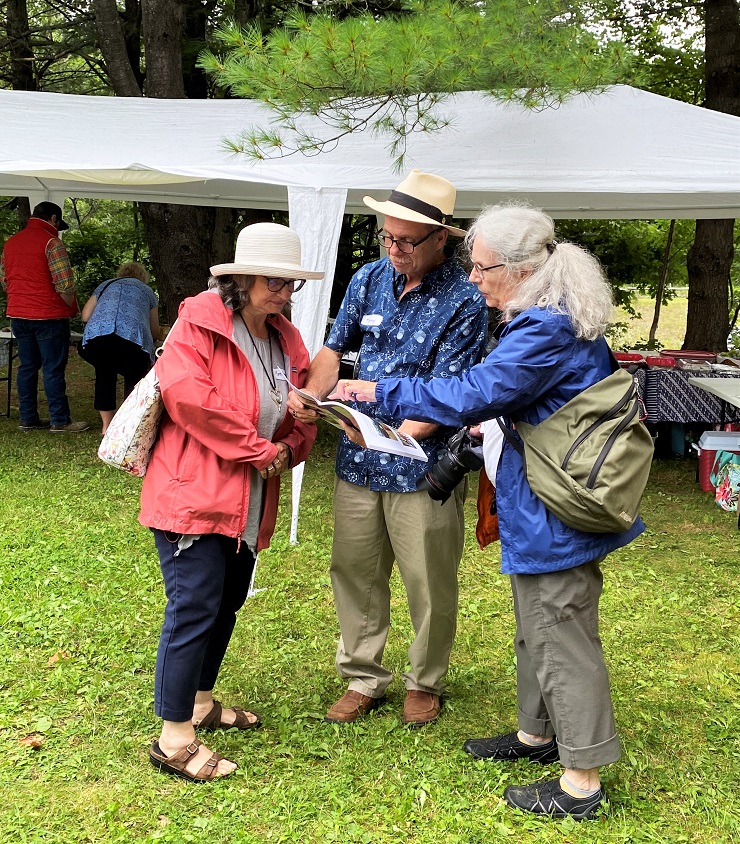 EMAIL: news@muskokatoday.com
30th year of 'Local Online Journalism'
Twitter: @muskokatoday, Facebook: mclairmont1
Leave comments at end of story
SUBSCRIBE for $25 by e-transferring to news@muskokatoday.com
Or go online to https://muskokatoday.com/subscriptions