Mark Clairmont | MuskokaTODAY.com
GRAVENHURST — Chinese diplomatic relations with Canada didn't begin with Gravenhurst. But they always include them.
And so the birthplace of Dr. Norman Bethune remains for this reporter a standing opportunity to engage in a meaningful conversation this time about the current "difficult" Sino-Canadian relations at the federal if not municipal level.
On an off-chance I spoke to Ambassador Cong Peiwu last Friday during his pilgrimage to the Canadian National Historic Site and "Birthplace of Hero."
After Cong made a courtesy visit to town hall with Mayor Heidi Lorenz, where the two pledged further tourism and economic cooperation, I spent 40 minutes with him standing outside Bethune House in an off-an-on light drizzle.
A pleasant conversation, it afforded me a rare chance to ask more than one question and a follow-up that Canadians have about a global leader, Far East power and some times friend of Canada.
And while in an earlier story he referred to his first visit here as "a very eye-opening and rewarding journey," standing with him in an exchange could be best described in the same terms.
It was the kind of informative dialogue a reporter always seeks, though not too revealing to me. It constantly contained repeated themes about misunderstanding China and what he called "lies" being spread about it without offering much "mutual respect" for the "huge progress" they provide the world, while still allowing for each to have their "differences."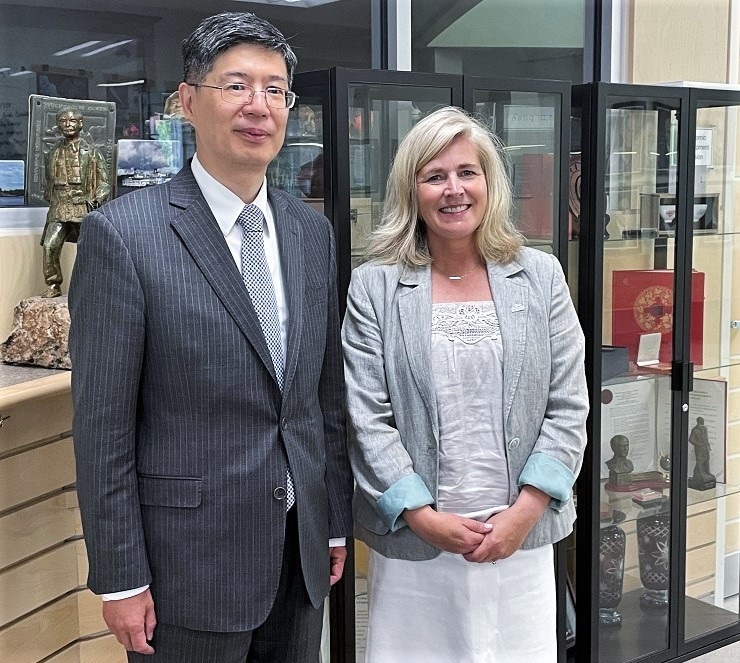 In his own words … a conversation with Cong Peiwu
Cong reiterated several times that China wants better relations with Canada, but in at least one case he fears a "lie concocted by some Westerners."
"They don't know China," the country's articulate and insightful top diplomat said in a quiet, respectful yet unreserved voice.
After an overnight stay at Taboo Resort last Thursday and his hour-long stop at Gravenhurst's government offices, Cong spent an hour at Bethune House, which is owned by the Canadian government and run by Parks Canada.
We both talked freely about peace, "neticens" and later the alleged "genocide" of Uyghurs, along with other humanitarian rights and forced labour in China.
"In China we value very much human rights, democracy, freedom and things like that."
I put it to him for comment a growing global movement — endorsed by Canada's Deputy Prime Minister Christina Freeland — about countries only trading with those who share the same values.
"When people talk about values, they believe that there is only one set of values — as Western values," replied Cong with firm conviction
"But it's not true, because we are living in a diversified world. And every country has its own way of doing things. In China we value very much human rights, democracy, freedom, things like that.
"Say for example in Xinjiang, there is nothing like genocide or forced labour."
Xinjiang is the Uyghur Autonomous Region in northwest China. Uyghurs are recognized by the Chinese government as a regional minority and the titular people of Xinjiang.
According to Wiki, Western reports say Uyghurs living in Xinjiang have been subjected to widespread human rights abuses, including forced sterilization. Scholars say that more than a million residents have been forced into internment camps that the Chinese say are meant for "adherence to Chinese Communist Party (CCP) ideology, preventing separatism, fighting terrorism, and providing vocationally training."
Cong counters by saying: "I will give you some figures so you can understand. For the Uyghur population, people argue that there's a genocide taking place in Xinjiang. But the truth is that 60 years ago the Uyghur population was only about two million at that time. Currently it's more than 12 million. And the people say that we are demolishing mosques for those Muslims. The truth is there are currently more than 24,000 mosques in Xijiang — that means more than one mosque for every 530 people. The ratio is higher than in some Muslim countries. The average life expectancy in Xijiang currently is close to 75 years. In the past — 60 years ago — it was only around 30. So you can see the huge progress in Xijiang.
"And for the forced labour, that's also a lie concocted by some Westerners. First, in Xijiang most of the drop for planting cotton or picking up of the cotton is done by the machinery — around 90 per cent or even higher. Even for other parts it's still done by the labour. I think it's a high salary. So people there, they would love to do the drop.
"Actually people in Xijiang, for all those ethnic groups, they have the freedom to choose their occupation. There is no forced labour. But currently what people are doing in some of the Western countries is stopping the import of products from Xijiang. And that causes problems, because that forces people out of jobs. What we call is a forced unemployment. It's not forced labour. It's forced unemployment taking place in Xijiang. And that's creating problems, because people they have nowhere to work. That's very, I think very unfriendly toward people."
"Does Cong meet with his 'boss' Xi
to discuss Sino-Canadian issues?"
"My boss, certainly, those sitting in Beijing in the headquarters they are in charge of our (postings and) relations. But anyway, I told you earlier we pursue an independent foreign policy of peace. And we would like to develop friendly relations, cooperation with all the other countries, including Canada, on the basis of mutual respect, equality and seeking common ground. While reserving differences.
"So I believe I still have confidence for the (Canadian) relationship. Although it still has difficulties. I talk to so many people here and I believe the majority of them still value this relationship. But against this backdrop of rhetoric being hyped up about China, they just are afraid of speaking up in the public.
"But if I talk to them, really I can feel that they cherish the relations. And for our part we would also like to see the Canadian side work toward the same direction. So we make sure to address those differences. We expand areas of cooperation on the basis of mutual respect and equality. So we can push the relations — backtrack — and to gain even greater progress.
"For my job you know, although I'm based in Ottawa the capital of Canada and supposed to have lots of facial interactions with Canadians, I think one important task for myself is to travel to different parts of Canada to talk to people. Whether it's here in Gravenhurst or Greater Toronto Area — or in Ottawa or Vancouver. From coast to coast to coast I would like to travel. And because I travel to those different parts I got to know really the people here, the public. They actually are not (believing) those stories being published in the newspaper. It's a different story.
"And if you look into those stories of the big newspapers here, if you look at them carefully, only certain number of people are writing those articles or are making comments on TV. Time again, it's all those certain scholars, so-called think-tanks. Just the same people. But for others actually some of them they would like to speak out. But they are denied access. I know someone told me they want to write articles to be published, but they are denied. They want to talk something, a more rationale voice about our relations. But they haven't got a chance to do so. So I think that is a problem."
Cong called it "a one-sided story.
"A lot of them are just lies or concocted stories. Like so called-forced labour. But on very, very few occasions they would talk about China making huge progress. Not only for the Chinese people, but also we are contributing a large share to the peace and prosperity in the region and beyond."
Access to information and transparency within China has been a formidable challenge in the past and during COVID pandemic details were suspected internationally.
"Is the country more open today for foreigners and
to travel and share stories about what's going on there?"
"It's easier access to China nowadays, of course, for COVID it's a problem worldwide."
"Yeah, but that's over now," I reply.
"Yes it's over, no quarantine and visa is good. The only problem I can imagine now is very few passenger flights between China and Canada. Why is that? On our part we would like to increase of passenger flights. But here, your side, only five flights per week. So the (Chinese) government argues that if here only five flights operated by the Canadian airlines (just over 1,000 people), so maybe on the Chinese side it is roughly the same. Altogether it's slightly above 10 flights. Before COVID each week we had roughly around 150 flights between our two countries. So at that time we made more than 1.5 million people travelling (annually). And you were among them when you were travelling to China in 2017 and 2018."
Cong said: "Now days we don't have to travel to see the outside of the country. It's the internet."
"But it's not the same," I add.
"In China we have 'neticens' — or internet users. More than one billion are people using the internet. They are not only interested in the new about China, but so also the news in the United States, Canada or elsewhere. Also they are using the internet to monitoring the government to supervise the work of the government. So if there's anything the government can do better, like the environment they can express their views online.
"I'm not so sure you are familiar with our five-year plan. It's our way of doing things. Before the 14th five-year plan was completed — the research of that — we asked people to submit their opinions. Altogether more than one billion pieces of opinions were expressed online. In the end more than 1,000 of those constructive opinions were incorporated into the final program."
Opinions solicited were to be more constructive than merely reflecting or reinforcing existing CCP policies.
"Like the education system, how to better improve it. And the environment protection, hat we should do to protect it. Very concrete. At the same time constructive ideas. That's why officials can tell which are good for the final program."
With the unknowns of COVID still today, I asked Cong about truly suspect case reporting numbers from his country and where the disease stands today in China.
"I'd say it's under control and because the vaccinations, the jabs, are well underway. Plus there's medicines and our health system is well-prepared. We not only have big hospitals but community clinics. So if there is minor symptom people just go to the clinics to seek some advice and help. They don't have to go the hospitals.
"Everything is good. Life is back to normalcy. It's quite a booming economy."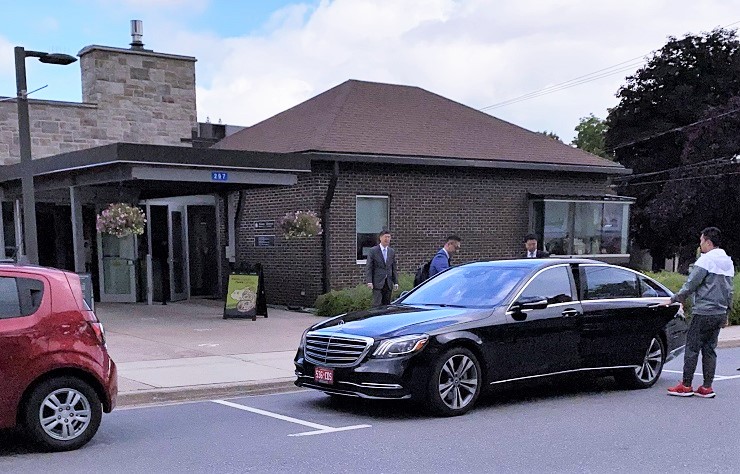 "What is the housing situation in China relative to Canada's dearth of space, affordability and attainability for new immigrants, refugees and growing families? And how is China's new policy allowing a second child affecting that?"
"In the past few years we did encounter some issues about providing housing for some people. But the government took decisive steps to address the issue. The first we argued that for housing it was for people to live in the house or apartment. It's not for speculation to buy and sell and to make profits off of that. So that's to make sure the prices are not soaring. And the people can afford to buy the apartments and things like that. We also we believe there should be multiple ways for people to get a decent place to live in. It's not sometimes, like you say, young couples can not afford to buy an apartment. But they can rent. So there all kinds of efforts to make sure people will have better housing conditions. And for those years, currently, I think it's much better improved. There's really not like the affordability issue. It's much better and under control."
On labour rights and working conditions in factories, Cong concluded …
"It's about labour rights and working conditions. I believe in China the factories (owners) they are trying their best to provide decent conditions to the workers, to the employees. Of course, we are still a developing country. Maybe the standard is not on high," Cong says with a bit of a laugh."
"But we really take very much care of workers and employees, their right. So whether it's salary or working conditions I think it's good. There is also for some people trying to hype up bad stories about China and spread this kind of groundless accusations."
See links here to first 2 of 3 stories in TODAY.com's China ambassador series
CHINA NO 'THREAT' TO CANADA, COUNTRIES CAN WORK 'TOGETHER,' SAYS AMBASSADOR CONG https://muskokatoday.com/2023/07/china-no-threat-to-canada-countries-can-work-together-says-ambassador-cong/
And
PART 2: MY INTERVIEW WITH CHINA'S AMBASSADOR TO CANADA AS HE TALKS ABOUT CLIMATE CHANGE https://muskokatoday.com/2023/07/part-2-my-interview-with-chinas-ambassador-to-canada-as-he-talks-about-climate-change/
EMAIL: news@muskokatoday.com
30th year of 'Local Online Journalism'
Twitter: @muskokatoday, Facebook: mclairmont1
Leave comments at end of story
SUBSCRIBE for $25 by e-transferring to news@muskokatoday.com
Or go online to https://muskokatoday.com/subscriptions