EXCLUSIVE:
Mark Clairmont | MuskokaTODAY.com
GRAVENHURST — China is not "a threat to Canada," says its ambassador.
Accusations about Chinese coercion and charges of spying and alleged foreign interference by a retired RCMP officer have left Canadians with "some perception about China, believing China is a threat to Canada or elsewhere.
"But it's just to the contrary," says Cong Peiwu.
"China is a country which contributes a lot to peace and prosperity in not only Asia-Pacific, but far beyond," he said during visit to the Bethune Memorial House Friday.
When the National Historic Site was bought and renovated by the federal government in the 1970s — under prime minister Pierre Trudeau who opened the door to China — it was rare for Chinese ambassadors to venture outside Ottawa, beyond provincial capitals and Toronto, Montreal and Vancouver.
Now top envoys make at least one visit to Gravenhurst during their normal four-year diplomatic posting.
"A very eye-opening and rewarding journey," he said in offering his first impression of the house, which its operators Parks Canada describe as the "birthplace of a hero."
After his tour — in an exclusive, impromptu interview with Muskoka TODAY.com while standing next a Bethune stature — Cong answered a host of my questions on everything from Ukraine to climate change, trade, "the two Michaels," humanitarian treatment of workers and Uighurs, COVID, foreign students in Canada, President Xi Jinping's awareness of Bethune and to what he described as "Chinese-bashing, bashing-China rhetoric."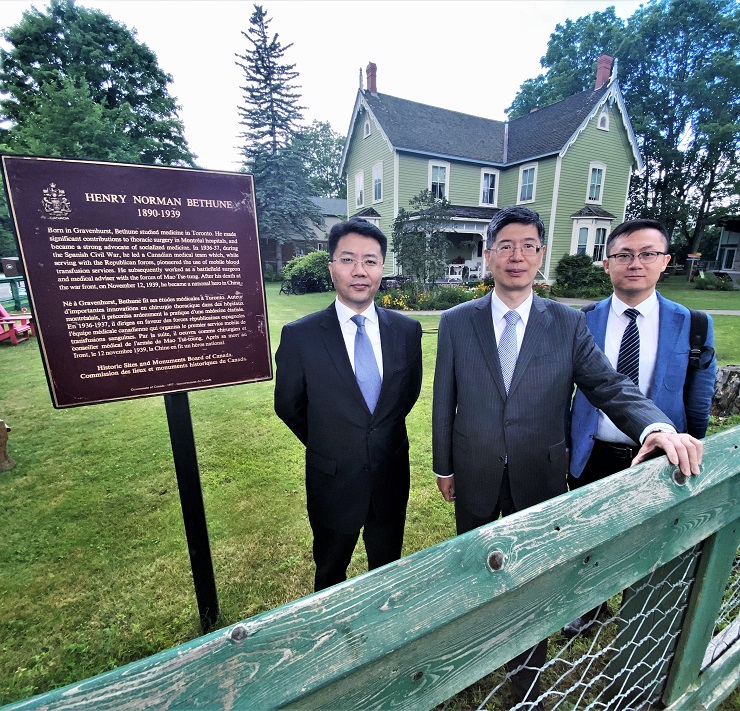 "I should have been here much earlier," he said of his initial visit.
"But because of COVID the past three years it hasn't been so convenient for me to travel. "I would like to travel to different parts of Canada to talk to the people, to see their perspective on relations," which he admitted are "difficult" right now.
"I enjoy this type of discussion. So this is my first time (in Gravenhurst) and it was a very eye-opening and rewarding journey."
Cong said he was aware from a "young age" about the Gravenhurst-born doctor who he said was a "household name in China — even still now. Even in my childhood we learned a lot of stories about Norman Bethune. And were very much inspired by his sacrifice and his sacrificing his life for the people. Not only for the Chinese people. But also he worked in other places, too."
"But this time when I was here paying tribute to him and to his house, I was still very much impressed by what he has done in the past — it was like almost a century ago. And he not only was thinking about himself. He actually was (thinking) about of the people. The people here in Canada, the people around the world. He was in Spain, right, to help the people to save their lives.
"And also later on he was in China and there are very touching stories and at last he sacrificed his life."
Cong said he has been to China's Hebei Province, "but not the exact place where Norman Bethune passed away." That's where the doctor taught army medical students field surgery procedures during the Sino-Japanese war and where — while performing operations including the one on a Chinese soldier — he died from a scalpel wound infection Nov. 12, 1939.
"But we know the place very well."
The ambassador made a point to note a "very famous article" by Chairman Mao Zedong to "commemorate" Bethune. "It's actually about how to serve the people. And he asked people to learn from Norman Bethune about his morale and his approach to the people and internationalism. And actually to ask people to learn from his spirit that served the people wholeheartedly.
"And also, you know, that generations and generations after that" Chinese people are still "learning from that."
Cong added that "today the current president of China, President Xi,  he also emphasizes a lot on learning from Dr. Norman Bethune."
So Xi is aware of Bethune?
"He's very, very much impressed and asked the people to learn from Dr. Norman Bethune.
"So it's like he is  living in our minds and hearts."
Going on … Cong responded to other questions
about China's 'difficult' relations with Canada.
'… I believe together we can do a lot of things to tackle those challenges facing humanity. Like climate change, like bio-diversity, food security, energy security.'
"Well, the relationship (with Canada) itself, I'm sorry to say, is in difficult (shape). But the responsibility is not on our side. We actually pay close attention to the relations, because I believe China and Canada together we can do a lot of things to tackle those challenges facing humanity. Like climate change, like bio-diversity, food security, energy security, etc. It's a very long list.
"But because a certain number of people they still speak to the Cold War mentality, they draw the lines along ideology. And that puts the people here (in Canada), they have some perception about China believing China is a threat to Canada or elsewhere.
"But it's just to the contrary.
"China is a country which contributes a lot to peace and prosperity in not only Asia-Pacific, but far beyond.
"Chinese economic growth now days contributes around one third of the world economic recovery. This year it was forecast by the International Monetary Fund that China will continue to contribute more than one third of that growth worldwide.
"And for example in terms of peace and security, like UN peacekeeping missions, you are well aware of that because Canada is a country that promotes peacekeeping missions. And now days China is doing a lot for that. We are the second largest in funding, contributing country for peacekeeping in the United Nations. And among the five permanent members of the security council, we are the largest one to provide the largest troops overall. So for the past 31 years we have deployed all together more than 50,000 peacekeeping soldiers abroad."
Asked to give an example of those Chinese missions he said went "UN designated conflict zones to help the local people," Cong replied citing "Africa and in the Middle East, Lebanon. And even more than 10 (Chinese) soldiers sacrificed their lives during those operations.
"More recently we have put forward a lot of initiatives by the global security initiatives and you can see much of that this year. We have helped Saudi Arabia and Iran to rebuild their diplomatic ties. So it helps stabilize the situation in the Middle East to a large extent."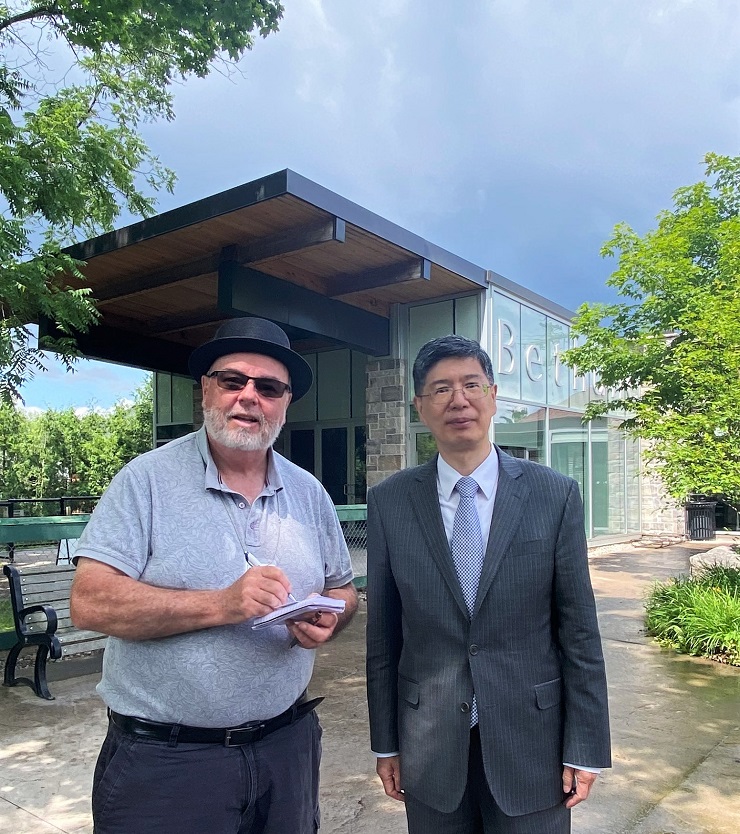 China's position on Russia's war on Ukraine?
On the topic of Ukraine, Cong continued by saying "our position on the Ukraine crisis is consistent and clear-cut. From the very beginning we believe that sovereignty of every country should be respected. And the purposes and principles of the United Nations — the charter of that should be respected.
"The most important thing is to end the hostilities and to be engaged in political settlement of the crisis.
"What China has been doing for the past one year-and-a-half is for promotion of talks for peace. We have been to a lot of countries doing that. At the same time we are also providing humanitarian assistance on the ground to the people in need. We are actually doing things like these. This is part of our tradition of our Chinese foreign policy to pursue an independent foreign policy of peace.
"So that comes back to your original question about China-Canada relations. I believe here people have some misleading stories about China being reported in the newspapers or on TV every day. But I really believe if (Canadians) go to China to see by themselves what China looks like, they will see a very much different picture.
"So I talk to the people here. For those people who have been to China in the past the vast majority would believe that China's development is good news to Canada, to the whole world. For that we will actually encourage more and more people to travel to China — and for China a lot of people coming this way. So we are in support of those people to people exchanges. That's very important."
Cong said "for students they are still coming this way" to learn after recent years of conflict including China's incarceration of "the two Michaels" and Canada's detention of  Huawei's deputy chair and CFO Meng (who Cong escorted onto a flight back home in 2021).
"But I would like to draw your attention that here some kind of anti-China rhetoric is really having some negative impact. Whether it is for students or business people."
Cong said "some" Chinese are "concerned" about the "environment" in coming here.
But he said Canada's economic exports to Canada remain in "good shape."
"For the first five months this year, Canadian exports to China went up by 35 per cent. So there's nothing like China is using trade as a weapon against Canada. It's not like that. And (Canada's) direct investment to China for the first quarter of this year went up by 180 per cent.
"On the other hand China's investment coming this way was down dramatically, because some of the Chinese people were afraid of the Chinese-bashing, bashing-China rhetoric.
"So I believe people here should discard this kind of mentality about China is a threat. But actually China is an opportunity, because Canada benefits a lot from its exports to China.
"And for China and Canada we can work on a lot of issues as I mentioned earlier."
* Next up Cong's response to climate change and global concerns about China's continued dependence on fossil fuels and coal. Is China looking at clean energy sources and will it reduce its use of fossil fuels?
EMAIL: news@muskokatoday.com
30th year of 'Local Online Journalism'
Twitter: @muskokatoday, Facebook: mclairmont1
Leave comments at end of story
SUBSCRIBE for $25 by e-transferring to news@muskokatoday.com
Or go online to https://muskokatoday.com/subscriptions