BRACEBRIDGE — If you heard — and how could you miss — a lot of bell wringing and cries at Memorial Park Saturday morning at the Farmers' Market, you probably wondered why more than a dozen people were dressed up in fancy dress, tri-cornered hats, frilly shirts, white gloves and buckled shoes.
Well, hear ye now. It was the 22nd annual Muskoka Escapades of Town Crying Competition.
Hosted by none other than Bracebridge's booming public spokesperson Bruce Kruger, the inimitable and not too shy Town Crier for his hometown. And also the official voice of Santa's Village, Town of South Bruce Peninsula (Wiarton Willie), as well as Crier of the Emancipation in Owen Sound.
Eight Town Criers and six "Escorts," all members of the Ontario Guild of Town Criers from across Southern Ontario, participated in the Muskoka Cry competition Saturday, July 15.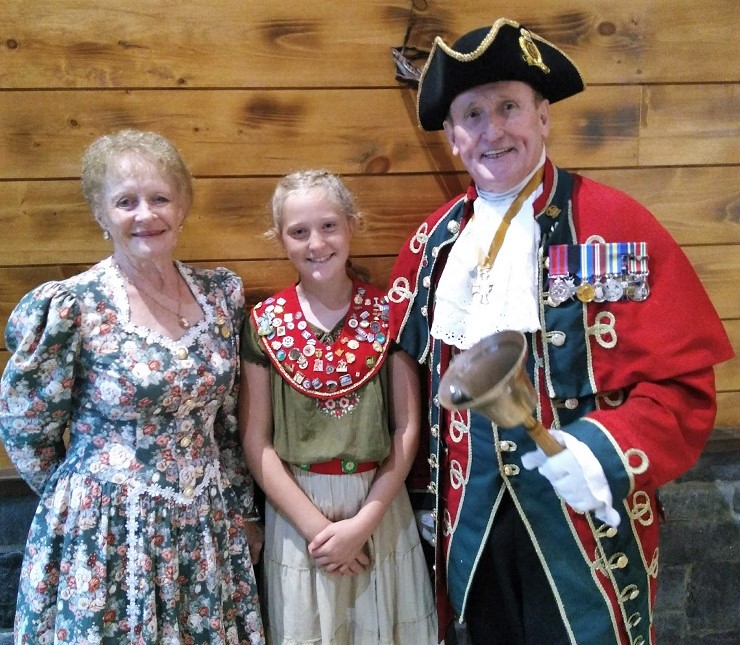 Kruger boasts it's North America's longest-running Town Crier competition held annually in Bracebridge since 2001.
In the morning at the Farmers' Market, "criers proclaimed the virtues of Muskoka and of our beautiful lakes and forests."
Miss Claudia Kruger, 12 years old, gave her inaugural cry as the third generation of Town Criers, receiving a "Bell's Up" in congratulations from her fellow criers.
Including grandpa Bruce Kruger, along with her father Shaun Kruger. Like father, like son, they share official Town Crier duties in Bracebridge.
Later at Santa's Village, Santa hosted the afternoon cries, this time outlining all the goodness of Ole' St. Nick and his Summer Home half way between the equator and the North Pole.
The organizing committee, led by Steve Clement, had several judges score the "Cry Content, Penalties, Entrance and Exit plus Clarity and Projection."
The score keeper was Kathleen Tannahill who was joined by judges Sami and Len O'Connor; Wray and Sandi Downey; Mary Tannahill; Alex and Donna Holland.