Mark Clairmont | MuskokaTODAY.com OPINION
BRACEBRIDGE — An old acting adage is "don't work with animals and children."
They always steal the show.
"The Sound of Music," opening here tomorrow night at the Rene Caisse Theatre, doesn't have a pet yet, but it has several "enchanting" tiny talents who sing, dance and act their way to freedom.
The Von Trapp Family Singers, seven amateur actors and two professional parents, win the Kaltzberg Festival — and your heart — before escaping the clutches of the Nazis — the ones "you mean with the black spider" on their flag.
The return of the Bracebridge Rotary Club's Musical theatre is honestly worth seeing, hearing and experiencing with notable highlights and high notes — literally.
And a live band under Neil Barlow's capable baton.
I know, I'm a bit player (Franz the butler), so I'm a bit biased in my behind-the-scenes  observations from last night's final dress rehearsal.
But after three months of memorizing, rehearsing and re-rehearsing my lines multiple times, I've come to respect with affection my more than 40 thespian colleagues, most of whom I'd never met and only seen occasionally and reviewed on stage in other past plays and productions.
Multi-talented singers, dancers, producers, directors and back stage magicians who have taken a script that looks like a thin dime store novel and turned the hit Broadway play and movie into a community theatre piece of not-to-be-missing local art.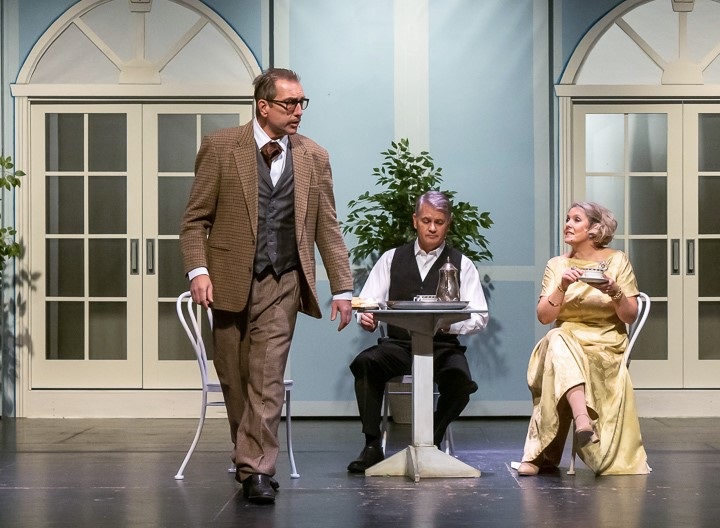 In 100 days the true story of Maria Rainer and Captain Georg von Trapp has been reprised on the Muskoka boards where at least twice before it's played.
This time director Emma Phillips and assistant director Earl Sacrey have crafted a timeframe that captures the emotional lead-up to the Second World War in Austria, while keeping the seriousness of the historic event in context and allowing the uplifting account of one family's plight and flight to climb every emotional mountain with an entertaining and touching conclusion.
Hannah Archibald can relate to the postulant nun torn between a love of God and a new family calling.
As Maria we feel deeply for her, but are ultimately lifted by her soaring performance.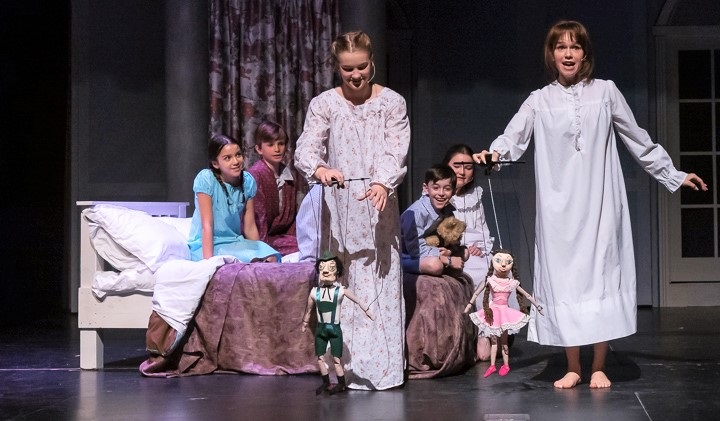 She says it's a "tough" story to translate, given her Jewish background and with her Ukrainian roots.
"Although the subject matter is a bit tough, what resonates with me about the 'Sound of Music' is the idea that there were good people trying to do the right thing, even if it cost them everything. And that's important to remember."
With the adorable von Trapp children — who easily engage and gleefully upstage their parents from stiff start to moving finish — Archibald and Parres Allen her newly betrothed "head of the Von Trapp Family Singers," the audience is drawn along on an epic European tale still worth telling.
Both leading actors are so well-suited for their head of family roles and set high standards for a large cast that across the boards rises to the moments when the curtain is up.
Archibald, a transformed Toronto actor and jazz singer who fortunately for us has found a new home on the Muskoka stages, hits all the right notes. With intimate songs like the show's name that sets the scenes and hovers over the audience as if they were on a mountaintop cloud.
But it's when she jumps on her bed with those funny, playful children — and they blissfully yodel "Laydee Odl Lee O Lay" in the "Lonely Goathead" song — you hear and see why the Captain is captivated by the once brash young nun-to-be cum bride-to-be.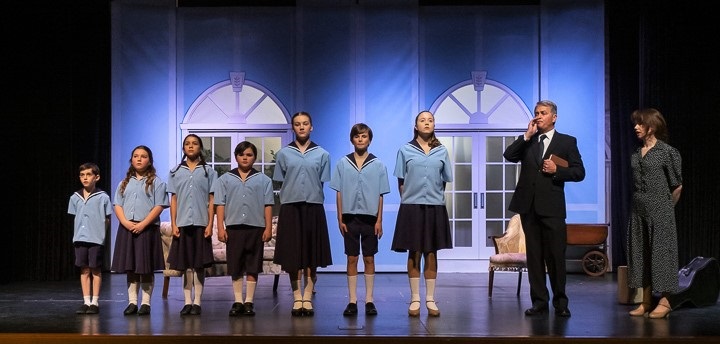 Allen, a veteran of Muskoka theatre, including many Deerhurst shows and at least four Rotary musicals — among them the emcee in "Cabaret" and Billy Flynn in "Chicago" — is smooth as ever, his strong stage presence holding the show together. A consummate professional on and off the stage with an eye, ear feel as a future director.
As a widower he wears his naval stripes with authority and command. But is finally softened and seduced by his equally matched red-headed spouse.
Allen says the Captain's role has been on his bucket list and that working with Archibald has been "a real pleasure." And even though their rehearsal time was limited due to holidays and her time working with the children, their chemistry shines through.
The couple and their cute kids are entertaining as hell.
Add the amazing singing voices of Aussa Penniall (Fraulein Elsa Schraeder — "No Way to Stop It") and Nicole Louise Moore (Mother Abbess — "My Favourite Things") and Brian Jones (Herr Max Detweiler — "How Can Love Survive") and the sounds of music are echo off the mountain-line theatre hall. That trio have been heard and loved on the local stage before.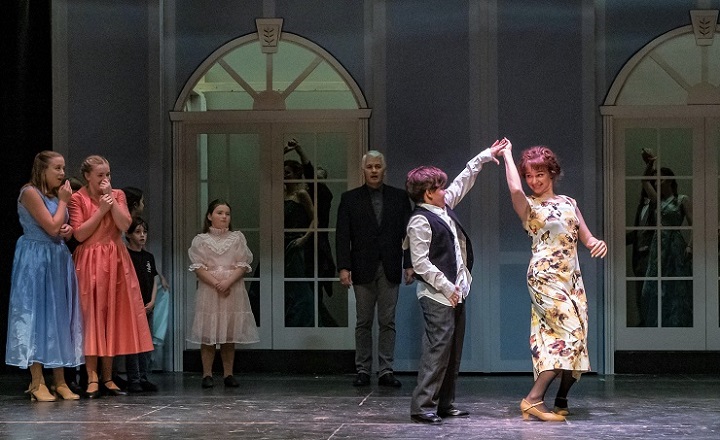 It's that kind of search for "the finest choral group in Austria, the greatest mixed quartet in all of Europe and the best soprano in the world" that has family friend and moocher Detweiler courting the von Trapps for the Kaltzberg Festival. And which proves the ultimate escape for the reluctant Captain as he heads his family up over the mountains out of Austria and away from the invading Germans destined to recruit the former Austrian naval man in to the Navy of the Third Reich.
Arlo Henderson (Liesl von Trapp) and her love interest Spencer Cameron (Rolf Gruber) a telegraph deliverer-turned Hitler Youth recruit are both sweet, endearing and he with a deeply unforgettable resonant voice. Their singing and dancing version of "Sixteen Going On Seventeen" is one of many showstoppers. A lovely young couple who brilliantly embrace a key role in the plot's ending.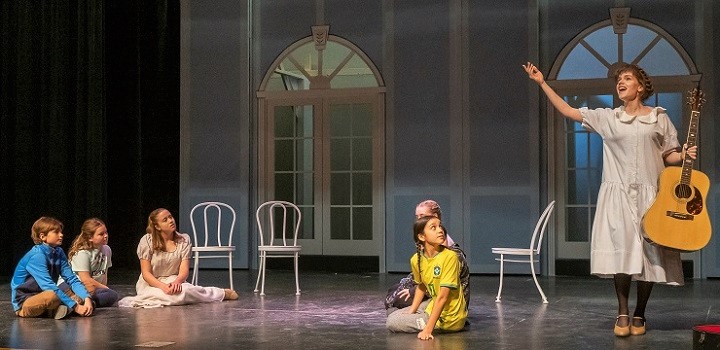 Another high note not to be missed is the exit of young Jake Richter (Friedrich) as he and the kids sing "So Long, Farewell, Auf Wiedershen, Adieu."
Also starring in the SOM is well-know Bracebridge actor Allen Hutchings who as always deserves a loud shout-out as Frau Zeller.
A chorus of striking black-habitted singing nuns weave their beautiful voices throughout the play from a Latin-chanting "Morning Hymn and Alleluia" opening in the abbey to the wedding of Maria and the Captain and finally the departure of the "Von Trapp Family Singers" as they safely head for the hills.
For many actors it's a family affair. Jones' wife Allison plays Fraulein Schmidt and their son Harrison is a Hitler Youth. Richter's mom, Kailey, is one of the nuns. And Lyla Stanton and her young brother Jack are Louisa and Kurt von Trapp children. Pru Donaldson, another veteran of the local stage who plays Sister Berthe, is the mother of director Phillips, who herself has directed other Rotary Musicals. Sacrey, a local actor, is the drama teacher at Gravenhurst High School.
A few tickets are still available for Thursday night's opening and some of the weeknight shows this week and next. But the popular Sunday and Saturday weekend matinees this weekend and next are sold out. And better hurry, as of Thursday, less than 100 tickets are available.
Check Rene Caisse Theatre for availability at https://www.thecaisse.ca/tickets.html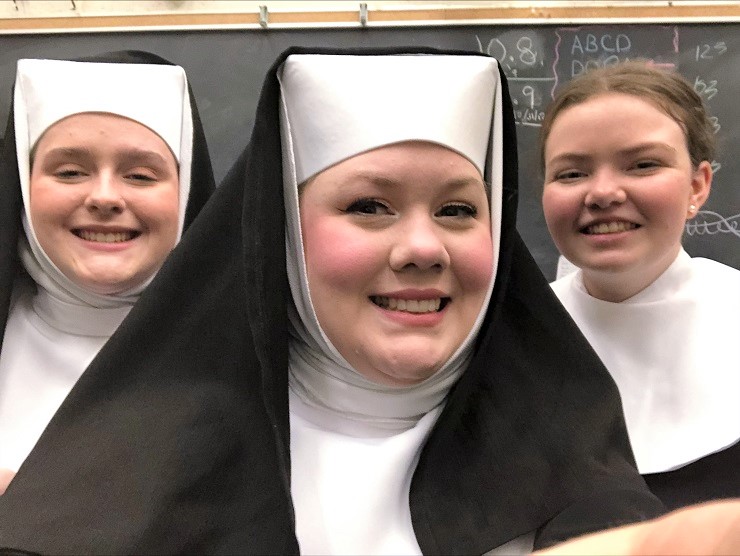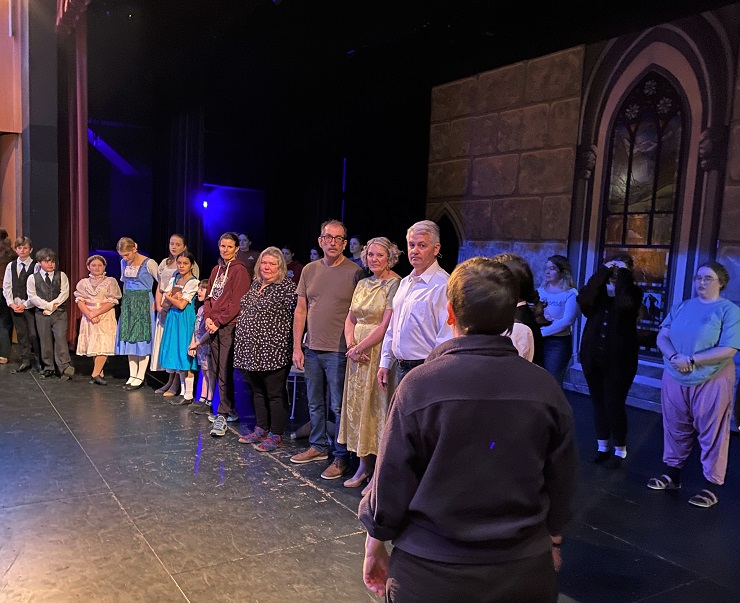 EMAIL: news@muskokatoday.com
29 years of 'Local Online Journalism'
Twitter: @muskokatoday, Facebook: mclairmont1
Leave comments at end of story
SUBSCRIBE for $25 by e-transferring to news@muskokatoday.com
Or go online to https://muskokatoday.com/subscriptions