Mark Clairmont | MuskokaTODAY.com
GRAVENHURST — A 7-0 loss last night in Meaford has the South Muskoka Shield needing a win tomorrow night at home to keep alive their best of three playoff series.
The Greater Metro Jr. A Hockey League Jr. Tier II Northern Division contest between the third seed Knights and sixth seed Shield faces off at 8 p.m. Saturday in Gravenhurst at the Graeme Murray Arena.
And the local team (#GoShieldGo) hopes to see red. They want to rally their fan by encouraging them wear anything red.
Wear 'Shield Red' and get half price off the ticket price and win a door prize.
Also, fans wearing the team colours are eligible to win a Leafs alumni-signed 'Movember' game jersey, signed Shield Under Armour game jerseys and sticks.
Shield goalie Yaroslav Chebanu was the first star, stopping 55 of 62 shots as the visiting team played with a short bench of just a dozen forward and defence.
At the other end of the ice Robin Larsson stopped all 19 Shield shots for the second star. Teammate Tanner Waito, with a goal and an assist, was the third star.
The Knights finished their 42-game schedule with 26 wins, 15 losses and 1 overtime loss.
South Muskoka ended up with 12 wins, 26 losses and 4 OTLs.
Other teams in the seven-team Northern Division are Bradford (second 38-2-2), Ville Marie (second 32-8-2), Temiscaming (fourth 20-20-2), West Nipissing (fifth 16-26-0) and Bancroft (seventh 6-34-2).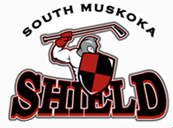 EMAIL: news@muskokatoday.com
29 years of 'Local Online Journalism'
Twitter: @muskokatoday, Facebook: mclairmont1
Leave comments at end of story
SUBSCRIBE for $25 by e-transferring to news@muskokatoday.com
Or go online to https://muskokatoday.com/subscriptions