Mark Clairmont | MuskokaTODAY.com
GRAVENHURST — Mayor Paul Kelly's cataract operation led to a fortuitous meeting two weeks ago with Simon Lu on his first day as owner of the Shoppers Drug Mart.
They talked about was getting COVID testing in Gravenhurst.
Lu was on board "right away."
With MPP Norm Miller's help the Gravenhurst Shoppers became one of relatively few pharmacies in the province to offer asymptomatic testing.
And they didn't have to call on Premier Doug Ford, as the Shoppers in Huntsville did last month.
Miller said he was "extremely happy" to see Gravenhurst get the testing.
"We've been doing great in Muskoka. We gotta keep doing great."
For Kelly, it's about time, he said outside the store at 8:30 this morning before it opened for the first day of testing.
He called it a "good news" way to start a dreary day.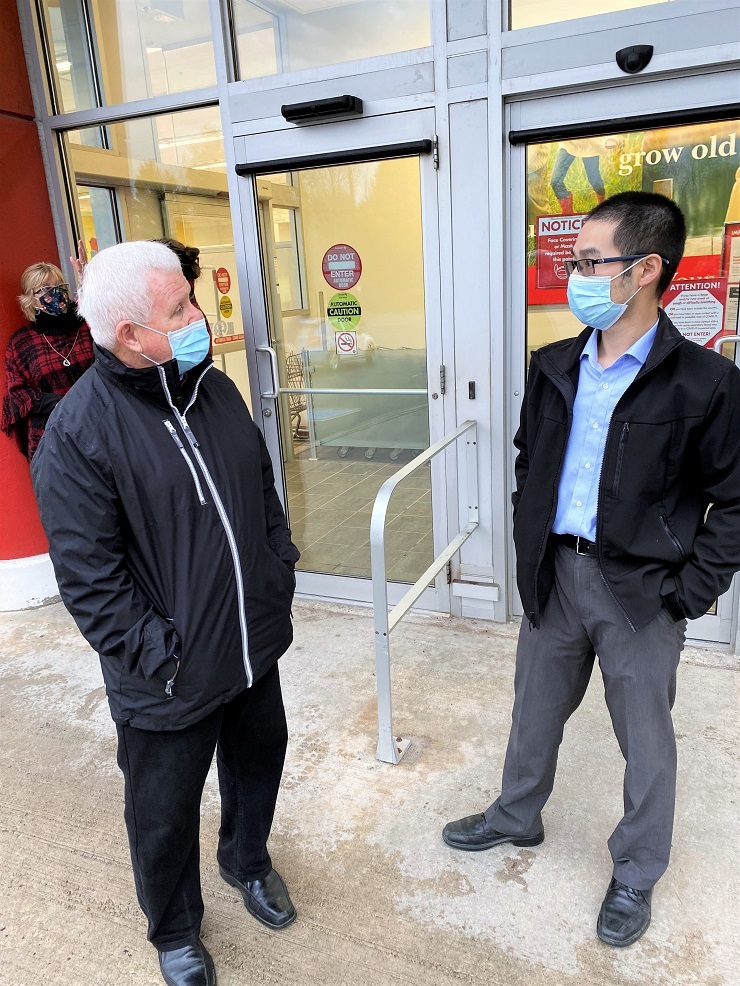 "For a long time Gravenhurst has been on the short end of the stick with health care," he told a small gathering of masked media, councillors, staff and supporters.
"We're finally doing something for health care, so you don't have to leave Gravenhurst."
The mayor said it's been "such a frustration for this community."
"To constantly see health care going to other communities and constantly being bypassed."
COVID "was a perfect example of where our community saw that need being, as much as it's always been, health care. …
"Because the challenge during COVID has been for our residents they've had to either go to Bracebridge or Huntsville or Orillia to get testing — and that was provided you had a car to get there or transportation.
"This opportunity provides our community with the ability to walk here and the ability to get those asymptomatic tests done."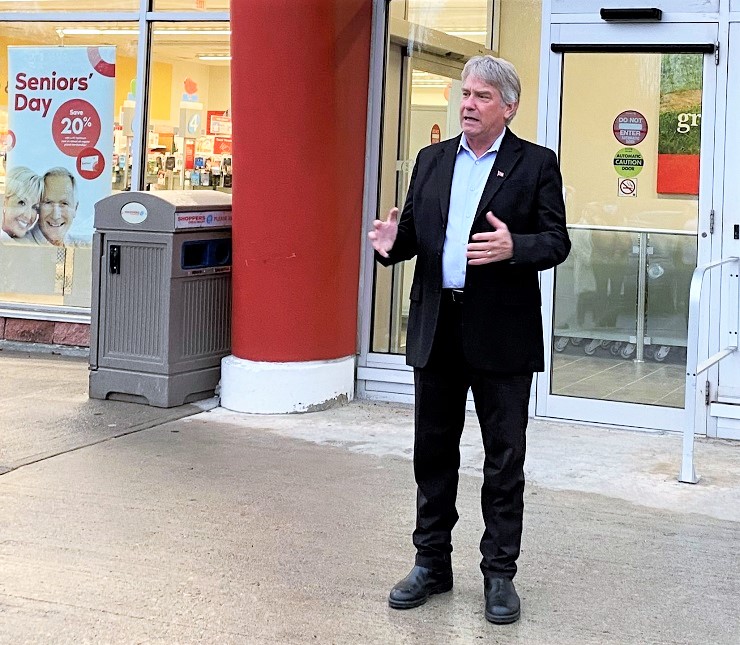 Kelly said when he first met Lu at the beginning of the month they talked about the "possibility of us having Shoppers as one of the (testing) centres.
"Right away Simon said 'I'd love to be part of that.'
"So right from the beginning — and Simon's now officially been the owner for a week — he's made a big impact on our community already."
Lu said the store is already set up with a "safe, dedicated" room and they've "increased our sanitization schedule. …
"There is no risk to customers" for the by-appointment-only tests.
"I do encourage people to call ahead and make an appointment and make sure they meet all the criteria. … This will help to alleviate some of the stress on the pharmacists and the pharmacy team in the midst of the flu season."
He said he already had seven or eight tests booked today, Oct. 15.
Tests take about 15-20 minutes with 5-10 minutes between for clean-up. So they're booked a half-hour apart.
Lu plans twice-daily pick-ups of the swabs to be sent to provincial testing labs. And while results turnarounds won't be "instantaneous," he said they will be back in a "reasonable time."
Meanwhile, with fears of a double pandemic involving the flu, Lu said his limited early supply of about 200 flu shots — provided through public health — are all spoken for.
He said "All my flu shots I have been reserved for appointments, but we are providing more."
Anyone can call the pharmacy to get on the flu wait list.
It's not just for Shoppers customers, he said.
"We don't discriminate."
He said don't worry if you don't get the flu shot right away. The season typically runs from mid-November to February.
"It's better late than not at all. I encourage everyone to get it when the pharmacy has it."
Miller, who said he tried to get a flu shot yesterday, said the province has gotten 700,000 doses than last year.
Lu, who was at the Orillia Shopper before taking over ownership from Gary Brown who retired, added that his staff is also working with their vendor to make sure store shelves are more fully stocked again after some product shortages this summer. He doesn't want to see the "panic" that took place in March with runs on toilet paper.
The 31-year-old UofT pharmacy grad, who was born and raised in the western Chinese city of Sichuan, came to Canada in 2005.
He said he grew up in China learning very young about honoured Gravenhurst native son Dr. Norman Bethune — a revered Chinese folk hero for his war medicine — for whom Lu expressed great admiration.
Kelly concluded saying health care has been "such a frustration for this community."
"Here was another example — with the COVID centre. There was no conversation happening at all or consideration of Gravenhurst being a centre.
"And that was so frustrating. A lot of people wanted to walk to the clinic and the feeling was you had to have a car.
"When I first started this out a month ago, I started thinking about where we could have had this. I had lots of talks with several groups of people. But what happened is they changed the rules. So we would have had an assessment centre set up and we couldn't have taken anyone anyway.
"With Simon being on board that made all the difference."
Kelly noted: "It's interesting that Huntsville did get the first one (in Muskoka and only one of two Shoppers now outside the GTA he said) and that was political for sure.
"It's nice to know that at least we're being acknowledged there should be an assessment centre here."
Kelly said he also recently met with three south Muskoka doctors about recruitment and the need for more physicians, "which we really need."
He emphasized to them "they need to start offering (more) health care in Gravenhurst.
"Start recognizing that Gravenhurst is a community that needs support and help in health care.
"It shouldn't always be that it's Bracebridge. So they got the message."
In those discussions he made a point of mentioning the recent $2 million donation to the South Muskoka Memorial Hospital (SMMH) foundation by Gravenhurst residents Barry and Brenda Gray.
"The question is what is happening with that money. Where does that money go?"
And he reminded the doctors that just last year Gravenhurst completed a seven-year commitment to SMMH of $47,000 a year.
"Where did that money go? Does this community know how that money was spent? Cause I don't know."
Kelly also gave a shout out to Muskoka Paramedics and Rotarians who put on the drive-thru clinics in town.
He joked that with "chilly November days ahead they'd be glad to be moving (testing) indoors."
Email mark@muskokatoday.com
Celebrating 25 YEARS of 'Local Online Journalism'
Follow us at Twitter @muskokatodaily
And on Facebook at mclairmont1
Leave your comments at end of story.
Letter to the Editor: news@muskokatoday.com
Subscribe for $25 at https://muskokatoday.com/subscriptions