Mark Clairmont | MuskokaTODAY.com
GRAVENHURST — An Esso gas bar and convenience store are the first phase of a proposed dine and drive development on Bethune Drive.
The one-storey multi-million investment — at the intersections of Veterans' Way, Pinedale Road and Main Street — would be located adjacent to the legion, Hydro One and Muskoka Shores, on vacant land where a chip wagon has set up shop the past two summers.
Phase 2 would include a future drive-thru restaurant, says Bob Reid, consultant for the applicant who will be at the Opera House Oct. 27 for an in-person public hearing at 5 p.m.
They will be there to answer questions about the promising business plan.
The site, which is zoned commercial and meets the requirements of which all are permitted uses on this property, only requires a few minor zoning amendments, including parking and landscaping.
Neighbours in the area have been circulated a notice of intent of the meeting, which is a week Tuesday.
The site, which has been vacant for decades since it was a busy bus station — with dozens of bus trips coming and going daily and also a rent-all— is a prime location on a major town corridor at a key transportation intersection, Reid told MuskokaTODAY.com in a call this week.
He said the un-named applicant has undergone significant work since first making inquiries with the town about a year-and-a-half ago, including grading, drainage and a traffic study that shows it will have little impact.
And it has had the full support of town planners as it worked with them on the plans, he said.
The façade design is no "white Kleenex box" adds Reid, who says the applicant has gone to great lengths to conform to town requirements for a cottage-like theme.
Reid says it will have a couple of pillars and stone on the front to make it "blend in."
And a metre-high buffer with a two-metre fence on top at the rear to improve on a scraggle of trees buffering it from the adjacent neighbours, he said.
The plan would also see construction of the drive-thru in the initial phase, which would open when pandemic restaurant restrictions ease on eating and make it financially viable, said Reid.
No operator was mentioned.
Reid did say the six gas pumps and "c-store" would be Imperial Oil brand.
There are only two other small gas bars in town, one at the south end and one downtown, both with small cash kiosks that offer limited convenience items to the travelling public.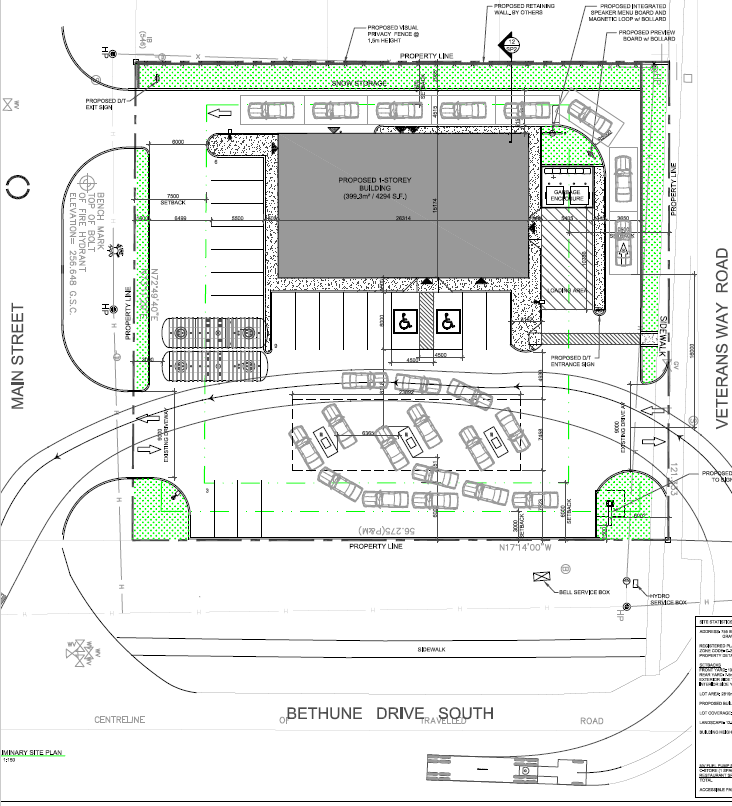 Email mark@muskokatoday.com
Celebrating 25 YEARS of 'Local Online Journalism'
Follow us at Twitter @muskokatodaily
And on Facebook at mclairmont1
Leave your comments at end of story.
Letter to the Editor: news@muskokatoday.com
Subscribe for $25 at https://muskokatoday.com/subscriptions