Mark Clairmont | MuskokaTODAY.com
GRAVENHURST — Round 2.
Grade 9 students take centre stage today as schools open for the next wave of COVID learners enter the academic world.
As their elementary brothers and sisters begin week two with two more days of classes, senior students like Troy Pedwell, whose going into grade 12, was glad to have the extra time off last week to get in a few more days work before classes resume tomorrow.
The 17-year-old was the designated driver for his mom who dropped off his sister at GPS last week.
With some 2,000 students reportedly opting to stay home, Pedwell is OK with returning.
But with reservation.
"I hope it's good. I don't want to bring that back home.
"You don't want it to end up crappy," he told MuskokaTODAY.com from behind the wheel of the car he was sitting in on Hotchkiss Street, while waiting for his mom to return from Day 1's drop-off.
"It's kind of frustrating," he said, adding if it doesn't work he's prepared to study from home.
With first-year students arriving today, Sept. 14, and all grades Sept. 15, this week is all about safety protocols and timetables.
And getting back together with friends — at least those opting to attend with them.
It won't exactly be frosh week as regular classes aren't resuming till next week, but the learning will be different in the spreading pandemic era.
And the homework will be to make it home safe — without spreading the coronavirus.
Or at least make it to Thanksgiving next month.
That will be a major milestone — one that will give you a passing grade at midterms.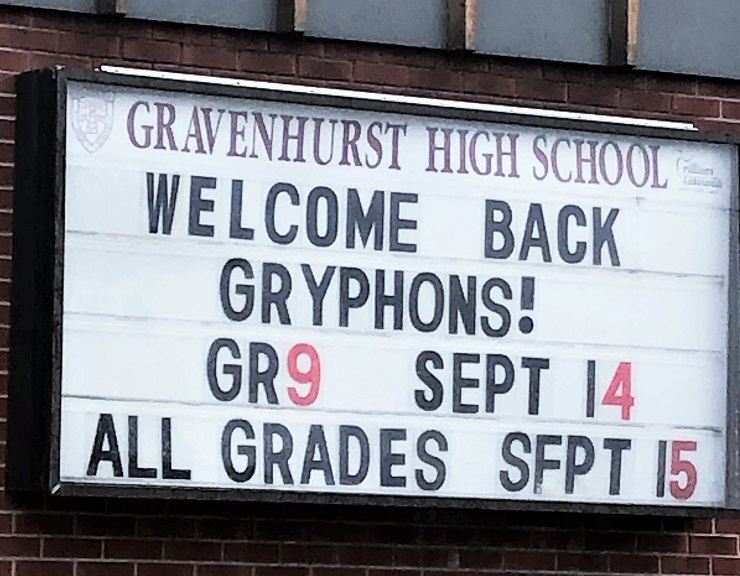 Email mark@muskokatoday.com
Celebrating 25 YEARS of 'Local Online Journalism'
Follow us at Twitter @muskokatodaily
And on Facebook at mclairmont1
Leave your comments at end of story.
Letter to the Editor: news@muskokatoday.com
Subscribe for $25 at https://muskokatoday.com/subscriptions