Mark Clairmont | MuskokaTODAY.com
GRAVENHURST — The flood gates are open — literally and figuratively.
So says Jeff Yurek, Minister of the Environment, Conservation and Parks.
He was at the Muskoka Wharf Wednesday afternoon to announce the province's appointment of nine members to a new Muskoka Watershed Advisory Group.
And in doing so, he said what most Muskokans and Ontarins hate to hear a minister of the government admit.
"The new advisory group will be a valuable resource for people and municipalities in the region that depend on effective watershed management as more development and flooding events occur," said Yurek.
More flooding?
An admission that spring floodings are the new norm.
A bold statement, especially for a government that isn't known for being 100 per cent environmentally friendly, to say the least.
He said Ontario is taking action to protect the Muskoka Watershed, while supporting the local economy and a thriving recreational and tourist industry, as part of its "Made-in-Ontario Environment Plan commitment to keep our water clean and healthy."
He was joined by ever-faithful Parry Sound-Muskoka MPP Norm Miller, several local mayors and some of the appointees, at least a couple of them well-known Conservatives.
New chair Mardi Witzel is a Kitchener resident, where the Muskoka Lakes cottager is a on a federal riding Conservative association board; and District Councillor Don Smith is a well-known local Tory.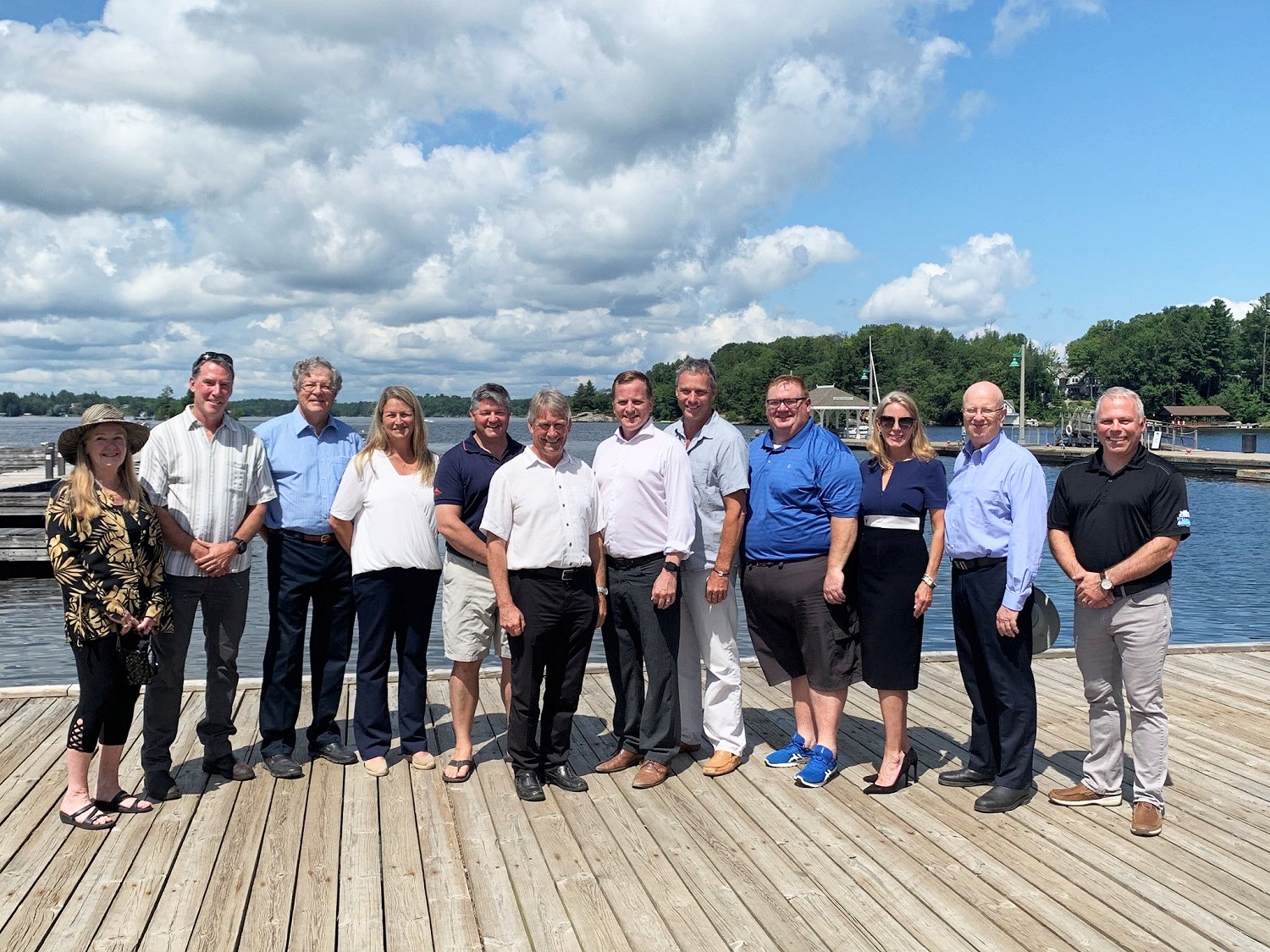 Witzel said: "A number of environmental impacts underscore the need for a more comprehensive approach to watershed management, including recent and frequent flooding, increased development pressure, increasing nutrient loads and water quality concerns. … This is a very timely initiative."
Timely indeed, as residents in Utterson can attest as a major battle continues over a proposed quarry that threatens a local water body they are fighting the government and developer over.
"I'm pleased to introduce the community and business leaders who will be working with the province to help identify projects to protect the Muskoka Watershed and support economic growth in the region," said Yurek in a release later.
While no new money was announced, a year ago this month, Ontario announced a $5 million Muskoka Watershed Conservation and Management Initiative to "better identify risks and issues facing Muskoka," it said back then some eight months before this year's 2019 flooding.
The government also committed then to matching tax-deductible donations from people and businesses to the initiative, and any funding from other levels of government, up to a total of an additional $5 million.
Yurek made no mention of how that was going.
Or how much money this new announcement will inject into the local economy or how and on what it will be spent on; or even if it is all going to environmental projects or general economic and tourism development.
He said advisory group's "primary focus" will be to provide advice and recommendations to the minister to help protect and conserve the Muskoka Watershed and support the economic growth of the region.
In addition to The advisory group members comes with a background of environmental protection and conservation, resource management, urban and land use planning, municipal government, natural or applied sciences, and finance within Ontario.
"The Muskoka Watershed is incredibly important to the health of our environment and our local economy," added Miller. "I am pleased the newly-appointed advisory group represents a mix of both year-round and seasonal residents and includes people from various backgrounds, skill sets and knowledge. I look forward to hearing what they recommend to protect the Muskoka Watershed for generations to come."
Protecting and restoring watersheds in Ontario is part of our Made-in-Ontario Environment Plan to ensure we balance a healthy environment and a healthy economy and that the province's pristine beauty and water resources can be enjoyed now and in the future, concluded the government release.
QUICK FACTS:
The Muskoka Watershed Region supports a tourism and recreational economy of approximately $400 million.
The Muskoka River Watershed consists of 19 sub-watersheds, measuring about 62 km by 120 km, that discharges into the southeastern shores of Georgian Bay.
Ontario's more than 250,000 lakes, including the Great Lakes, contain about one fifth of the world's fresh water.
Advisory group:
The province says the nine-member Muskoka Watershed Advisory Group has varied expertise in the fields of environmental protection and conservation, resource management, urban and land use planning, municipal representatives, natural or applied sciences, and finance within Ontario.
They are:
Chair:
Mardi Witzel serves on a number of committees at the KidsAbility Foundation, part of the KidsAbility Centre for Child Development, and she serves on the New Property Development Committee and the Nominating Committee at the Muskoka Lakes Golf and Country Club.
Members:
Chris Cragg is the principal of Cragg Consulting Services where he provides civil engineering consulting services and evaluates the safety of earth and concrete dams. An engineer for more than 44 years, Cragg also chairs the environment committee of the Muskoka Lakes Association, is a member of the Muskoka Watershed Council and is on the advisory council for the Muskoka Steamship & Discovery Center.
Don Smith is a district councillor for the Town of Bracebridge and District of Muskoka. Smith is also publisher and editor at Unique Publishing Inc., which publishes the regional lifestyle magazine Unique Muskoka, and is co-owner of local retail business Unique Muskoka Emporium Inc. He has been a member of the Rotary Club of Bracebridge for 34 years.
John Beaucage is a member of Wasauksing First Nation. He serves as the chair of the First Nation Market Housing Fund, Board of Nigig Power Corp. and Mitigokaa Development Corporation. Beaucage has a Certificate of First Nation Planning from the University of British Columbia and an Honorary Doctor of Letters from Nipissing University.
John Miller is president of Muskoka Steamships & Discovery Centre. Miller is also a volunteer director and treasurer for the Muskoka Wharf Association.
Julie Cayley is a professional agrologist and the executive director of the Severn Sound Environmental Association where she works with a team to deliver on water quality and environmental goals and outcomes as well as strategically guide the organization for a sustainable future. She is owner and principal of Julie Cayley Consulting and serves on the board of Huronia Community Foundation.
Kevin Trimble is a senior ecologist and chair of the Muskoka Watershed Council, which provides evidence-based input on watershed health. He is also employed part time with RiverStone Environmental Solutions Inc. where he provides strategic advice, review and guidance on environmental permitting and public sector projects across Ontario.
Norman Yan is a senior research scholar and professor emeritus at York University where he researches human impact on lakes and focuses on approaches to restore lakes from widespread decline in calcium levels and increases in road salt. Yan chairs the Friends of the Muskoka Watershed.
Patricia Arney lives in the community of Bala, in the Township of Muskoka Lakes, and she is a member of the Muskoka Watershed Council and the Muskoka Lakes Chamber of Commerce. She is a former Muskoka Lakes Township councillor and sits on the local Trillium Foundation advisory board.