Mark Clairmont | MuskokaTODAY.com
GRAVENHURST —  Wednesday night was an inspiring start to the Gravenhurst Winter Carnival.
If it was too cold or snowy to get out, you missed a great night of top talk.
At the library and next door at the Opera House, over three hours, two dozen people got up and spoke with passion and pleasure about excites them.
They talked the talk because they have obviously walked the walk.
We'll call them "Judy Talks" and "Skokie Talks."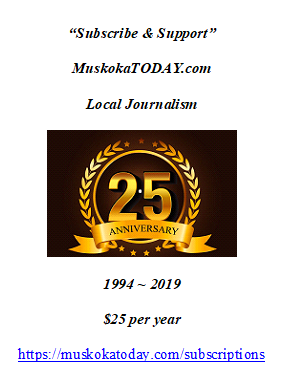 The larger, latter group kicked off just past six, with a healthy crowd of 55 to 60 on hand.
A decent enough crowd, considering the weather in the morning when some 30 centimetres of snow blew into town threatening the night.
But the hale and hearty defied Mother Nature (after the snow ceased late afternoon) and they ventured forth to hear some truly amazing and inspirational people entertain with personal stories of historic feats and courageous survival.
And some understanding of the present and future of Muskoka — from frozen feet to "Buck A Beer" to a cancerous brain tumor.
More on that later.
But first, at the library, where the history of the town is neatly tucked away in a large closet on the second floor; and the fascinating storied people and events that have shaped the Gateway town are preserved for posterity.
In the small Maud Swalm community room, 27 faithful turned out to hear Judy Humphries give another of her impressive history lessons.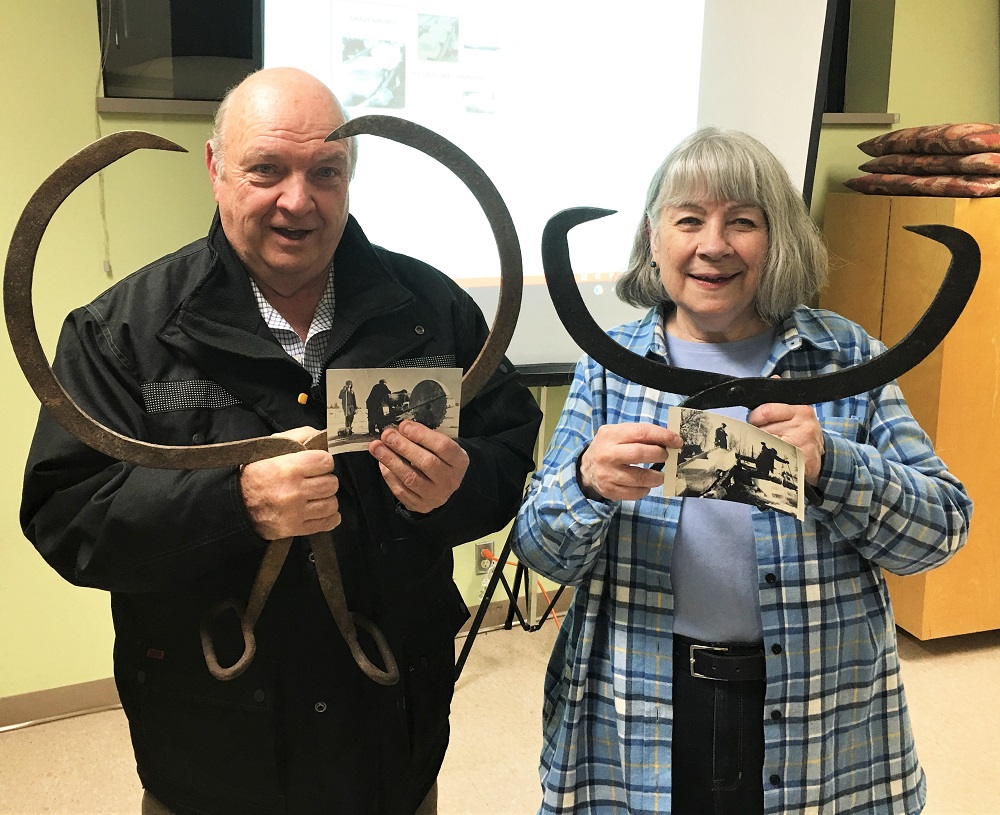 The town's chief archivist spoke at length and in detail about Perrie Boyd's ice harvesting business carved ice out of Gull Lake and hauled it up Moody Drive to a giant ice hut next to today's arena.
At its height during it's 15-year run, from 1942 to 1959, it employed 100 older men who were not at war or who had just been discharged after the Second World War.
Hard-working men with strong backs and even stronger will.
Mostly for three months, through cold, wet, winter conditions — usually January to March — they dragged ice chunks weighing up to 500 pounds each up the hill to a pit where it was either shipped in rail cars across Ontario and possibly Canada-wide or sold locally in smaller hunks.
The first year a contract with CNR was for 24,000 pounds of ice filling 600 refrigerated box cars.
The ice was sold year-round from the local pit, for 15 to 35 cents per household, with a horse-drawn wagon hauling ice around town.
Humphries said kids would jump on board when the driver was dropping blocks at doors and steal broken-off pieces of ice — especially enjoyable on hot summer days.
The business dwindled in the second decade, and after Boyd died in a tractor accident in 1955, his son-in-law Joe Ibbitson carried on until the final winter of the '50s.
The talk sparked a lot of comment by many of the mostly older crowd who remember snippets of the story. Among them Ruth Graham and Bruce Schulz, whose parents were involved, particularly in repairing the huge saws that cut the ice and would break.
Barry Brock, another local amateur historian, provided a lot of insightful fact-checking information for the presentation and insight during the meeting.
All-in-all an entertaining way to start the night, and one Humphries still marvels at telling.
As attendees headed out after into the cold, at the Opera House the intermission was just over and the second half of the first annual Ignite talks were just beginning.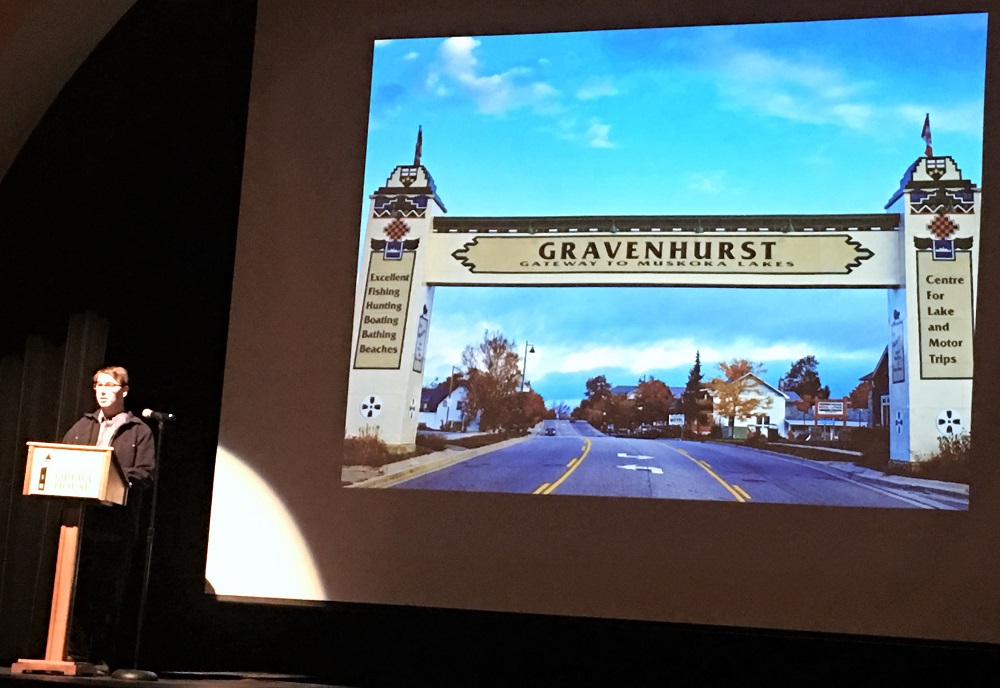 A dozen or so speakers had already had their five minutes of fame — a relatively strict time frame most stuck to.
An eclectic group they were, too, with subject matter as varied as those who spoke.
Among the second half group were Geordie Merton, who expressed his love for a town and it people who first gave to him when his family experienced a fire; and which he now wants to return the love.
He said he often wakes early the morning and goes downtown to see the sun come up over the business rooftops. He said "how can you not love a town like this."
Danielle Ryan, a yoga instructor in town, explained her life philosophy of being a jack of all trades and master of few. The Gravenhurst volunteer firefighter said in her young life she has experience quite a bit and believes variety is the spice of life that doesn't limit one's abilities and dreams.
Audrey Van Petegem was there to promote the growing campaign of collecting and using fire pit ash to put back in the local lakes to combat acid in the deteriorating quality of lake waters. Watch for a roll out of the drive this spring.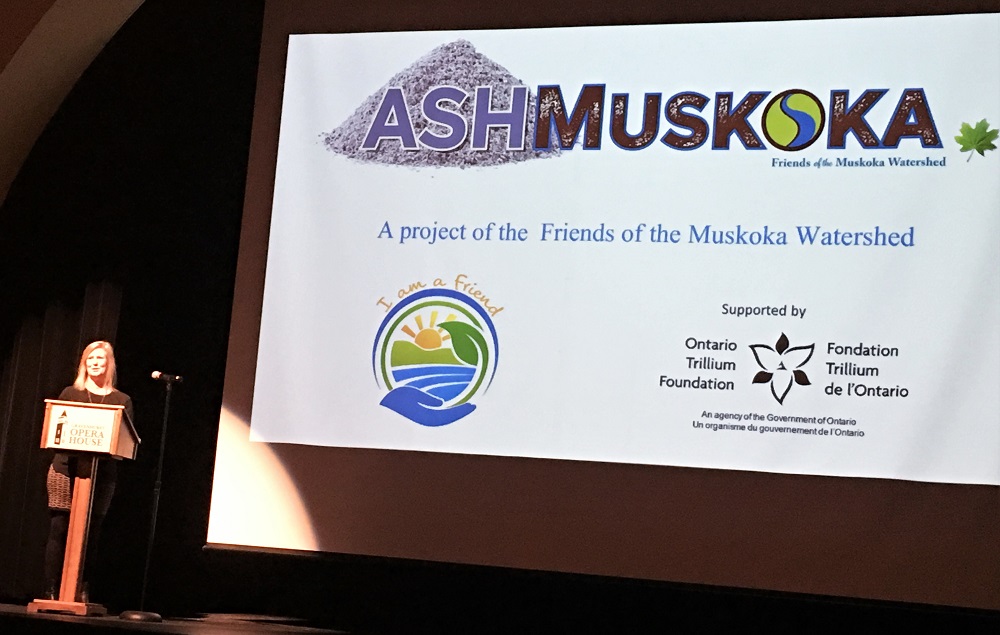 Chantal LeBlanc, of Sawdust City Brewery, spoke about the challenges of meeting Ontario Premier Doug Ford's call for "Buck A Beer."
"We're not gouging you (by charging more for the craft brew)," she said.
She blamed government taxes and associated costs that would leave less than a cent profit per beer.
Fyonna Vanderwerf, is a local fitness buff who came fourth at a 2017 world bodybuilding competition.
The 50-year-old promoted her personal "Pawsitivity" approach to life and being organized and fiscally responsible.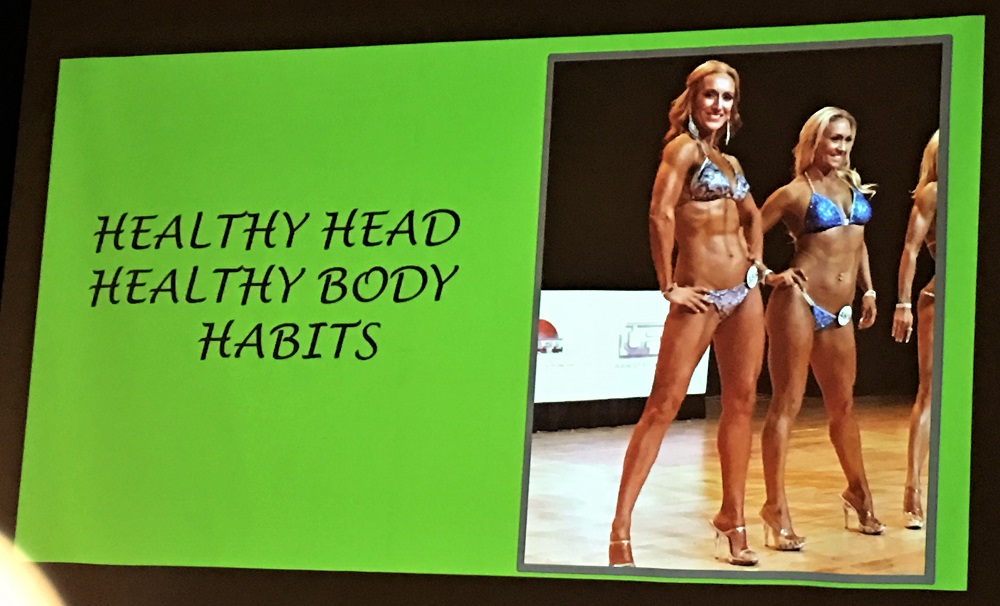 Doug Rourke, the final speaker, spoke at length, about his passion for rowing.
The nurse and Georgian Bay Rowing Club member held the audience silent as he recanted at trip to Florida six months ago for the world amateur master rowing races.
On the way down with 10 other team members he got a call from his neurosurgeon ("They do call you back.) who said he needed immediate surgery for a brain tumor he had been coping with for a long time.
Given a surgical reprieve, he finished the races at the top of the podium with his mates and two weeks later had his head split open.
Today's he's OK and his first thought after was could he row again.
Yes.
Both presentations were recorded — for posterity — and can be found through the town website.