UTTERSON — A snowmachine repair job cost a homeowner more than expected Saturday night after a fire in the detached building.
The Huntsville/Lake of Bays Fire Department says it responded to a reported garage fire on Hwy. 141 in Utterson about 9 p.m. Saturday evening.
Firefighters from Port Sydney Station 3 encountered flames coming from the front door of the detached garage.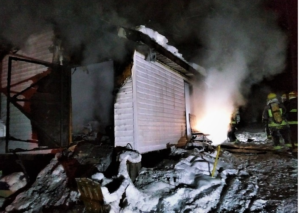 The crews quickly knocked down the fire and prevented it from spreading to a nearby shed and remained on scene for a couple of hours to clean up hotspots.
The cause and circumstances of the fire are currently under investigation, but initial reports are that the homeowner was working on a snowmachine in the garage when the fire occurred. Damage is estimated at $50,000 and there were no injuries.
The fire department recommends having a portable fire extinguisher available in the garage and home. A portable fire extinguisher when used properly, can aid in controlling and putting out small fires before they become large ones.