Mark Clairmont | MuskokaTODAY.com
BALA — Two people were apparently taken to hospital here early this afternoon following a head-on collision on Hwy. 169 as winter made its return on local roads.
Traffic was backed up more than a kilometre as emergency crews dealt with the aftermath of the accident between a white SUV and black pickup truck.
The two vehicles were headed in opposite directions about 1.5 kilometres east of Windsor Park when they hit each other about 12:30 p.m., said a witness who stopped to offer assistance and called 911.
A man in the pickup truck said he was OK, the couple from Hamilton reported.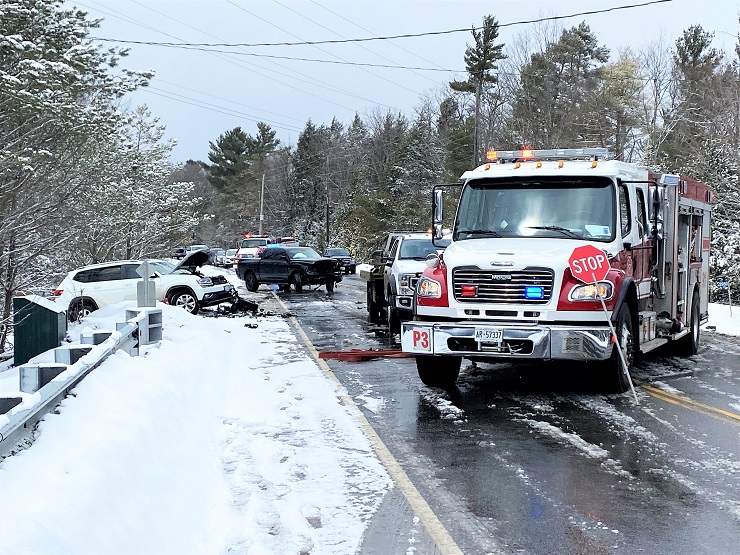 Both autos were suffered significant damage to their left front ends.
The white SUV was knocked and sitting facing out onto the highway, where the pickup remained in the eastbound lane.
The highway, the main thoroughfare through Bala, was closed for more than 90 minutes in both directions as police, paramedics, firefighters tended to the injured and two Northland tow trucks removed the damaged vehicles.
Though snow on the roads was partly snowpacked and icy at times, particularly further east in Gravenhurst, the road was bare around the time of the collision.
However, gusts of snow from nearby lakes made driving difficult at times across Muskoka in the morning.
At least one District of Muskoka-contracted plow was seen headed east nearby after the accident.
By mid-afternoon the snowfall had subsided, while a snow squall warning remained.
Police hadn't reported further on the incident as of late Saturday afternoon.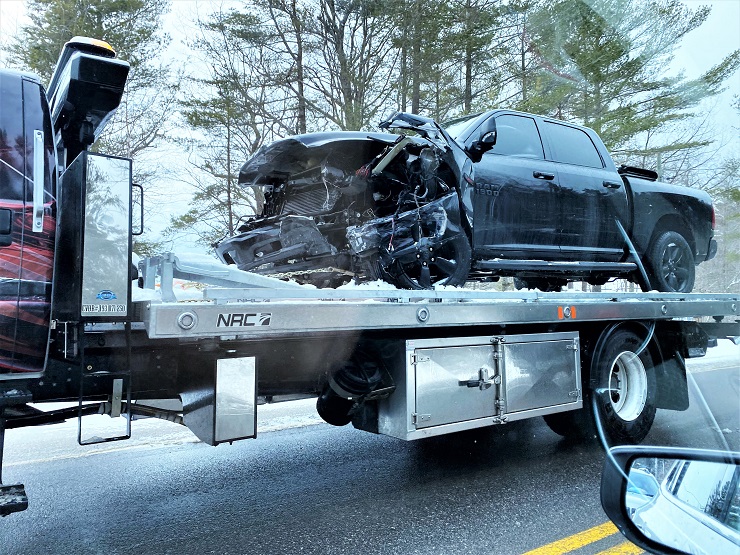 EMAIL: news@muskokatoday.com
29 years of 'Local Online Journalism'
Twitter: @muskokatoday, Facebook: mclairmont1
Leave comments at end of story
SUBSCRIBE for $25 by e-transferring to news@muskokatoday.com
Or go online to https://muskokatoday.com/subscriptions