Mark Clairmont | MuskokaTODAY.com OPINION
HUNTSVILLE — Mike Schreiner is Ontario's most popular opposition leader.
"I like Mike" is a common refrain.
A tiny, perfect MPP.
With the Liberals and NDP hard-pressed to find anyone to lead them — let alone ones as likeable as Mike — the left of Doug Ford is as wide open as the Greenbelt is to development.
And the Green Party leader is seriously considering a Liberal invite to seek their leadership, which would first involve the two-term Guelph MPP joining a party he campaigned against seven months ago.
His own provincial party has fought back to keep him in a public tug-of-war.
No stranger to Parry Sound-Muskoka — where the Greens under Matt Richter had one of the party's best showings and came closest yet to beating the Tories and new MPP Graydon Smith — Schreiner's mid-winter appearance here Tuesday had supporters casting about for a February shadow sighting that would predict which way their beloved leader was leaning.
Preaching to the converted at the Active Living Centre about the Greenbelt bill, however he didn't address what emcee Linda Mathers called the "elephant in the room."
There were no questions about his crisis of conscience in the Town Hall Q&A.
It was decided beforehand by the party that the meeting planned before the Liberal party raid would be strictly about Bill 23.
Instead, Schreiner left it to individuals to speak to him beforehand and after about their feelings, which when approached by this reporter they leaned toward him staying on.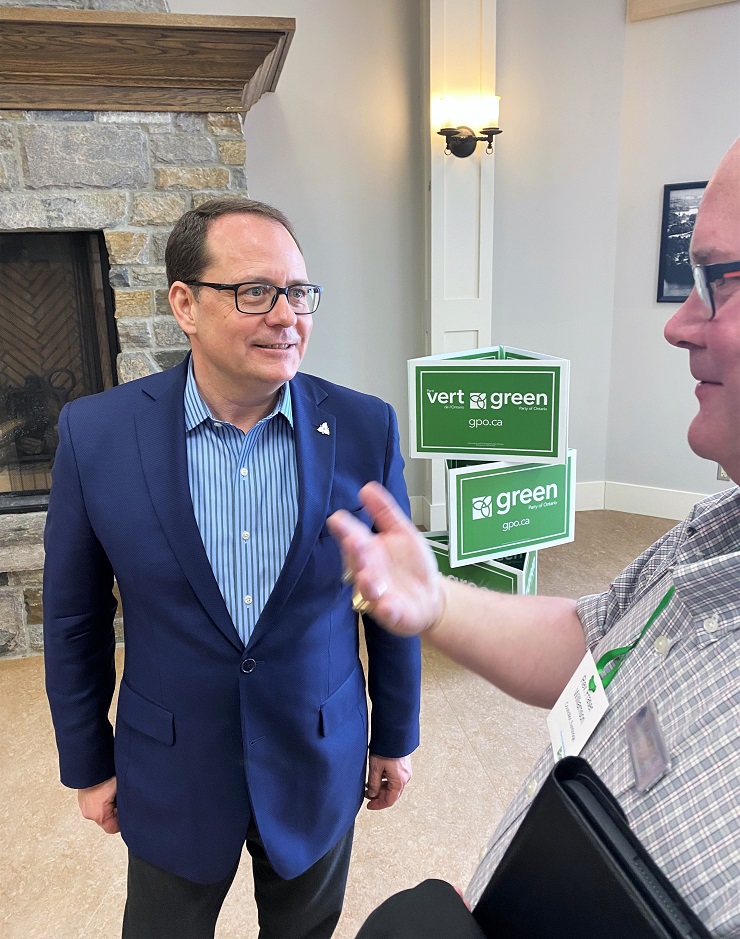 But following the nearly 90-minute luncheon gathering, Schreiner was slightly more forthcoming on a possibly pivotal decision when asked directly.
He hasn't made a choice yet, but is still listening.
"It pays to ask people what their thoughts are on how I can be most effective pushing forward on the issues I care deeply about," he told three reporters in a media scrum.
"And one of the things that has come out of this conversation is a deep desire among the public for the three progressive opposition parties to figure out how we can work together.
"And obviously a lot of interest in electoral reform and a deep desire to push back against what the Doug Ford government is doing and really turn the corner on issues like protecting health care, addressing the climate crisis, real solutions to housing affordability, expanding mental health services and doubling social assistance so we can end legislative poverty."
Schreiner added he'd also welcome "opening a conversation" about Liberal MPPs joining his party. He said there are "creative ideas being brought forward" about how parties can think about doing politics differently and working together.
"So I'm going to continue my consultation phase for a while yet, because I want to see what people are thinking and saying and how we can best move forward — and push back against the Ford government and implement some of the ideas I've been fighting for so long."
Part of that consultation included meetings like this and talking with grassroots supporters and not only Green and Liberal party officials and backroom strategists, he said.
"I'm talking with anyone and everyone. A lot of people have been coming up to me and talking to me about it. This is exactly the kind of conversations I want to have."
However, he ducked a question about "what if" next election his Green supporters were to campaign against him if he became Liberal leader.
"It's a hypothetical that I'm not prepared to answer right now."
He hasn't set a time to decide whether to accept the Liberal invitation, but it won't be in three years before the next election.
"No," he said with a smile.
"I just want to have sufficient time to hear from people. Because I know there is a deep concern about the state of politics in Ontario right now."
He admitted "absolutely," he did campaign hard against the Liberals last election.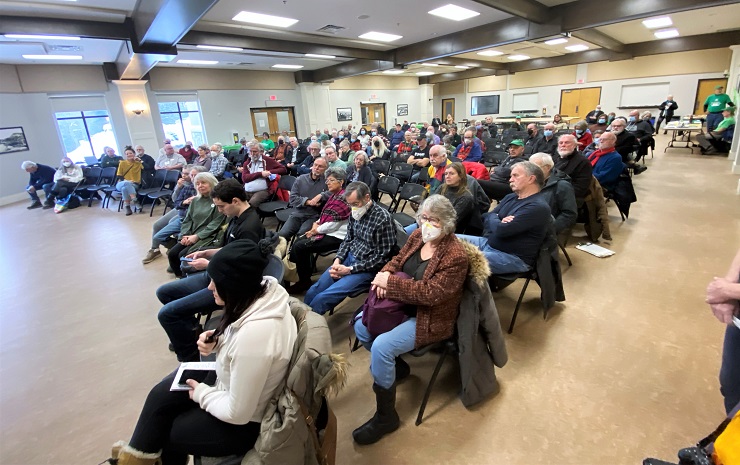 Today he's "focussed on fighting against what the Ford government is doing now, that is so negative to this province: attacking health care, opening the Greenbelt for development, failing to address the housing crisis in a way that brings meaningful change.
"My focus right now is how can I best work with the people in this room and people across the province."
Part of that includes "informal" local working groups like the one he's establishing with Parry Sound-Muskoka politicians to find out their concerns about how Bill 23 affects them in so many ways including easing of environmental restrictions on development and how that affects creation of affordable housing stock.
More than two dozen riding mayors, town, township and district councillors accepted party invites to 10 a.m. and 3 p.m. sit-downs with Schreiner to share their concerns about the bill and offer him solutions he hopes to help champion on their behalf.
He says the government's More Homes Built Faster bill — passed before Christmas — will affect rural Ontario town and township budgets, farms and site plan approvals.
He called the bill "short-sighted … and reckless" and said parts of it would even "slow development."
"Build, but do not pave farm lands that feed us."
Why open more land for development when there is already sufficient enough space already?
He questioned government policies "promoting a sprawl agenda" that sees more sewers, poles and spread-out infrastructure."
He says the "Greens are absolutely committed to solving the housing crisis."
And "my commitment is to repeal as much of 23 as possible."
Schreiner has proposed his own private member's Bill 44 to include four-plexes.
He also encourages "tall sprawl," which still provides access to amenities.
A big problem, said Schreiner, is that in the 1960s, '70s and '80s Ontario helped municipalities build a lot of affordable housing.
Ottawa and Ontario need refund some of those programs again, he said.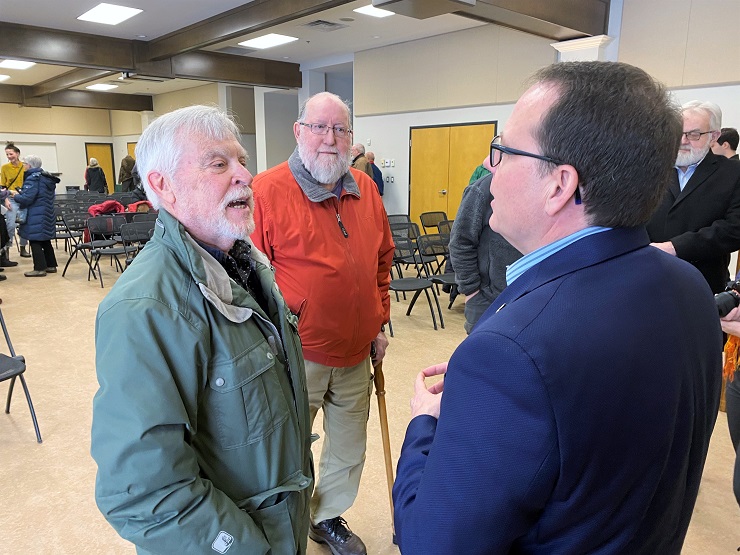 Bill Atkinson, of Sundridge, asked "what is affordable?"
He said there is "too much bafflegab and double speak" about the reality of "attainable" homes. No longer, he said, are people able to rely on 30 per cent as the figure for keeping a roof over your head.
Greg Holman, of Huntsville, urged Schreiner to call Bill 23 what it is: "Pave the Greenbelt."
Schreiner said it's hard for farmers, many of them in audience of almost 100, to build.
He said before Ford opened the Greenbelt there was no speculation, but now that it has speculators are buying up the lands north of Toronto.
Schreiner, who appears more confident and leader-like now, touched on other issues that now sees him rising in provincial political ranks with comments that at least twice received wide rounds of applause.
Like food security, rising insurance costs due to climate change, health care that doesn't require just $46 billion more (yesterday) from Ottawa, but that it be better spent.
He's also opposed to privatize health clinics and would support a move for all LTCs to be publicly-run.
It was a lot of what he said before and since June.
Neil Hutchison, of Bracebridge, enquired about the expansion of natural gas pipelines in Huntsville.
Schreiner said Ontario has enough affordable alternatives, like solar, wind and water that are safe, reliable and low cost.
While nuclear has "its problems," he said the Darlington and Bruce nuclear stations still provide half the province's electricity.
He said his electric vehicle is full of signs opposing Bill 23, which one Green organizer said he has heard in a meeting with Smith that the government may do — along with adding other changes.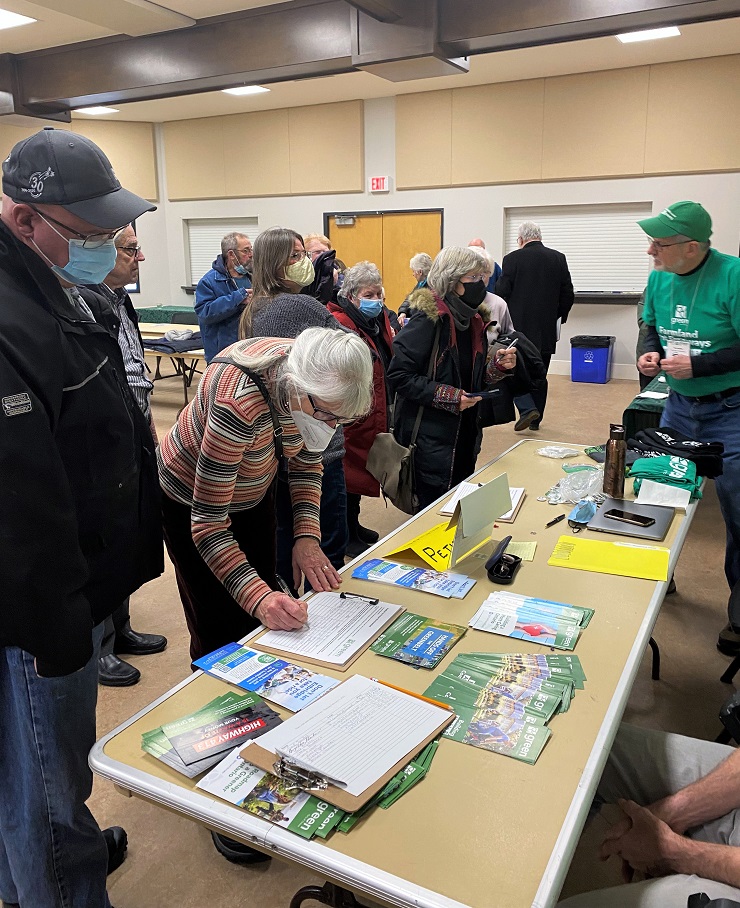 Peter Kear, of Port Sydney, a retired history and politics teacher after 30 years at Huntsville High School teaching both Smith and MP Scott Aitchison, asked Schreiner if he had consulted former Toronto mayor David Crombie — "the tiny perfect mayor."
Schreiner said indeed he had several times, including last week.
Crombie, a former Tory MP, is critical of Ford opening the Greenbelt.
It was Conservatives, Schreiner noted, who had expanded many Conservations Areas that sees the current government cutting their powers. Ford is "undermining" many of those environmental improvements, said Schreiner.
Kear said Schreiner would be "foolish" to jump to the Liberals and that he's better suited as a New Democrat. A federal Tory, the ex-teacher says he only voted Green because of Richter.
But Schreiner, who is well known for his call for civil debate, didn't denounce one speaker who called the premier "a slime ball."
Asked after why not, Schreiner just reiterated something about a need for more legislative decorum.
Others on hand, including a couple who had never heard Schreiner speak, called him "credible" and said what they heard about the government is "troublesome."
Local Greens are planning a bus to take protesters to Toronto for Bill 23 opposition rally and had many signing up. They also had a petition opposing the bill. Schreiner encouraged everyone to contact MPP Smith so he can take that feedback to caucus.
Schreiner touched all the hot-button issues that Green supporters — like him — joined the cause and party to support.
But some said after they would remain Green regardless of whether the leader decides to pursue his life's work under a red banner.
And they wouldn't be following him.
"We're green for a reason."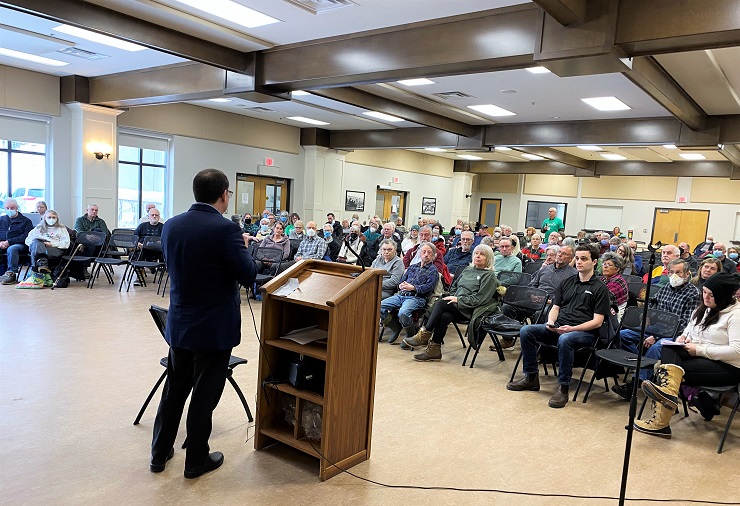 EMAIL: news@muskokatoday.com
29 years of 'Local Online Journalism'
Twitter: @muskokatoday, Facebook: mclairmont1
Leave comments at end of story
SUBSCRIBE for $25 by e-transferring to news@muskokatoday.com
Or go online to https://muskokatoday.com/subscriptions