Mark Clairmont | MuskokaTODAY.com
GRAVENHURST — "No one knows" why Albert Sedore did what he did in dying last Tuesday.
"It's all speculation. Only he knows for sure," says his younger sister, Karen Anderson.
Sadly he took that secret to hopefully ever-lasting peace — if that's possible.
He turned 58 two days before, on June 12, and his older sister Margaret Jarvi said he told her on his birthday he was "OK" and doing "good."
"We know that he shot himself, we get that," she said.
But there may have been contributing health issues, she said. He complained to her on his birthday about bleeding.
"But," she said, "the family needs to know for closure."
Two days later he was dead, after shooting his good "friend" and neighbour Jenn, also 58, "barricading" himself inside his #30 unit next door and, say police, dying by suicide —  with his 22-year-old eldest son Mike asleep upstairs.
The millwright and machinist at Sheridan Seating in Orillia had also recently lost his wife, Angela, Jan. 11 to a sudden heart attack while she was riding with one of her sons in a car. And Sedore was still grieving her. She was 63 and they had been married 26 years.
He was heartbroken and distraught at the end.
"It's so sad," said Jarvi.
So who was Albert Sedore? And how exactly and why did he die?
Almost a week later some facts about the former are more clear than is the latter understood — if it ever will be.
But in the hour just before the shootings and in the fleeting few minutes aftermath from when he used a .22 "repeating rifle" to shoot Jenn in the arm — nearly killing her —  his life story is a tragic tale gone sadly, badly wrong.
Sedore's siblings say they are only distant relatives of the family that Sedore Road in Gravenhurst is named after.
Jenn's parents, George and Sheila Morrison, who are said to have moved up from the United States some 20 years ago, helped start the Bracebridge Farmers' Market.
For Jenn, a former Bracebridge resident who lives on a disability pension in unit #29 in the District of Muskoka housing complex and doesn't like to use her family's last name, it could have been worse.
The first shot missed both Jenn and her brother, Gavin Morrison. The second shot hit her and a third shot just missed neighbour Chantelle Conway-Penrose in the doorway of her #28 unit.
The shots were fired from about 30 to 40 feet away.
Sedore and Jenn were "friends with benefits," said Jarvi.
"He wanted to marry me and move in," Jenn said on the front lawn 46 hours after where the shooting occurred, at the intersection of Muskoka Road and Lofty Pines Drive in Gravenhurst.
Wearing a black sling over a crisp white bandage — and exposing where the small calibre bullet entered her right forearm that "ricocheted off my key" and left a big bandaged wound over her left breast below her heart — she spoke on Thursday to MuskokaTODAY.com.
"My key saved my life," she said.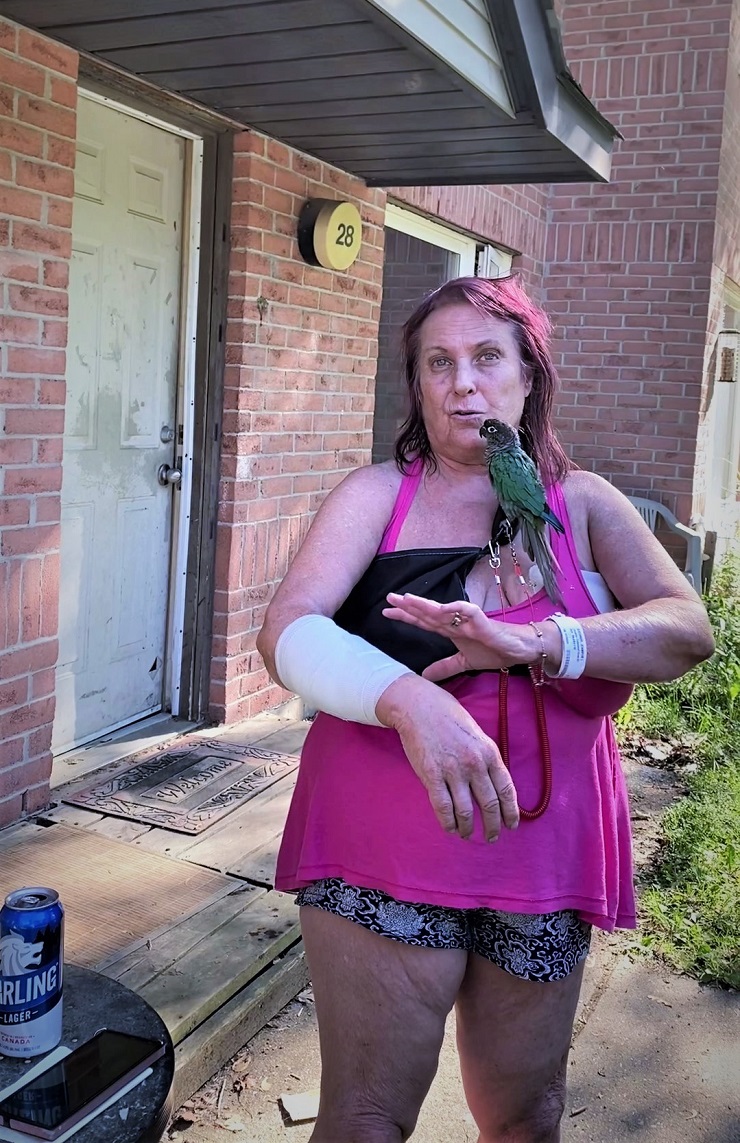 While there was no birthday party Sunday, Jenn said the couple had enjoyed a barbecue Monday night, and to her everything in the friendship seemed fine at that point.
"I liked him. He was good company. I always hung out with him. We did stuff together. We'd pick up his kids and take them to friends. I was trying to help him get over Angela.
"You know, I didn't love him, but I cared for him deeply. We did sleep together."
She claimed he wanted to marry her.
"I said I wouldn't marry him. But I would be his friend."
His family spoke of a rocky relationship. Brother Wayne Clodd described it as an "off-and-on affair." His older half-brother said Sedore, who grew up near Sutton, told him he had troubles at times with "that woman."
'We heard a pop'
Jenn and her brother were just back Tuesday evening from the tiny beach at the end of Lorne Street.
At 7 p.m. Jenn said as she and her brother approached the door of her unit and she grabbed the key on her lanyard with her left hand.
All of a sudden "we heard a pop" and her brother hit the deck landing "on all-fours" on the small door stoop after the initial shot. She thought he had a heart attack.
"I played dead, like I was taught," said Morrison, adding he learned that after living in States for more than a dozen years.
Jenn said at first she didn't realize what had happened — that a tiny .22 bullet, which was shot from the left of where they were standing on their grassy front yard, had just "whizzed" by them hitting the doorway they share with unit #28.
"I didn't see (Sedore) at first, because I was carrying my beach bag."
At first she thought: "What the hell, why have you got a gun?
"I turned and he gave me time to look down the barrel. I could see right down the barrel of his gun. And he said 'We're not done yet.'
"Then kaboom! He shot me."
How did that feel?
"I still don't know," she said staring blankly in recounting the harrowing story.
"I'm tired. I'm still a little wobbly. I almost got shot in the heart.
"I screamed!"
"I turned and he looked me in the eye and said 'This is not done yet.'"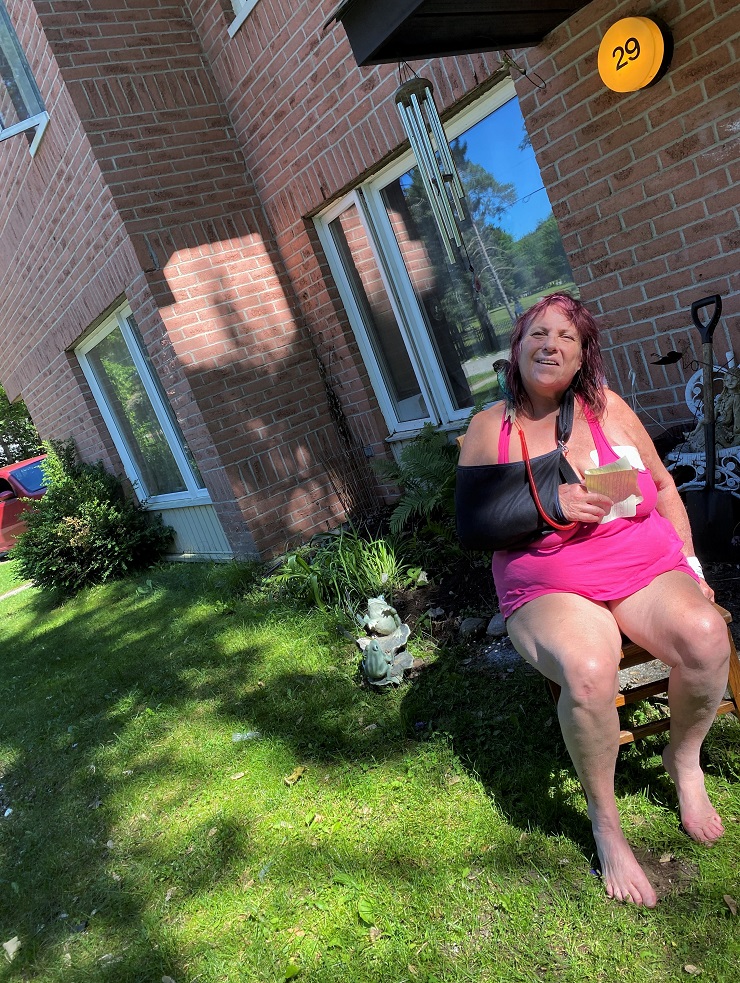 "She was hysterical," said neighbour Conway-Penrose, who came out her door when she heard the first shot hit her doorframe. "She said 'call 911' and I got my phone and came back outside and that's when there was another shot near me."
Conway-Penrose said she had three security cameras, which were activated by motion-detection and would have caught the shooting out front, but she said "they're all disabled at the moment."
There was one camera still visible in the side window of Sedore's home pointed at his doorway, but it didn't appear as if it would have captured much of the actual shooting that reportedly took place in front beside a picture window.
Jenn said Morrison eventually scrambled to his feet and "dragged me inside and told me to lay down and stay away from any windows."
She also said Sedore took a shot at her English golden retriever, Jackson, who scurried out the door when it opened. But there is no evidence by police of that happening. A neighbour said someone brought the dog over and she tied it up before it was later taken to Jenn's daughter's home, she said.
Jenn claimed Sedore didn't like it that he said "Trudeau" put a limit on the number of rounds a gun could carry.
"He was very upset about that."
She also claims Sedore was upset that she bought rings online from the website of the Korean pop band BTS and was wearing them on her wedding finger.
"He said 'You never put anything on that finger. It's sacred."
Jenn said: "He had a big breakdown about his (youngest) son Chris going away" recently.
'Known to police'
OPP Insp. Jason Nickle said Thursday the shooter and victim were "known to police."
And he reiterated what he told TODAY.com last week that police didn't initially respond to the "calls about shots fired" as being a "domestic" incident.
Jenn said she had previously called police this winter because Sedore was "yelling" at her and wouldn't leave her unit. She added as recently as a couple of weeks ago she had police remove him from #29.
Nickle — who wouldn't name the shooter "because it was a suicide" — admitted there had been other 911 calls "to those addresses. Yes."
But he said "never for firearms before."
He admitted "only one weapon was involved" and that it was "capable of using multiple rounds."
When he first said last week it was a "hunting rifle" he wanted to "distinguish that is was not an assault-type" of gun.
Nickle also said: "The weapon used in the offence was used to take his own life."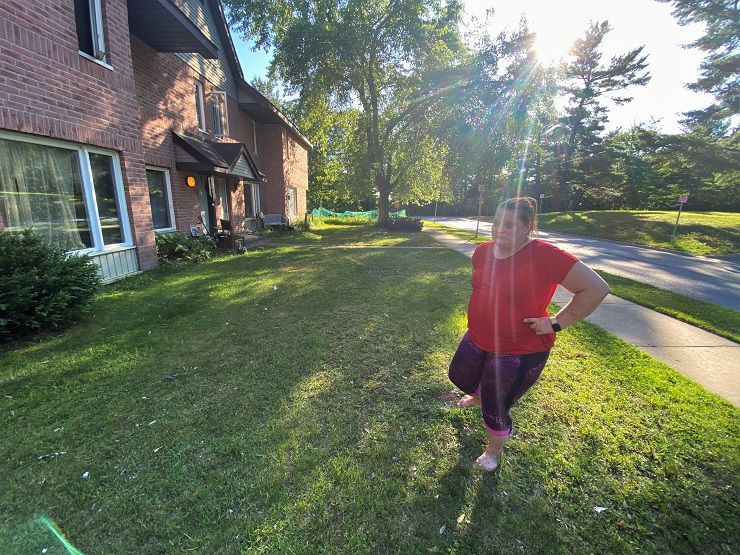 He added he has "taken exception" to other reports of an "active shooter.
"There was a lot of misinformation on social media."
Such as Jenn being airlifted by Ornge to Toronto. Paramedics considered it, she heard they say, but it never happened.
"They had trouble getting the IV in, but they were very smart in doing other things," she said.
Nickle said "There's a huge difference in response to an active shooter, rather than a person barricaded.
"The first course of action is to make sure there is no threat to public safety.
"We had information that there was a person in a residence with a firearm. At that point there was no other knowledge to us that there was anyone else in harm's way. So we did not take immediate action to enter the residence. We contained that person. So if he was to try and exit we would have taken a separate approach and engaged the individual at that time.
"The only time we would have entered the residence was if there had been an actual active situation. And that simply was not the case."
Police, he said, "found out after the fact" that Sedore's son was still inside the residence. "We were unaware of that.
"While we were conducting containment the son (Michael) exited. We didn't know the son was in there at that time until he came out. And once he exited he provided us with that information that the father had self-inflicted."
The Bracebridge detachment commander, who was on the scene immediately, said: "Once we determined there was no threat, the investigation changed from containment to investigative. Then we sent in the investigative unit and forensic team."
Nickle was asked if police attempted to reach anyone inside unit #30 during the containment.
"No," he said, "we had negotiators on the way when the son came out of the residence. It hadn't reached that point yet. We had other special units on the way — the negotiator being one of them. Their responsibility is to make contact with the individual. But unfortunately they didn't get on scene prior to us determining the individual had succumbed to his injuries."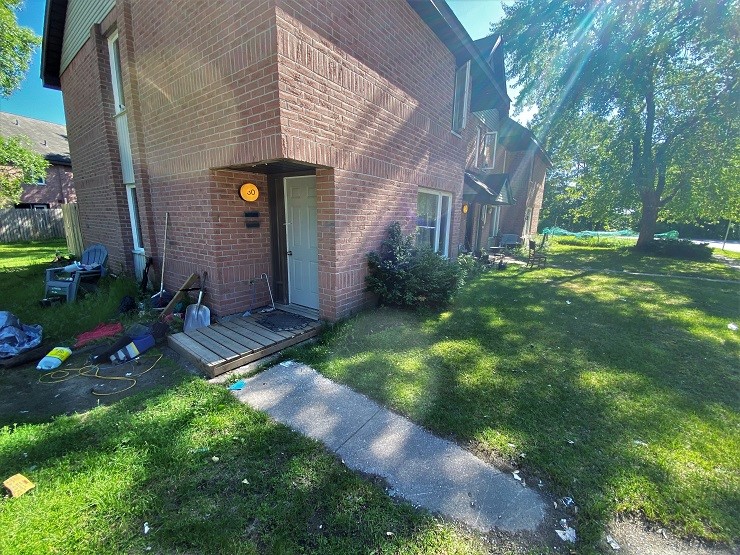 Nickle laid out the basic chronology of events in rough times saying the first calls came in at 7 p.m.; "general law enforcement" police from the local OPP detachment arrived at 7:10 p.m. and contained the shooter; about 8:05 p.m. the son came out; at 8:15 p.m. TRU (tactical response unit) teams arrived; and at 8:40 p.m. a robot went in and confirmed the death.
Nickle said "multiple" 911 calls came in at 7 p.m. of a shooting and "there were no more shots after 7 p.m.
"He had already self-inflicted prior to our arrival."
Nickle said: "There were no more shots fired after the initial volley in exactly the same time frame. The shots were fired contemporaneously. He went outside, fired some rounds at the victims, then went inside the residence and took his own life within a matter of minutes."
However, he said police couldn't verify the son's original information right away and had to wait about 100 minutes to fully confirm it.
He said: "Once police received the son's information, about 15 minutes later the TRU team put the avatar (robot camera) in and were able to confirm based on video information that the suspect was actually deceased."
Police also "never detained in any shape or form" or arrested anyone. And they only took Morrison to a police vehicle for safety reasons and to get more information from him.
Nickle did say those involved were "known to police."
"We're aware of who they are. They're members of the community and we are aware of who they are. I'm not going to say anything about their criminality or not. In this matter they were victims and witnessed to a criminal offence."
He said "The information we have and had at the time remains unchanged.
"It was a neighbour situation. There was no relationship we were aware of other than a simple neighbour dispute."
Nickle said police "didn't know immediately who the shooter was until we arrived on scene and got information from witnesses.
"The call came in as shots being fired and people had been injured."
The inspector, who has been commander of the Bracebridge OPP detachment for almost four months, said: "I want to make sure we don't spin this in to a domestic violence situation. I don't have any information of that. I'm not denying it's possible. But I have no information that would relate this to a domestic violence-related incident. The victim has provided her statement."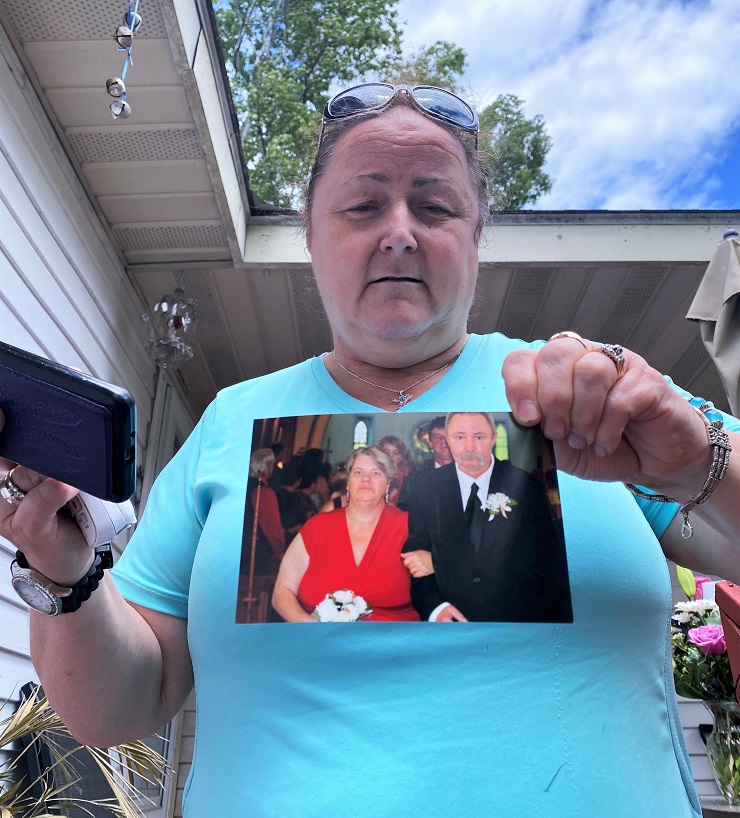 Jarvi said her brother told her "she was driving him crazy."
And that police did call Sedore on his cellphone and he told them "I'm not bugging her," said Jarvi, "She's bugging him.'
"I don't know," said Jarvi, "I'm just saying what he told me. It's a he said, she said thing."
Sedore's other sister, Anderson, said her brother had been in Gravenhurst about 10 years.
She said the family is "basically trying to piece together for our own peace what happened and hopefully before people started contacting us to ask what happened to Albert. We don't know much. Police didn't know at that point what they were facing and how dangerous it was.
"All we heard was it was a stand-off. I tried to call his cellphone," but got no response.
"Bottom line is I've heard so many things and I don't know what's true. All I heard through the grape line is that it was a depression. I've never heard cancer, which is not true. I don't know what's true and what's false.  No one knows the truth for sure. It's getting frustrating. It's too hard on all of us. It could hurt others, especially his sons."
Anderson said the boys are "having difficulty with it as it is."
And on Father's Day they didn't have their dad to celebrate with.
She admits there might have been an affair.
"I sort of think it's true," she said reluctantly.
Her brother Clodd, who lives on Ure Road, also said: "I don't understand.
"Michael called and said 'Uncle Wayne you better come up, Dad's slumped over in his chair.'"
But when Clodd got on scene Tuesday night: "I didn't know if he was dead or not. The police wouldn't let me get near him."
Clodd said he "never thought to call him. If I could have got in to talk I would have talked him down or something.
"I wasn't afraid of him shooting me."
Clodd said that even before this: "He never said nothing that would convince me that (there was anything wrong with him mentally). I know he had problems with that woman for awhile. He told me that."
And the "affair" was "off-and-on, I guess."
Clodd said his brother also "thought he had cancer because he was bleeding."
Anderson told Sedore on Sunday "not to get all upset, just relax, go to the doctor and if you're really worried go to hospital," said Jarvi. "But he said 'I'm not doing that.'"
She and Jarvi both exchanged texts with him the day he died, which for some reason he was off work. Jarvi said she also spoke to his bosses at work.
Both sisters say they offered to go help him if necessary.
Anderson had a lengthy conservation with him the day he died, said her sister.
And a text from her heart-broken brother about 20 minutes before the time of his death.
"He said 'I've lost my wife, I've lost my girlfriend and I've lost my son,'" said Jarvi, adding Chris had only gone to Sturgeon Falls with his girlfriend.
Jarvi says Angela's sister, Carol, is making arrangements for Sedore's cremated ashes — along with those of his wife's that were still in unit #30 — to be interred together in "matching urns" in Bradford where they once lived.
"That's where they want to be placed."
Neighbours in Lofty Pines say the shooting has left an unwanted and unwarranted stain on the little community at the north end of town. They said in the days after it's been quieter than normal around the units, which normally see a lot of comings and goings outside now that the weather is warmer.
For Jenn, who is happy not to have to need more surgery, she says district social services and Victim Services are working to find her another place in Muskoka after living there for 13 years.
"I want make a little something of myself. I love to make jewellery.
"I won't mind moving away. I can't live here. Get me the f*** out of here."
The investigation continues with Detective-Constable Stephen Boyd the lead investigator and Detective-Sergeant Alex Keen in charge.
EMAIL: news@muskokatoday.com
28 years of 'Local Online Journalism'
Twitter: @muskokatoday, Facebook: mclairmont1
Leave comments at end of story
SUBSCRIBE for $25 by e-transferring to news@muskokatoday.com
Or go online to https://muskokatoday.com/subscriptions